Vegas Action on 2021 NCAA Tournament
March 26, 2021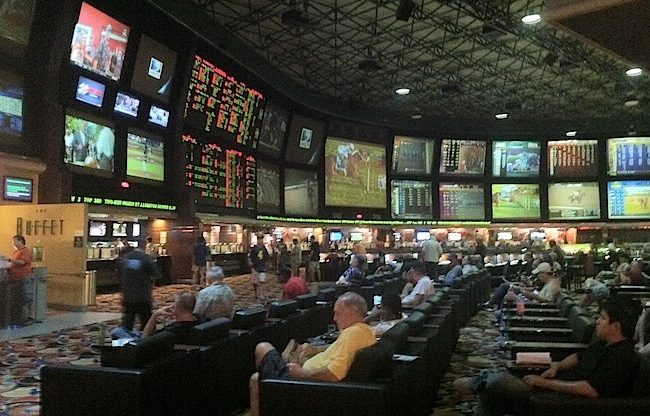 The 2021 NCAA tournament is ready to head into its second weekend and already bettors are in an absolute frenzy. With no March Madness last year due to the coronavirus pandemic, bettors were hungry to get back what they missed in 2020. And did they ever.
A number of sportsbooks have reported the total amount bet on the NCAA tournament through the first weekend of play was three times the amount bet on Super Bowl LV. All that pent up angst over 2020's tournament is coming out in grand style in 2021.
In Las Vegas, bettors were lined up outside The Mirage at 6:30 a.m. on Friday and all seats at the new sportsbook at Circa – which has a large pool amphitheater – were sold out. Crowds were limited to 50 percent capacity, but that didn't take away from the passion and energy of rabid bettors. The year off may have a little to do with some of the more interesting bets in the first two rounds of the tournament.
Books Win
One consistent theme through the first weekend of the tourney was sportsbooks winning early and often. One of the biggest wins for the books was Loyola's second-round upset of No. 1 seed Illinois. A large percentage of the action on last Sunday's game came in on the highly favored Illini. BetMGM, for example, reported it took twice as many bets on Illinois as it did on any other team playing last Sunday. The winnings on that game alone made it a very productive first weekend for many sportsbooks.
A Lesson in Betting
Sports betting can be a lot of fun. It's even more enjoyable when you win. Sometimes, you get really lucky and absolutely love betting on sports. That would be the case of one Colorado bettor who put down $10 on a pretty large moneyline parlay bet. It took the bettor about five minutes to make his picks, but it would be the best five minutes he ever spent as a sports bettor.
The parlay started with No. 14 Abilene Christian pulling the upset over No. 3 Texas. It continued with underdogs like Loyola, Syracuse, UCLA, Oral Roberts, and Oregon State. He added in some favorites as well, teams like Baylor, Villanova, and Houston. When it was all said and done, the odds to win were 3,320-1.
It started with the Oral Roberts upset of Ohio State and, one by one, the pieces of the parlay began to come together. Rutgers led Houston late, but the Cougars would rally. Oklahoma State came back against Oregon State, but the Beavers held the Cowboys off. And, just like that, the $10 bet paid out $33,000. That sounds like a lot of fun!
A Lesson in Betting II
For every sports betting success story, there are plenty of stories that will simply make you go "hmmm." One involved a bettor in New Jersey who laid down $10,000 on Gonzaga to win their first round game. Sounds like a sure thing, right?
The Bulldogs were favored to beat No. 16 seed Norfolk State by 33 in the tournament's first round. Covering double-digit spreads is no big deal. The Bulldogs have done it before, but 33 points? And at -15,000 odds!
So, the New Jersey bettor risked ten grand on Gonzaga to cover a huge spread all in an effort to win … $66. At least that bettor won. Others, like one in Las Vegas, were not so lucky.
As a No. 2 seed, Ohio State was one of the contenders to win this year's national championship. The Buckeyes had a strong season in what was thought to be the nation's best conference, the Big Ten. One Vegas bettor like the Buckeyes enough that he put down a $100,000 bet on Ohio State to win the NCAA tournament at 20-1 odds. It would have been a great payout, but the Buckeyes became just the ninth No. 2 seed to lose an opening round game. They were upset by Oral Roberts.
Going Forward
As the tournament continues into its second weekend, bettors should be wary of a few trends. Through the 51 games played already underdogs are 28-23 ATS. Bettors that like playing totals should be aware that in those 51 games thus far the Under is 28-21-2. Regardless, one thing is certain. Bettors will continue to bet like crazy on this year's March Madness.