Biggest Steals of the 2021 NFL Draft
May 6, 2021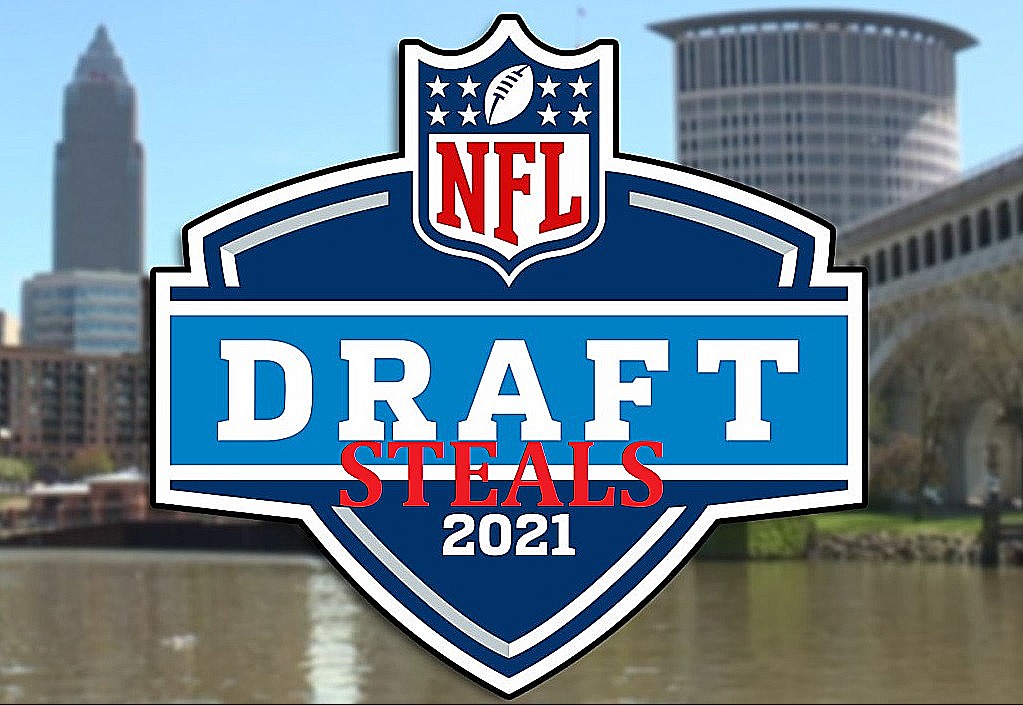 With the 2021 NFL Draft now behind us, NFL teams will begin the process of preparing their rosters for the upcoming season. As always happens, there will be a draft pick or few (or several) that will turn some heads. Remember a guy named Tom Brady? He was a sixth-round draft pick. So was WR Antonio Brown. Both turned out to be pretty good picks.
Where is the next big steal? Here's a look at this year's biggest draft steals on a round-by-round basis. There always seems to be some hidden gems in the lower part of the first round as well as early in the second. Some may not consider these steals; others do.
Round 1
There usually aren't too many surprises in the first half of Round 1, but the second half can be a different story. The Baltimore Ravens got not one, but two potential All-Pros in WR Rashod Bateman (No. 27) and DE Jayson Oweh (No. 31) at the bottom of Round 1.
Oweh is a risk, but his measurables are off the charts. At 6-5 and 257 pounds, the former Penn State star ran a 4.39 40-yard dash, 4.15 pro shuttle, and recorded a 40-inch vertical jump. Bateman was overlooked with the likes of Ja'Marr Chase, DeVonta Smith, and Jaylen Waddle in the draft. The Minnesota product will be a Day 1 starter for the Ravens.
ROUNDS 2 & 3
Many believe Arizona's pick of Rondale Moore (No. 82) is a stretch. Moore is listed at 5-9, but he's more like 5-7. Good things can come in small packages and Moore is a good one. He is extremely dynamic with outstanding speed. At his pro day, he ran a 4.29 40, a 6.68 three-cone, and recorded a 42.5-inch vertical jump. His true freshman season was one of the best by a non-quarterback in recent memory. He should add some versatility to Arizona head coach Kliff Kingsbury's Air Raid offense.
Denver got a steal in the third round at No. 98 when they selected NCAA Division III product Quinn Meinerz, a guard out of Wisconsin-Whitewater. Meinerz had the second-highest win rate of any offensive lineman at the Senior Bowl. His measurables are outstanding: 4.86 40-yard dash, 32-inch vertical jump, and a 4.47 pro shuttle. If he wasn't a Division III player, he probably would have gone much higher.
ROUNDS 4 & 5
Cleveland has rebuilt itself through the draft over the past several years. They found another later-round steal in Ohio State DT Tommy Togiai, who they took in the fourth (No. 132). Part of the reason why Togiai didn't go earlier is his lack of ideal size (6-2, 300, 31.75-inch arms) and lack of experience (659 career snaps). The guy can play though. Only six Power 5 interior defensive linemen posted a 75.0-plus grade as a run defender and pass rusher. Togiai was one of them.
With the absence of any clear-cut, no-miss edge rusher prospects in this draft, Duke's Chris Rumph could turn out to be the best of any taken this year. He's a little on the light side at 6-3 and 245 pounds, but Rumph plays with a high motor. He had 14.5 sacks and 26 tackles for loss in his last two seasons at Duke. The Chargers will make good use of Rumph who will make a nice pass-rushing tandem with Joey Bosa.
There is a reason why Denver head coach picked Indiana Safety Jamar Johnson. He is a great fit for Fangio's defense despite his overall lack of experience. Johnson was a backup his first two seasons with the Hoosiers and a starter in 2020. He has only played roughly 800 snaps in his career. Still, Johnson produced a coverage grade of 89.3 and had seven interceptions at Indiana.
ROUNDS 6 & 7
With a name like Stone Forsythe, you just have to be a good football player, right? An offensive tackle out of Florida, Forsythe was selected by Seattle in the sixth round, No. 209 overall. The first thing you notice about Forsythe is his size. He is listed at 6-8 and is probably closer to 6-9. That size is both a blessing and a curse as Forsythe will sometimes lose leverage battles. He has outstanding upper body strength though and he had the third-best pass block rate in the SEC last year. If the Seahawks can clean up his footwork, this could be one of the biggest steals of the 2021 draft.