Sports Betting World Reacts to Phil Mickelson Win
May 26, 2021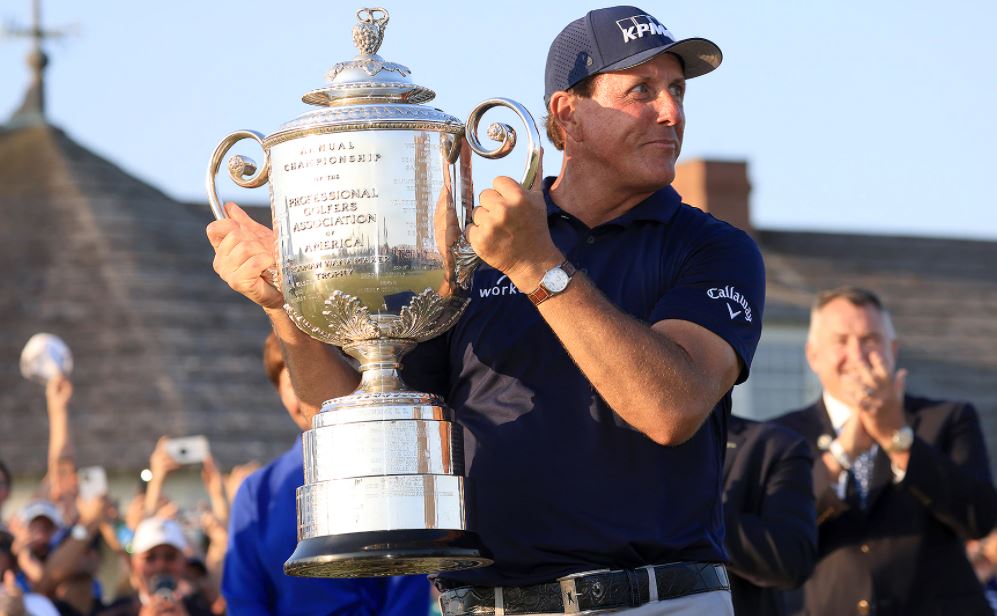 You aren't supposed to win major golf championships after the age of 50. And prior to Phil Mickelson's victory at the PGA Championship over the weekend, you couldn't.
But now you can, and because of Mickelson's win, he is now seeing considerably shorter odds for a U.S. Open win than he did just a week ago. He had been listed at +12500 to win at Torrey Pines in San Diego, where Mickelson is from. Today he is paying +7000 at the sportsbook — still not the favorite, but far higher on the odds board than he had been.
PGA Championship Betting on Mickelson
The biggest winner on Sunday was Mickelson, who has spent much of his career overshadowed by Tiger Woods. Next on the winner's list are men over 50, who now believe that they can accomplish the same things that a 25-year-old can. And right behind them are sports bettors who took a chance on a guy who hadn't won a major since 2013.
During the week leading up to the PGA Championship, Mickelson was on the board at +30000. A $1000 bet on him to win, which was reportedly placed by one bettor, paid $300,000. PointsBet acknowledged that Mickelson was a huge liability going into the tournament and only became more so as the weekend progressed.
"While it was great to see Phil win as a fan of the game, from the book's perspective, the result dinged us pretty good.
"The PGA Championship proved to be our most-bet golf event ever, just surpassing this past Masters tournament, and Phil entered as a top 5 liability for PointsBet before moving to a top 3 liability by the conclusion of day one."
On Thursday morning, Mickelson paid +25000, after having paid +30000 on Wednesday. When the second round teed off on Friday, a bet on Mickelson had dropped to +9000. Saturday, he was paying +1200. And when Sunday's final round began, Mickelson was the favorite to finish as the 72-hole leader, paying +275.
Betting Mickelson at the U.S. Open
For most people, a $1,000 bet on a +30000 longshot is far too rich to make. But taking a chance on a guy with good history and a revamped physical routine made some sense. Is a bet on Mickelson at +7000 just as enticing?
Mickelson's win last weekend wasn't just some old guy finessing his way to the championship. He didn't get lucky or have bounces go his way or watch other contenders meltdown to give him the title. Mickelson won this tournament by being the best golfer on the course.
At age 50, he averaged 316 yards off the tee, putting him above the tournament average. In the final nine holes, he regularly outdrove playing partner Brooks Koepka and set the tournament mark with a 366-yard drive on the 16th.
He was playing up to 45 holes a day to get his stamina up for the 18 holes of championship golf. His exercise and diet are that of a younger man, and his play reflected that. But at +7000, he simply doesn't present enough of an upside to warrant a serious bet in the U.S. Open.
But Don't Count Him Out
Mickelson has never won the U.S. Open, and in the history of major golf championships, only 33 times has a golfer won back-to-back majors. And that history goes back to 1860.
Mickelson is one of the 33, winning the PGA Championship in 2005 and then following it up with a win at the Masters in 2006. He's also won three times when the PGA Tour has stopped at Torrey Pines, although to be fair, it has been 20 years since he won in his hometown.
Still, I don't think that Mickelson is considering his win at the PGA as his swan song. It's not his last go at a major, nor is he giving up on his dream to win the U.S. Open.
"I know that I'm playing well, and this could very well be my last really good opportunity to win a U.S. Open. I'm going to put everything I have into it."