Is Eli Manning a Hall of Famer?
June 25, 2021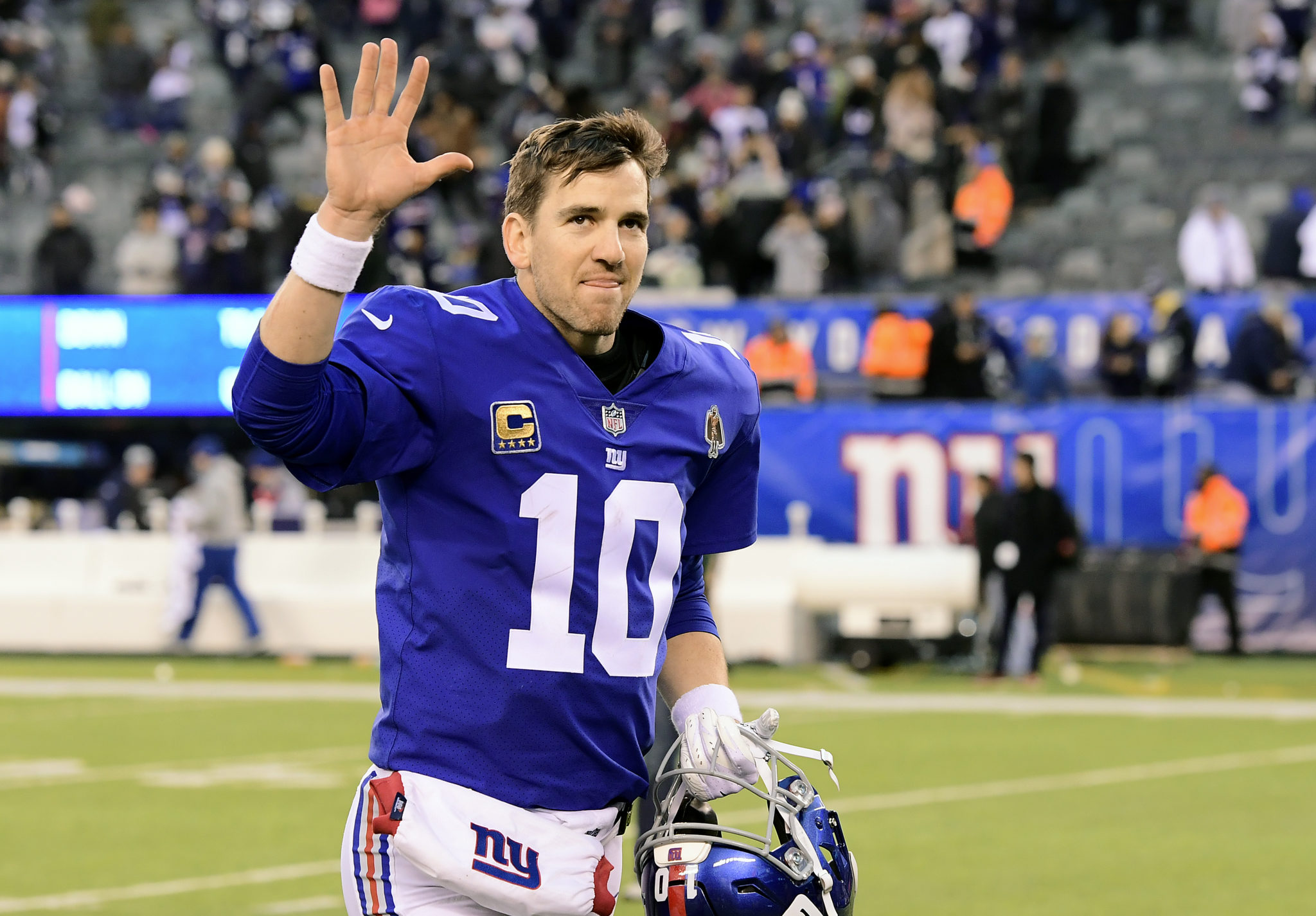 You can almost picture it now. It's another holiday season at the Mannings, football's most famous family, and, like the adult children they still are, brothers Peyton and Eli are going at it. The spat goes something like this.
Peyton: Ha-ha! I told you your two Super Bowl MVPs weren't enough!
Eli: Yeah, well I didn't have the luxury of teams buying me elite receivers and a line that kept me off my back.
Family patriarch Archie Manning enters the room.
Archie: Boys! Relax. You both did your best. Time will tell if Eli becomes a Hall of Famer.
That's one of two ways the discussion of Eli Manning in the Hall of Fame could go. The former Giants quarterback retired in January of 2020 and will be eligible for induction into the Hall in 2025. Recently, Manning returned to the Giants organization where he will serve a role in Business Operations and Fan Engagement. That prompted some discussion on a topic that will no doubt be hot for the next few years. 
Will Manning join his brother Peyton, who will be inducted this summer, in the Hall of Fame? There are some strong arguments both for and against the younger Manning's bust going on display in Canton, Ohio.
The Case for Eli
The best case for Eli Manning to the Pro Football Hall of Fame revolves around what he did in 2007 and 2011. Manning led the New York Giants to two Super Bowl victories. How many quarterbacks in NFL history have led their team to multiple Super Bowl wins? 
Twelve, to be exact. Only five of those twelve quarterbacks won multiple Super Bowl MVP awards.  Tom Brady, Joe Montana, Bart Starr, and Terry Bradshaw make up the first four. All are in the Hall of Fame. The fifth, of course, is Eli who led his Giants to their most recent Lombardi Trophies. 
It seems that if you lead your team to multiple Super Bowl victories and win multiple Super Bowl MVPs a la Brady, Montana, Starr, and Bradshaw; you have a reservation for Canton, Ohio, and the Pro Football Hall of Fame.
If that isn't enough, the for-Eli campaign also includes the performances that led to Manning's Super Bowl wins and MVPs. Remember, he beat the NFL dynasty – the Patriots – on both occasions and did so with epic fourth-quarter, last –minute touchdown drives. One of those drives ended New England's quest for a perfect season.  
There is also Eli's NFL record for the most passing yards in a single postseason. Manning threw for 1,219 yards in the 2011 playoffs. Yes, he did have the benefit of an extra game since the Giants were a wild card, but he still holds the record. 
Manning also finished his career ranked seventh all-time on the career passing yards list (he has since been supplanted by Ben Roethlisberger). He is also ranked seventh in career touchdown passes. Manning played 16 seasons in the NFL, all of them with the New York Giants. He will be inducted into the Giants Ring of Honor and his No. 10 will be retired. Isn't that enough to get Eli into the Hall?
The Case Against Eli
The naysayers will point to a handful of items to form their case against Eli Manning gaining entry into the Pro Football Hall of Fame. Right off the bat is the career record as an NFL starting quarterback. Eli went a rather blah 117-117 as the Giants starter. 
Going .500 for a lengthy career just isn't good enough to reach the Hall regardless of the two Super Bowl MVPs. The very same naysayers will also point to Eli's record in the postseason. Sure, the two Super Bowls were great, but what about the four one-and-dones? Then, you can add in the other nine seasons when Eli failed to lead New York to the postseason.
There are four quarterbacks in the history of the NFL who have won a Super Bowl but ended their NFL career without a winning record. Joe Namath is one of them and, yes, he is in the Hall of Fame. The other two? Jim Plunkett and Doug Williams. 
Surely if you're a true football fan, you at least recognize the names of Plunkett and Williams. Williams won a Super Bowl quarterbacking the Washington Redskins in 1987. Plunkett actually won two Super Bowls with the Raiders. Neither Williams nor Plunkett have been inducted into the Hall of Fame. Both won Super Bowl MVP awards too.
And, while all of Manning's accomplishments – or lack of – can be debated, the biggest thing that may hold him back from entering the Hall is simply the talent that will be eligible in 2005. Along with Manning, other first-time eligible candidates will include Drew Brees and Jason Witten and could include the likes of Frank Gore and Adrian Peterson. 
Like Archie said above, time will tell whether or not Eli Manning finds his way to the Pro Football Hall of Fame.
Odds
These odds are unofficial. A sports publication put out their own odds a few years ago. These are not currently bet-able.
Will Eli Manning be elected into the Pro Football Hall of Fame?
Yes -1500
No +700