Is Something Special Brewing in Jacksonville?
July 6, 2021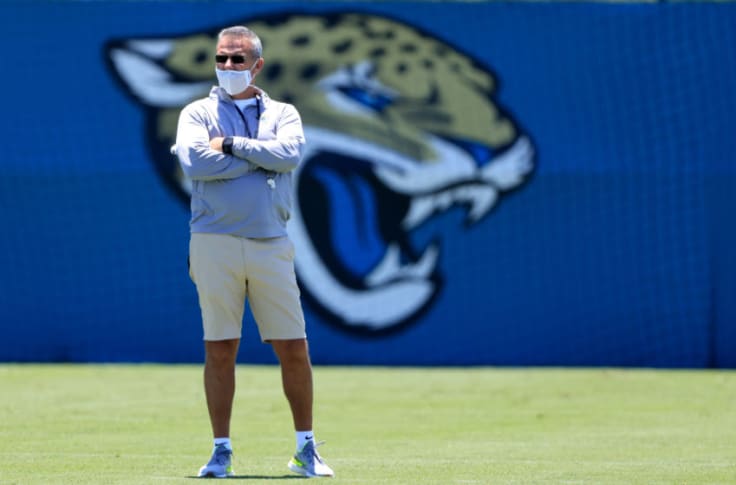 No. 1 overall draft pick Trevor Lawrence signed his rookie contract with the Jaguars on Monday. He'll receive a cool $36.8 million over the next four years to guide a new Jacksonville offense that is the brainchild of new head coach Urban Meyer. The Jags new coach has won everywhere he has been, but he's never been in the NFL. Still, it's easy to believe that something special is brewing in Jacksonville.
New Leader
Urban Meyer spent the past few seasons in the booth working as an analyst or Fox Sports on their Big Noon Kickoff college football pre-game show. Prior to that, he won two national championships at Florida, one at Ohio State and accumulated a record of 187-32 as a college head coach.
Meyer has won everywhere he has been. He turned around a Bowling Green program going 17-6 in two seasons. He turned Utah into a power out west with a 22-2 record in two seasons there, including a perfect 12-0 mark in 2004. That led to a 65-15 mark at Florida and then the amazing seven-year run in Columbus where Meyer's teams went 83-9 with seven division titles, two conference crowns, and the one national championship.
Yes, the NFL is different, but Meyer does know how to win. That alone is enough to spark some change in Jacksonville.
More Winners
Meyer wasted no time in building a winner by drafting winners. He used the 2021 draft's first pick to take former Clemson QB Lawrence. Like Meyer, Lawrence is accustomed to winning. It's pretty much all he has done since high school.
Lawrence took over as the starting quarterback at Cartersville (Ga.) HS as a freshman and proceeded to win 41 consecutive games. His high school team won two state championships and Lawrence set new Georgia state records for passing yards and touchdowns.
He moved on to Clemson as the nation's No. 1 recruit. Lawrence eventually became the starter as a freshman and led the Tigers to three straight College Football Playoff appearances and one national title. He lost a total of two games at Clemson and one of those was in a national championship game. It's safe to say that Lawrence knows how to win.
The Roster
The Jags offense can't be much worse than last year. Lawrence will take over the offense from the "Stache" Gardner Minshew, who becomes the backup. James Robinson was a 1,000-yard back last year and he'll compete with first-round draft pick Trevor Etienne, Lawrence's former college teammate, for the starting slot.
Wide receiver D.J. Chark Jr. made the Pro Bowl last year and the entire Jacksonville starting offensive line returns. Under the tutelage of Meyer, offensive coordinator Darrell Bevell, and passing game coordinator Brian Schottenheimer; the Jags offense should make some strides in 2021.
The Jacksonville defense needs to make some serious improvements before the Jags will contend for anything. The 2020 Jags were awful defensively allowing 417.7 yards of total offense and 30.8 points per game. Both of those numbers ranked 31st in the NFL. 
The Jags will operate out of a 3-4 under new defensive coordinator Joe Cullen. Where Jacksonville must make the most improvement is in rushing the passer. The Jaguars recorded just 18 sacks over the course of last season. That's one of the big reasons they gave up so many yards and points in 2020. 
The Culture
Quite possibly the biggest change in Jacksonville could be seen during the Jags minicamp. The team completed 12 practices together in June before breaking until training camp in July. There was an element of competition at every position that has not been seen before in Jacksonville. 
Meyer and his staff have brought a mentality that players must compete every day in order to earn a spot on the final 53-man roster. From quarterback to tight end to kicker, there is an element of competition every day. Tim Tebow continues to compete for a job at tight end. Rookie Walker Little is competing for a starting job on the offensive line and Minshew is battling C.J. Beathard for the No. 2 quarterback job.
It remains to be seen if that competition will lead to more wins, but one good thing for Meyer and the Jags comes on Sunday, September 12. Jacksonville opens the season with Houston, which is in a bigger world of hurt than Jacksonville. The Jags then play Denver and Arizona at home and play at Cincinnati in Week 4. Those four games will prove whether or not something special is brewing in Jacksonville.