Is the Big 12 Really Collapsing?
July 28, 2021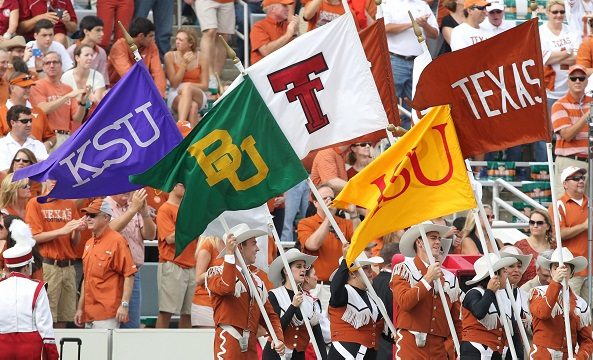 With the announcement that Texas and Oklahoma will not renew their Big 12 broadcast rights when they come up for renewal in 2025, the question on everyone's mind was "Is the Big 12 collapsing?"
The short answer is no. The Big 12 isn't collapsing. It's done. Finit. Do not pass "Go." Do not collect $200 million. Or even $200. 
The Big 12 – which was never all that big and was 10 masquerading as 12 – will end as we know it very soon. The implications for the future of college football – and all college sports – are huge.
Big 12 Survival
It's not clear whether Texas and/or Oklahoma will just let the current Big 12 contract run out or pay a $70 million fee to get out early. Regardless, the Big 12 has some serious planning to do…and fast. If the conference is going to maintain its existence, it will need to add new members. The Big 12 as ten teams was a stretch. At eight, it would not come close to the power and prestige of the old Big 8.
There are some candidates out there that would make sense in a newly formed Big 12. Houston and SMU make sense both from a financial and geographic sense. Cincinnati and Memphis are not all that far off geographically and are programs like Houston and SMU that can make the jump to Power 5.
There are also some outliers that are consistently among the best in the Group of 5 each and every year. Boise State may be a stretch geographically as is UCF, but those are two programs that would be worthy of a move to the Big 12. There is also BYU, which has played the last several years as an independent. The Cougars make both geographic and financial sense. The Big 12 could add two of these teams or add four and make it a true Big 12 with twelve teams.
The Path to a True Playoff
There has been some talk over the past decade or so about the possibility of a true FBS playoff. You know, like they do in FCS, Division II, and Division III. The FCS currently has 24 participants in its end-of-season playoff. Twenty-eight teams compete for the Division II title and 32 are chosen to play for the Division III championship.
With four super-conferences of preferably 16 teams each, Power 5 would consist of 64 teams. The remaining 66 teams would be distributed among the Group of 5 conferences. The current College Football Playoff used by FBS teams could then expand to eight, 16, or even 24 teams. At least that is the current thought. 
An eight-team playoff, for example, would include the winners of each of the four Power 5 super-conferences plus two Power 5 wild cards plus the best two Group of 5 teams. Any new playoff system is likely to keep the current bowl system intact as well.
New Homes
Should the Big 12 fall apart, the remaining eight teams will relocate into new conferences. Ten years ago, Nebraska left the Big 12 for the Big 10. Iowa State and Kansas would fit geographically into a new Big 10.
Oklahoma State and TCU could head west to the Pac-12 or TCU could go back to the MWC, but that isn't likely. Kansas State may have the most difficult time finding a new home. The Wildcats would be a good fit in the Mountain West. 
West Virginia would be a perfect fit for the ACC where it could rekindle its biggest rivalry – the Backyard Brawl with Pittsburgh. Texas Tech and Baylor may be off to a newly designed AAC, which may be a difficult move for some of these programs. Moving from a Power 5 conference to a Group of 5 conference is something that a program would likely frown upon. 
There is one image floating around on social media right now of a possible refitting of the conferences which to me makes a lot of sense. The image isn't the best quality though. Click here to see it
No Guarantees
Texas and Oklahoma are likely to join the SEC. Both schools have inquired about the possibility of becoming members. There are no guarantees however. Eleven of the fourteen current SEC members would have to agree to the expansion. Texas A&M has already announced its opposition to the move. They are the only school to do so publicly thus far. 
While schools like Vanderbilt and South Carolina – both of which have struggled in recent years – probably don't want to have to play programs like the Sooners and Longhorns, Texas and Oklahoma would bring even more notoriety to college football's best conference. 
The Texas/Oklahoma move and the collapse of the Big 12 are still in their preliminary stages. How it all plays out could change college football as we know it.