2021 Online NFL Survivor Contest
August 7, 2021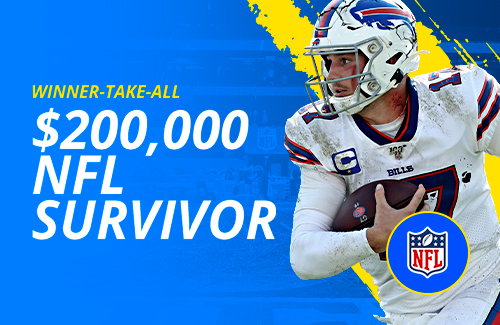 People have really grown to love the contest type known as "survivor". As the name implies, you have to survive week to week and the payoff for doing so is HUGE. How huge? $200,000 to be exact.
Last year's $100,000 winner-take-all survivor contest was such a big hit, the folks at SportsBetting.ag are running it back with double the prize.
How it works:
You pick a team to win straight up every week. If your team wins, then you move on to the next round. The caveat is that you cannot picks the same team twice. So, every week you have to pick a different team. There are 18 weeks this season, so you will end up using 18 teams in the end.
How Much is it?
You can join for $30. Each additional entry is cheaper and you can have up to 25 entries in total.
| | |
| --- | --- |
| One Entry: | $30 |
| Entries 2-5: | $20 each |
| Entries 6-10: | $15 each |
| Entries 11-25: | $10 each |
Registration
Registration is open now and closes on Monday, September 13th at 8:05 pm (ET). Registration for the Survivor Contest is only available online.
Payout Rules
If multiple contestants remain alive after Week 18, they will split the $200,000 evenly.
If a game is canceled or postponed for any reason and the game is not played before the following Wednesday, both teams scheduled to play in that game will be graded as losers. If you selected either of those teams you will be eliminated from the contest; however, your buy-in will be refunded.
There are no rollovers. You can withdrawal your winnings right away.
How to Enter
Sign Up at SportsBetting.ag
Deposit Money
Click "Contests" in the main navigation
Find the NFL Survivor Contest and Click Enter Contest
Good luck and we hope you win this year's $200,000 prize. Get a new house or buy that boat you have always wanted. And most of all HAVE FUN!