Luka Doncic Signs Huge Extension
August 10, 2021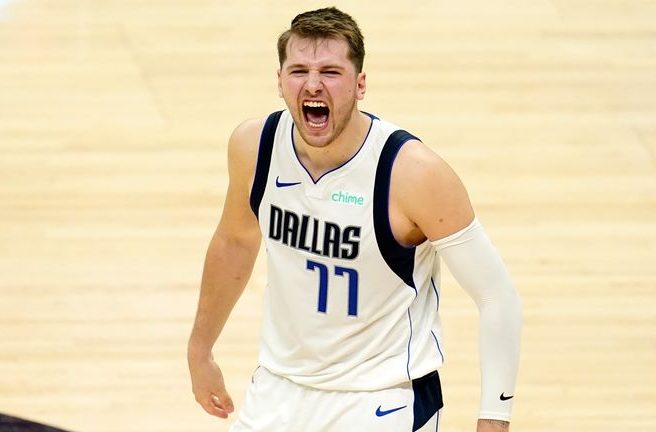 Fresh off his performance at the Tokyo Olympics, Slovenian and Mavericks superstar Luka Doncic has a new contract. The supermax deal is for five years and is worth $207 million.
"Today is a dream come true," said the 22-year-old. "The game of basketball has given me so much and has taken me to so many amazing places. I am humbled and excited to remain in Dallas as part of the Mavericks and appreciate the support of my fans."
Doncic was named as one of the five All-Stars from the Olympic tournament after earning First-Team All-NBA honors for a second straight season with the Mavs. Those two NBA awards are what qualifies him for the current contract, which comes with a starting annual salary of 30% of the projected salary cap – $115.7 million – for the 2022-23 season.
Doncic is still on his rookie contract for the upcoming season, and as the third pick in 2018, he will make $10 million. Doncic currently leads the sportsbook's NBA odds for MVP at +400, just ahead of Steph Curry (+500) and Giannis Antetokounmpo (+600).
Mavericks Happy to Pay
There may not be a better 22-year-old in professional basketball history, making the deal for Dallas an obvious one to make. He won a EuroBasket gold medal when he led Slovenia in 2017. He led Real Madrid to the EuroLeague championship in 2018 and was the European MVP.
In 2019 he was the NBA's Rookie of the Year. He's averaged 28 points, 8.7 rebounds, and 8.7 assists with the Mavericks over the last two seasons. He has 36 career triple-doubles, which already ranks him 11th in NBA history. He's still just 22-years-old.
The only thing left for Doncic is an NBA MVP, which is coming sooner rather than later, and success in the playoffs. The Mavs have been knocked out in the first round in each of the last two seasons, even though he personally has played great. In the seven-game loss to the Clippers these past playoffs, Doncic averaged 35 points and scored at least 40 points in three games, including 46 points and 14 assists in Game 7.
Doncic's future in Dallas is secure, so owner Mark Cuban and the front office can now try to build around him. In this age of superteams, the Bucks' recent championship run notwithstanding, Dallas and Doncic seem like a logical place for other stars to want to play. Doncic is a great scorer, but he also loves to distribute the basketball, making him an ideal teammate. And based on how much Mavs fans still love Dirk Nowitzki and how much they love Doncic, anyone who goes there and wins a championship will become a beloved member of the Mavericks community.
Along with his incredible play on the court, Doncic has already become very active in the Dallas community, and there was little doubt that he wanted to stay. His Luka Doncic Foundation is an international non-profit that has refurbished basketball courts in underserved communities in both Slovenia and Texas.
NBA Investigating Tampering Claims
Not all of the contracts that have been signed since the NBA's free agency began have been as straightforward as Doncic's. There are two deals, the sign-and-trade contracts signed by Lonzo Ball and Kyle Lowry, that have the NBA concerned that early contact between the team and player may have happened.
Ball was traded to the Bulls, and Lowry was traded to the Heat, and neither team involved in the trades was allowed to contact the player or each other prior to Aug 2 at 6pm ET. Ball signed his offer sheet within minutes of the 6pm deadline, which certainly makes it seem that the Bulls and Pelicans had already spoken to each other and Ball. It also was a complicated trade that involved other moving parts, which weren't likely to have been hammered out in mere minutes.
The Heat and Raptors deal for Lowry was also rumored prior to the deadline, making it seem very likely that it was being worked on before it was allowed.
The NBA has a number of options at its disposal if tampering is the result of the investigation. Two years ago, it raised the maximum team fine to $10 million and allows for the suspension of the executives involved. There could also be forfeited draft picks, or the deals could be voided in an extreme step.