2022 NBA Title Odds
August 20, 2021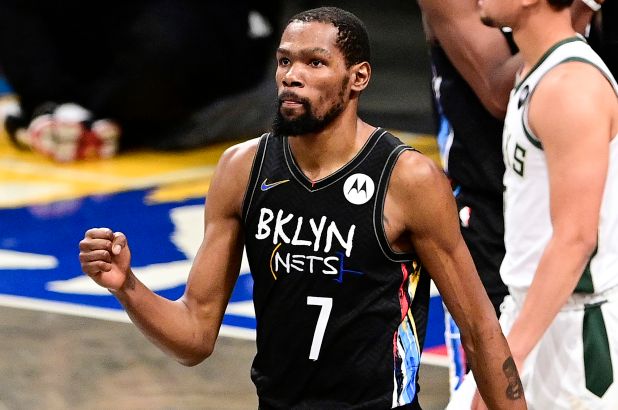 The Clippers and Grizzlies are just finishing the trade details that send Eric Bledsoe to Los Angeles in exchange for Rajon Rondo, Patrick Beverley, and Daniel Oturu. This was the second trade for Bledsoe this offseason.
Free-agent Josh Hart has agreed to a three-year, $38 million with New Orleans.
But for the most part, the wheeling and dealing of the offseason has hit its lull, making this a perfect time to see who are the favorites to win the title next season.
Brooklyn Nets (+250)
The Nets were the deserved favorites to win last season, and they are again this year. Patty Mills is a solid addition, Keven Durant has been extended, and there were no real losses this offseason.
If they stay healthy (which they were unable to do last year), they are the best team in the NBA.
Los Angeles Lakers (+300)
The Lakers have added Russell Westbrook, Carmelo Anthony, and Dwight Howard. The jokes about the age of this team are warranted. They changed out their roster for significantly older players and teamed them with a soon-to-be 37-year-old LeBron James.
There may be some durability issues, but this team will win a lot of games. The betting market still supports the Lakers, having moved their NBA championship odds from +400 down to the current +300.
Golden State Warriors (+1100)
It was a good season for Stephen Curry and an even better offseason for the Warriors. The bench now has veteran depth. Rookie Jonathan Kuminga is a great get, as is rookie guard Moses Moody. This is also a team that has positioned itself to make a deal for another star in the near future because of the extension they signed with Curry.
It's not quite the Warriors of their dynasty days, but this team is squarely in the mix in the Western Conference. The sportsbook isn't as confident of the Warriors however, having moved their NBA Finals odds down from the opening number of +900.
Milwaukee Bucks (+900)
It's good to be on the top of the NBA mountain. As the defending champions, the Bucks didn't need to do a lot this offseason to stay one of the favorites.
They did lose PJ Tucker in free agency to the Miami Heat, which was a surprise. But at 36-years-old, he was becoming limited in what he could do for Milwaukee. George Hill and Rodney Hood are good role-player additions, and this team has the regular-season power to be one of the top seeds. It all comes down to the playoffs and just how good Giannis can be.
He proved he's not someone to bet against. The Bucks could easily go back-to-back.
Phoenix Suns (+1600)
The defending Western Conference champions are now looking up at the Lakers and Warriors on the favorites list, and part of that is the doubt that Chris Paul can recreate his magical run from this past season.
He does have a new contract, which lowers his cap number and makes his return a bigger positive. The younger guys all now have a run to the Finals on their resumes, which will serve them well in next year's playoffs. But this is a team that could go either way. They could get hot and make another run. Or they could get bounced in the first round.
Los Angeles Clippers (+1600)
Re-signing Kawhi Leonard set the stage for a pretty good offseason for the Clippers. Reggie Jackson is also back, and the addition of Eric Bledsoe strengthens the backcourt and saves them $30 million in luxury taxes. That makes their cap number far more friendly to further moves down the road, which could help cover for Leonard if he's not back from ACL surgery by the end of the year.
Also, look for big things from 19-year-old Keon Johnson. There are questions with the Clippers, but they should be good.
Philadelphia 76ers (+1600)
We don't know what is going to happen with Ben Simmons. And that might be dependent on Damian Lillard, who clearly isn't thrilled in Portland but has yet to make a trade request.
Until that Simmons' domino falls, it's best to steer clear of any Sixers futures bets.
Utah Jazz (+1400)
The Jazz won an NBA-best 52 games last season, and the only loss from that team is a backup center. Re-signing Mike Conley and his 16ppg was big, and everyone in Utah is high on rookie Jared Butler, who just won a National Championship with Baylor.Unlikely to be the top seed for a second season, Utah is still very good. While they opened at a +1600 price, bettors have moved that line down to its current +1400 for NBA title odds.