2020 NCAA Football ATS Records
August 21, 2021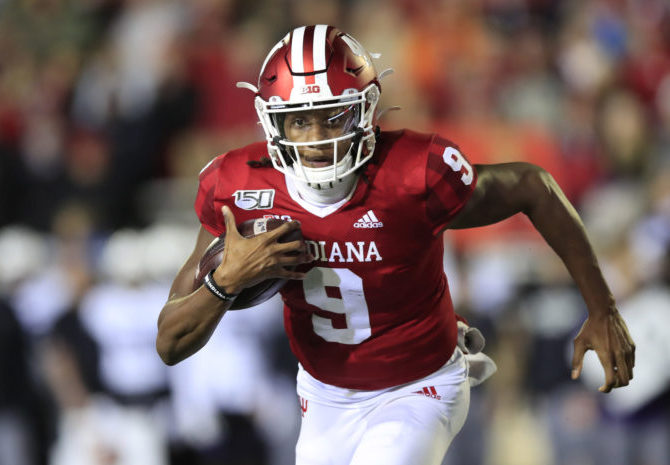 It is never a bad idea to look at teams previous ATS records when handicapping a game. And the more recent the information the better.
In this article we are posting a table of all NCAA football teams and how they did Against the Spread in 2020.
A key part of handicapping is looking how a team did last year, then studying which players were lost to graduation or NFL draft and then recalibrating. It also helps to study the direct matchup between the school they will be playing and how they have fared against one another.
Well enough talk, here are the schools and their betting standings against the point spread for the Covid shortened 2020 calendar year. Make sure to check our list of best places to bet for this year.
2020 NCAA ATS Standings
| School | W/L | Win % |
| --- | --- | --- |
| Indiana | 7-1-0 | 87.5% |
| Northwestern | 7-1-1 | 87.5% |
| San Jose St | 6-1-1 | 85.7% |
| Liberty | 9-2-0 | 81.8% |
| Tulsa | 7-2-0 | 77.8% |
| Arizona St | 3-1-0 | 75.0% |
| Oklahoma | 8-3-0 | 72.7% |
| Coastal Car | 8-3-1 | 72.7% |
| Iowa | 5-2-1 | 71.4% |
| Buffalo | 5-2-0 | 71.4% |
| Virginia | 7-3-0 | 70.0% |
| TX Christian | 7-3-0 | 70.0% |
| Georgia State | 7-3-0 | 70.0% |
| Arkansas | 7-3-0 | 70.0% |
| Alabama | 9-4-0 | 69.2% |
| Army | 8-4-0 | 66.7% |
| Colorado | 4-2-0 | 66.7% |
| NC State | 8-4-0 | 66.7% |
| Miami (OH) | 2-1-0 | 66.7% |
| E Michigan | 4-2-0 | 66.7% |
| Wake Forest | 6-3-0 | 66.7% |
| Nevada | 6-3-0 | 66.7% |
| Central Mich | 4-2-0 | 66.7% |
| BYU | 7-4-1 | 63.6% |
| TX El Paso | 5-3-0 | 62.5% |
| San Diego St | 5-3-0 | 62.5% |
| Ball State | 5-3-0 | 62.5% |
| GA Southern | 8-5-0 | 61.5% |
| Stanford | 3-2-1 | 60.0% |
| Kansas St | 6-4-0 | 60.0% |
| Utah | 3-2-0 | 60.0% |
| LSU | 6-4-0 | 60.0% |
| Texas A&M | 6-4-0 | 60.0% |
| Rice | 3-2-0 | 60.0% |
| Cincinnati | 6-4-0 | 60.0% |
| Iowa State | 7-5-0 | 58.3% |
| TX-San Ant | 7-5-0 | 58.3% |
| Texas State | 7-5-0 | 58.3% |
| Tulane | 7-5-0 | 58.3% |
| Oregon St | 4-3-0 | 57.1% |
| Minnesota | 4-3-0 | 57.1% |
| New Mexico | 4-3-0 | 57.1% |
| UCLA | 4-3-0 | 57.1% |
| W Virginia | 5-4-1 | 55.6% |
| S Florida | 5-4-0 | 55.6% |
| Middle Tenn | 5-4-0 | 55.6% |
| E Carolina | 5-4-0 | 55.6% |
| Rutgers | 5-4-0 | 55.6% |
| Syracuse | 6-5-0 | 54.5% |
| Arkansas St | 6-5-0 | 54.5% |
| Boston Col | 6-5-0 | 54.5% |
| Miami (FL) | 6-5-0 | 54.5% |
| Ohio State | 4-4-0 | 50.0% |
| Missouri | 5-5-0 | 50.0% |
| Louisville | 5-5-1 | 50.0% |
| Nebraska | 4-4-0 | 50.0% |
| Kent State | 2-2-0 | 50.0% |
| Fresno St | 3-3-0 | 50.0% |
| Toledo | 3-3-0 | 50.0% |
| Mississippi | 5-5-0 | 50.0% |
| Air Force | 3-3-0 | 50.0% |
| U Mass | 2-2-0 | 50.0% |
| Marshall | 5-5-0 | 50.0% |
| W Michigan | 3-3-0 | 50.0% |
| S Methodist | 5-5-0 | 50.0% |
| Pittsburgh | 5-5-1 | 50.0% |
| Notre Dame | 6-6-0 | 50.0% |
| S Alabama | 5-5-1 | 50.0% |
| USC | 3-3-0 | 50.0% |
| Wyoming | 3-3-0 | 50.0% |
| Charlotte | 3-3-0 | 50.0% |
| Miss State | 5-6-0 | 45.5% |
| Troy | 5-6-0 | 45.5% |
| LA Lafayette | 5-6-0 | 45.5% |
| Auburn | 5-6-0 | 45.5% |
| Oklahoma St | 5-6-0 | 45.5% |
| Florida | 5-6-1 | 45.5% |
| Penn State | 4-5-0 | 44.4% |
| Hawaii | 4-5-0 | 44.4% |
| Texas | 4-5-1 | 44.4% |
| Vanderbilt | 4-5-0 | 44.4% |
| Wisconsin | 3-4-0 | 42.9% |
| Baylor | 3-4-2 | 42.9% |
| Oregon | 3-4-0 | 42.9% |
| Boise State | 3-4-0 | 42.9% |
| Clemson | 5-7-0 | 41.7% |
| N Carolina | 5-7-0 | 41.7% |
| Maryland | 2-3-0 | 40.0% |
| LA Tech | 4-6-0 | 40.0% |
| S Mississippi | 4-6-0 | 40.0% |
| Texas Tech | 4-6-0 | 40.0% |
| Navy | 4-6-0 | 40.0% |
| GA Tech | 4-6-0 | 40.0% |
| Georgia | 4-6-0 | 40.0% |
| Houston | 3-5-0 | 37.5% |
| Illinois | 3-5-0 | 37.5% |
| Memphis | 4-7-0 | 36.4% |
| Kentucky | 4-7-0 | 36.4% |
| Duke | 4-7-0 | 36.4% |
| VA Tech | 4-7-0 | 36.4% |
| Tennessee | 3-6-1 | 33.3% |
| Ohio | 1-2-0 | 33.3% |
| Akron | 2-4-0 | 33.3% |
| Florida St | 3-6-0 | 33.3% |
| N Illinois | 2-4-0 | 33.3% |
| UAB | 3-6-0 | 33.3% |
| Fla Atlantic | 3-6-0 | 33.3% |
| S Carolina | 3-6-1 | 33.3% |
| California | 1-2-1 | 33.3% |
| LA Monroe | 3-7-0 | 30.0% |
| Central FL | 3-7-0 | 30.0% |
| North Texas | 3-7-0 | 30.0% |
| Michigan St | 2-5-0 | 28.6% |
| Temple | 2-5-0 | 28.6% |
| W Kentucky | 3-8-1 | 27.3% |
| Washington | 1-3-0 | 25.0% |
| Wash State | 1-3-0 | 25.0% |
| App State | 3-9-0 | 25.0% |
| Colorado St | 1-3-0 | 25.0% |
| Bowling Grn | 1-4-0 | 20.0% |
| Florida Intl | 1-4-0 | 20.0% |
| UNLV | 1-4-1 | 20.0% |
| Arizona | 1-4-0 | 20.0% |
| Michigan | 1-5-0 | 16.7% |
| Utah State | 1-5-0 | 16.7% |
| Purdue | 1-5-0 | 16.7% |
| Kansas | 1-7-1 | 12.5% |