5 College Football Records That Could Fall in 2021
September 2, 2021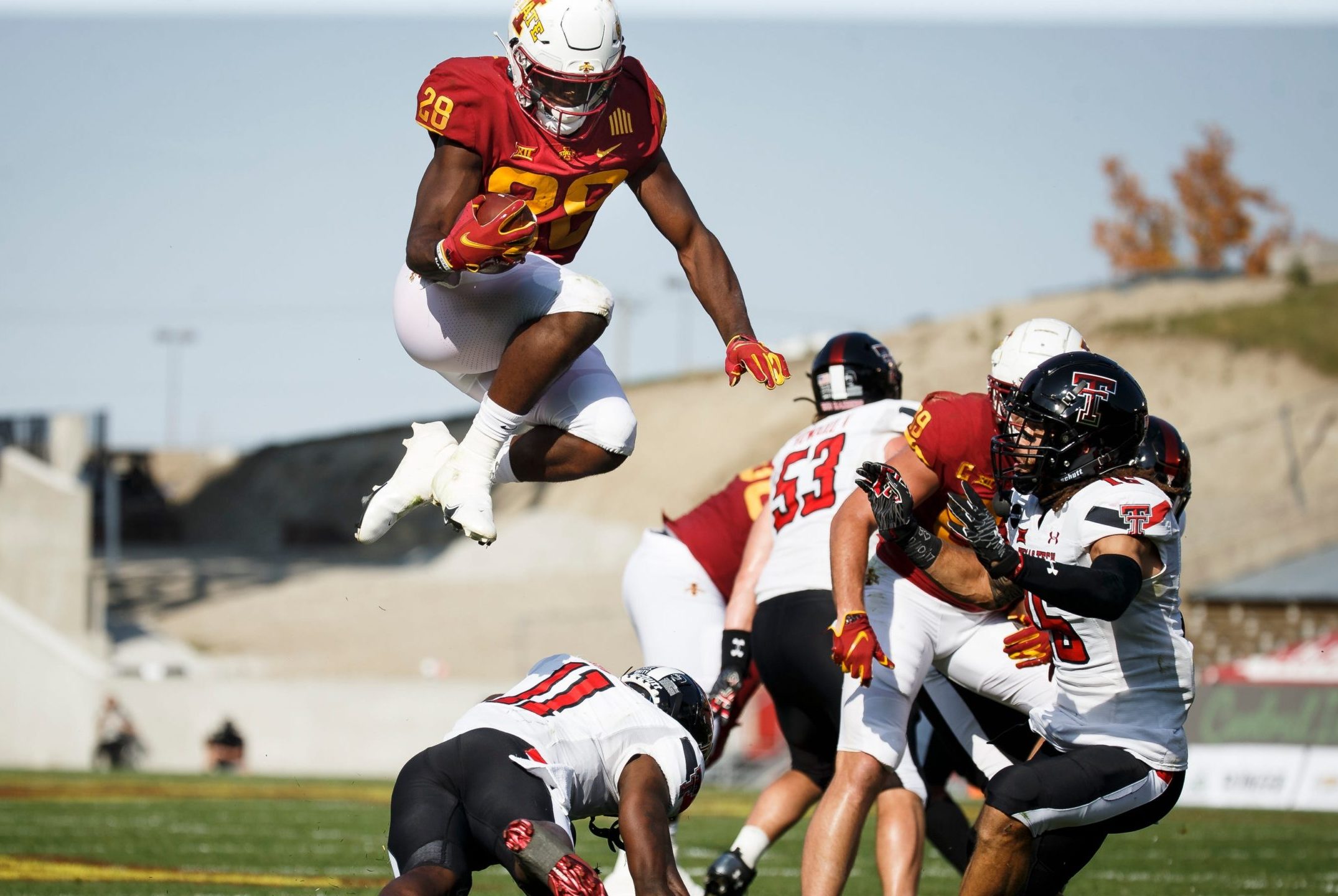 Records are made to be broken, so they say. There are some that may never be broken – NC State recorded the fewest total offensive yards (10) by a winning team in 1944, but never say never. There are any number of records that could fall this season, but there are five that stand out. The 2021 season could rewrite the record book in these five categories.
Most Games With Two or More Rushing Touchdowns
It's likely that most college football fans remember the names Barry Sanders and Montee Ball. Both Sanders (Oklahoma State) and Ball (Wisconsin) went 11 games in a season in which they scored at least two rushing touchdowns. It's actually a feat that will be extremely hard to duplicate or surpass. 
With modern offenses centered around the passing game, it's rare to see running backs pile up a bunch of rushing touchdowns. But, Iowa State's Breece Hall has an opportunity to catch both Sanders and Ball. Last year, Hall had eight games with at least two rushing touchdowns. He scored in every game and averaged a little over 23 carries per game.
Iowa State relies heavily on its running game. Head coach Matt Campbell and the Cyclones averaged 195 rushing yards per game in 2020. Here's the key though. Iowa State could potentially play in the Big 12 championship game again. That means Hall will have 14 games to either match or break this record. 
The 20/20 Club
In 2007, both Tim Tebow and Central Michigan's Dan LeFevour became the first players ever to throw for 20 touchdowns and also have at least 20 touchdowns rushing or receiving. The club now includes eight players, including four that have won the Heisman Trophy. Two more were Heisman finalists. 
While he won't actually "break" a record, Liberty QB Malik Willis is set to join the 20/20 club. He threw for 20 touchdowns and rushed for 14 last season. The Flames will potentially play 13 games this season which will give Willis, a transfer from Auburn, a shot at joining the club.
– Get a 125% signup bonus at BetUS.com when you use Promo Code SBA125
Most Times Making Two-Plus Field Goals in a Game (Season)
A lot of things have to happen for a kicker to hit at least two field goals in a game multiple times in a season. First, the offense needs to be pretty good. Second, the kicker better be accurate because he's not likely to get a lot of attempts per game.
In 2018, Syracuse kicker Andre Szmyt kicked two or more field goals in 11 games. Oklahoma kicker Gabe Brkic went 20-for-26 last season and made at least two field goals in eight games. Brkic ranked third in the nation with 2.0 field per game and finished with a 76.9 percent accuracy mark. The Sooners will be very good offensively. Brkic will get plenty of opportunities. The Sooners will play for the Big 12 title and could play 15 games with an invitation to the College Football Playoff.
Milestone: 400/100 Club
The 20/20 club isn't the only elite group Willis might join in 2021. In 1969, Archie Manning (you may have heard of him) pulled off the extremely rare feat of passing for 400 yards and rushing for 100-plus in a game against Alabama. In 1986, a guy named Ned James (you have never heard of him) did it for New Mexico.
Last year in a victory over Southern Miss, Willis had 345 yards passing and added 97 on the ground. The dual-threat quarterback had three games of over 100 rushing yards last season. The Liberty offense is loaded and Willis will have the opportunity several opportunities to join this club.
– Get a Free Entry into the $10,000 College Football Contest at BetOnline
Milestone: 200/200 Club
It's not surprising that Willis's name comes up again. He has the ability to accomplish this rare feat as well – 200 yards passing and 200 yards rushing in a single game. Rushing for 200 yards as a quarterback doesn't happen very often and when it does, it is usually a triple option guy. 
Willis came close to this one last year too. In a win over Western Kentucky, Willis actually rushed (168) for more yards than he passed (133). The talent is there – as is the schedule – for Willis to have an outstanding 2021 season. If all goes according to plan, he will enter the NCAA record books in three categories.