OREGON @ OHIO STATE (OSU -14.5, 63.5) FREE PICK
September 9, 2021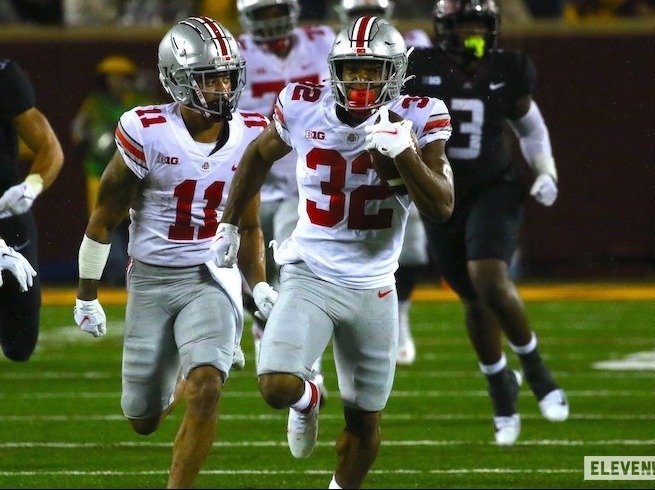 Saturday college football gets underway with an early matchup of ranked opponents when No. 12 Oregon visits No. 3 Ohio State. The Buckeyes haven't lost a game at home in the Horseshoe in 22 straight games. That streak is on the line when the Ducks come to town.
Oregon might not be at full strength, especially on defense, which could be a bad thing against an explosive Ohio State offense. Kayvon Thibodeaux, who is actually a Heisman Trophy candidate despite playing defensive end for the Ducks, suffered a high ankle sprain in Oregon's win over Fresno State last week. Thibodeaux's status for Saturday's game is still unknown. Ducks head coach Mario Cristobal has been asked repeatedly about his star and continues to say that Thibodeaux is just taking it day by day. 
Thibodeaux wasn't the only injury suffered by the Oregon defense last week. Senior linebacker Dru Mathis also went down and he may be unable to play also. That is not good news for Oregon. It is for Ohio State though.
It took a while for new Buckeyes quarterback CJ Stroud and the rest of the Ohio State offense to get on track last week in the team's win over Minnesota. Stroud would end up going 13-of-22 for 294 yards and four touchdowns as Ohio State pulled away from the Gophers in the second half and won 45-31. 
Ohio State also ran for 201 yards led by the 125 from freshman Miyan Williams, who needed just nine carries to hit that total. Without Thibodeaux and Mathis on the Ducks defense, it could be a long day for Oregon. Remember, the Ducks underwhelmed on both offense and defense in their 31-24 win over Fresno State last week.
Oregon entered last week's game as a 20-point favorite. The offense struggled averaging just 3.8 yards per carry and passing for just 172 yards. Ducks QB Anthony Brown went 15-for-24 and did throw for a touchdown, but the Oregon offense was far from impressive. RB CJ Verdell ran for 74 yards and a score on 18 carries and Travis Dye added 64 yards on 13 carries. 
Oregon went into the fourth quarter last week tied at 21-all with the Bulldogs. Fresno State actually took the lead early in the final frame before Camden Lewis hit a 25-yard field goal and Brown scored on a 30-yard run. 
What's interesting is that the Buckeyes and Ducks gave up almost 800 yards of total offense last week and both teams won. Ohio State allowed Minnesota RB Mohamed Ibrahim to rush for 163 yards and the Buckeyes gave up a total of 203 yards on the ground. Both Ohio State and Oregon had trouble getting off the field on third down. The Ducks allowed Fresno to convert 46.7 percent of their third downs and the Buckeyes allowed Minnesota to win on third down over 50 percent of the time. 
With both teams' abilities on offense and some potential shortcomings on defense, the total might be where the value is in this one. Saturday's game total is 63.5. Each of Ohio State's last three games (going back to last year) have totaled over 70. In fact, the Over is 6-1 in the Buckeyes last seven games. Going back even further, the Over is 7-2-2 in Ohio State's last 11. 
It's almost hard to believe but in Ohio State's current 22-game winning streak, the average margin of victory is a whopping 30.4 points. It would be even harder to believe that Ohio State would be able to do that to a team the quality of Oregon. 
Last week, Ohio State was favored by 14. The final score, of course, resulted in a push. With this week's total at 14.5, it's a tough call. It probably comes down to whether or not Thibodeaux and/or Mathis play for Oregon.
One thing is certain though. Ohio State is going to put up some points. The Ducks are going to be better on offense than they were a week ago. This could end up being a shootout. That game total might be a bit on the conservative side. Play the Over 63.5 for the win.