Biggest Surprises of the Young 2021 College Football Season
September 13, 2021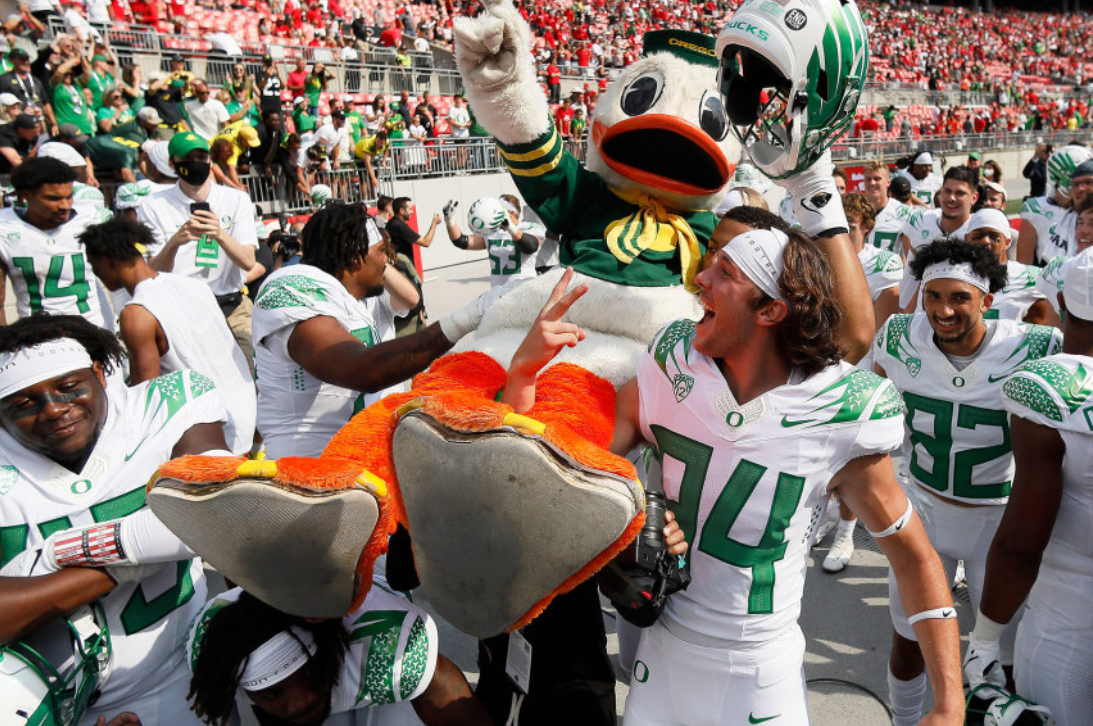 It's only three weeks old, two in college football weeks; but the 2021 season has shown us its fair share of surprises already. In the season's Week 2, a full five Top 25-ranked teams fell to defeat including the nation's No. 3 Ohio State Buckeyes. 
Add in three teams – No. 5 Texas A&M, No. 8 Notre Dame, and No. 22 Miami – that won by the skin of their teeth and Week 2 was simply outstanding for college football viewers. There is much more to come. Here's a look back at the biggest surprises of the young 2021 college football season.
Iowa Rules
Two weeks into the 2021 season and the Iowa Hawkeyes easily have the nation's best resume thus far. Kirk Ferentz's team has not one, but two wins over nationally ranked teams. After beating up on No. 18 Indiana in Week 1, the Hawkeyes continued their dominance of in-state rival Iowa State with a 27-17 win at Jack Trice Stadium.
The Hawkeyes went yet another game in which they gave up fewer than 25 points. It's been 24 straight games. That kind of defense wins games and earns respect. Iowa is now ranked No. 5 in the nation. The Hawkeyes get No. 10 Penn State at home but face No. 18 Wisconsin on the road. A Big Ten West title seems like a lock. A Big Ten title would be another surprise, but the Hawkeyes are that good.
— To check out the top ranked online sportsbooks click here —
Arkansas or Texas? 
Back in the day, the Razorbacks and Longhorns used to connect every year in the old Southwest Conference. Very soon, they will rekindle their rivalry in the SEC where Texas (and Oklahoma) will become members in the near future.
Last Saturday, the Hogs welcomed the Horns to their new home … with a smack in the face. Arkansas, now ranked No. 20, continues its resurgence under head coach Sam Pittman who preaches strong defense and a powerful running game. It was that running game that did Texas in last week.
Four Razorbacks had at least 50 yards rushing as Arkansas piled up 333 on the Texas defense. Pittman's crew is now ninth in the country in rushing. That takes a tremendous amount of pressure off of KJ Jefferson who went a very efficient 14-of-19 against the Longhorns. We'll find out how good Arkansas is when they face Texas A&M, Georgia, Ole Miss, and Auburn in consecutive games. 
Texas? Well, all the hype about Sarkisian might be for naught. They Horns still have No. 3 Oklahoma and No. 14 Iowa State ahead on the schedule. Longhorns fans looking for more might be surprised when Texas finishes barely over .500.
— 125% sportsbook bonus –  Use promo code SBA125 —
The Seminole Way
If you were getting all giddy about the return of Florida State football after the Seminoles figured out how to lose to Notre Dame in Week 1, that feeling is all gone after Week 2. Somehow, the 'Noles figured out how to lose to an FCS program.
Yep, on the last play of the game, Jacksonville State QB Zerrick Cooper (a Clemson transfer), hit Damond Philyaw-Johnson with a 59-yard touchdown pass to beat FSU. Philyaw-Johnson actually caught the ball around the FSU 20-yard line and two FSU defenders whiffed on game-ending tackles. It was the Florida State football program's worst loss since, well, in a long time. 
Ohio State Defense
Most college football fans would have thought that Ohio State would be better on defense in 2021. So far, they are not. Oregon sliced up the Buckeyes defense for 269 yards on the ground with CJ Verdell accounting for 161 and two touchdowns. 
The Ducks total came on the heels of 203 rushing yards allowed by the Buckeyes to Minnesota. Last season, it was Ohio State's pass defense. This season so far, it's the run defense. A team of Ohio State's caliber is supposed to be better at stopping the run. Surprisingly, the Buckeyes are not.
$9.5 Million Per
So, Texas A&M decided to give head coach Jimbo Fisher even more money because the $7.5 million per season he was already making just wasn't enough. After going 9-4, 8-5, and 9-1 last year; Fisher got a nice bump to $9.5 million per season.
Maybe the Aggies should have spent some of that money on a backup quarterback. After starter Haynes King went down with an injury last week, the Aggies needed a late fourth-quarter drive to defeat Colorado 10-7. No. 5 teams aren't supposed to beat unranked Pac-12 teams 10-7. Coaches making $9.5 million aren't supposed to beat unranked Pac-12 teams 10-7. 
What may be even more of a surprise is that the Aggies only dropped from No. 5 to No. 7 in the latest AP Top 25 poll. With King expected to be out for several weeks, it would be a huge surprise if Jimbo and the Aggies win games against Arkansas, Alabama, Auburn, and Ole Miss. Don't forget the season finale at LSU.