An Interesting Take On Why Pac-12 Football Is Garbage*
September 22, 2021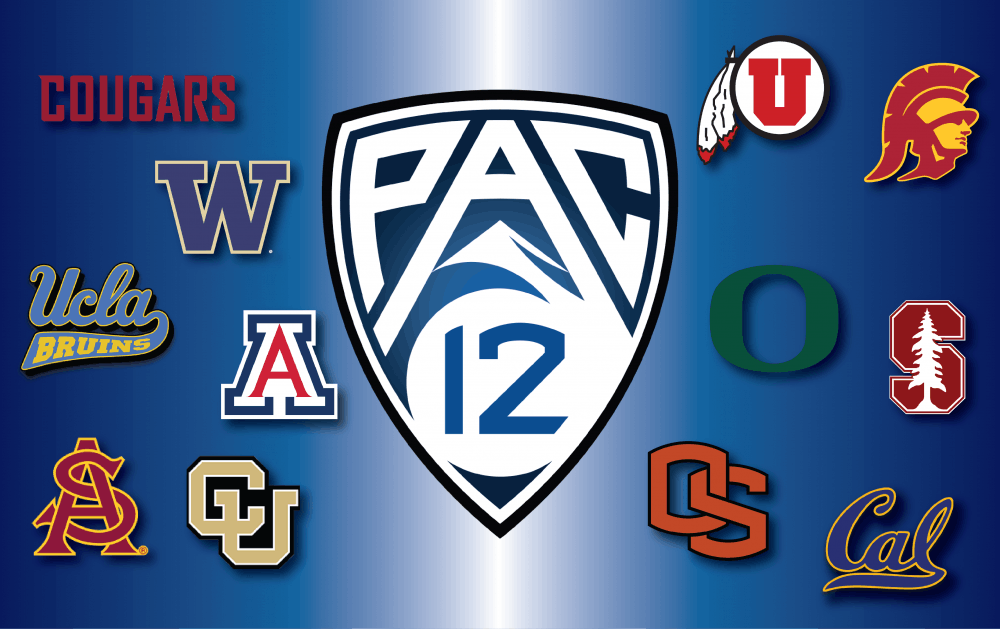 We add the asterisk to the title because 3-0 Oregon isn't really garbage. The Ducks have actually been the one program that has been the most consistent over the last two decades. Scratch the COVID 2020 season and a 4-8 campaign in 2016 under Mark Helfrich and the Ducks have had won at least nine games in every season since 2009 except one. Willie Taggart's 2017 team went 7-6. 
So, Oregon isn't garbage, but the rest of the Pac-12? Well, in the era of the College Football Playoff, one conference team – Washington – has made the CFP. The 2021 season was going to be the year. You know, the year when the Pac-12 would make a comeback. Then, Week 3 happened.
— Get a 100% Deposit Bonus When you use Cryptocurrency to Deposit at SportsBetting.ag —
Just Another Pac-12 Saturday
All 12 conference teams were in action last weekend. Seven of them were spared embarrassment with victories. Oregon, of course, took care of business in a 48-7 win over FCS Stony Brook. Five Pac-12 teams were not so lucky.
Where to begin. 
How about UCLA? Ahhh. The Bruins were back, remember? Fans were lathering up in the post-LSU 2-0 bliss while Fresno State QB Jake Haener tossed two touchdown passes in less than two minutes to upset UCLA 40-37. 
One down. 
Next, a 19th-ranked Arizona State committed four turnovers and was never really in it in a loss to BYU. Now, the Cougars were ranked No. 23 coming into the game, so the Sun Devils loss isn't as bad as the others. But, it's still a loss. 
Oh, the win was BYU's third over the Pac-12…this season. 
Utah, which was ranked at one point this season, was one of the three teams to lose to BYU. They followed that up by sleep-walking through three quarters at San Diego State. The Utes crawled back to tie the game only to lose in triple overtime, 33-31.
And then there was this. Minnesota rowed its boat all the way to Colorado. The Buffaloes then rowed something that resembled an offense as they fought and clawed their way to 63 yards of total offense. Yes, you read that correctly. 63. In today's game with high-flying spread offenses, a Power 5 football program managed just 63 yards. The leading rusher for the Buffs was backup quarterback Drew Carter. He had a whopping nine yards.
Oh, and not surprisingly, Colorado lost 30-0, which brings us to the piece de resistance. Arizona. Soon to be Arizo-NO!
The Wildcats jumped out to a 13-0 lead over FCS Northern Arizona and then did their best Florida State imitation. Down 21-13, the Wildcats scored on a TD catch by somebody named Boobie then blew the two-point conversion to lose to an FCS school. 
Just another Saturday in the Pac-12.
Remember When?
In 1992, of all the players that were selected to the NFL Pro Bowl, more of them came from Pac-12 (actually Pac-10 then) schools than any other. Of the 17 Pac-12 players – the SEC had only seven – eight of them had played at USC. 
In the 1992 draft, Steve Emtman of Washington was the first player taken. Of the first 63 players drafted that year, 16 of them came from Pac-10 schools. By the mid-1990s, 215 Pac-10 conference players had been chosen in NFL drafts. 
That was then. In the 2021 draft, the Pac-12 actually had three first-round draft picks. Alabama by itself had six.
Times have changed. Buy why?
Airline Deregulation
Maybe this is a stretch, but in the 1970s the U.S. government began to deregulate the airline industry. Over time, a flight from one end of the country to the other dropped in price dramatically. Plus, you could fly just about anywhere. 
Want to catch a game in Ann Arbor, Michigan? Austin, Texas? Columbus, Ohio? Book an advance round-trip ticket to one of these locations. There are plenty of sub-$100 tickets out there. 
— Did you know BetUS is offering a 125% bonus if you use promo code SBA125 ? —
What cheap air travel did was permit places like Clemson, Baton Rouge, and other college towns to pack their stadiums with fans. Pac-12 cities like Los Angeles and Seattle just don't have the same feel as Chapel Hill, North Carolina, or State College, Pennsylvania. 
Think about it. UCLA was giving away tickets to what was its biggest game of the past several years – the Week 2 win over LSU. USC beat San Jose State in front of about 50,000 (if that) at the Coliseum. 
If you're a 17- or 18-year-old recruit, which is more appealing? Ask D.J. Uiagalelei. Or Joseph Ngata. Both were big-time recruits coming out of California. Both chose Clemson. And there are plenty more that have left California in search of something that the state's programs don't offer. 
Coaching
Say you're a college football coach. You can take an assistant job at Penn State or California. When you move to the Garden State, you'll likely face rents or mortgage payments that are astronomical when compared to other states. Buy a house in State College, Pennsylvania. Better yet, live 15 minutes away in Bellefonte. A five-bedroom, three-bath, 3,000-plus square foot home there goes for about $350,000.
Stanford alumni have actually started a program to buy homes that will house Cardinal assistant coaches. Rent in the Palo Alto, San Jose, Oakland, San Francisco area is the highest in the United States. Buying a home, even for someone making $300,000 to $500,000 a year as an FBS assistant coach isn't easy. 
Now, is it just cheap plane tickets and a lack of coaches that have turned the Pac-12 to garbage? No, but you have to admit, both have contributed to the demise of what was one of college football's great conferences.