An Early Look at the College Football Playoff
October 5, 2021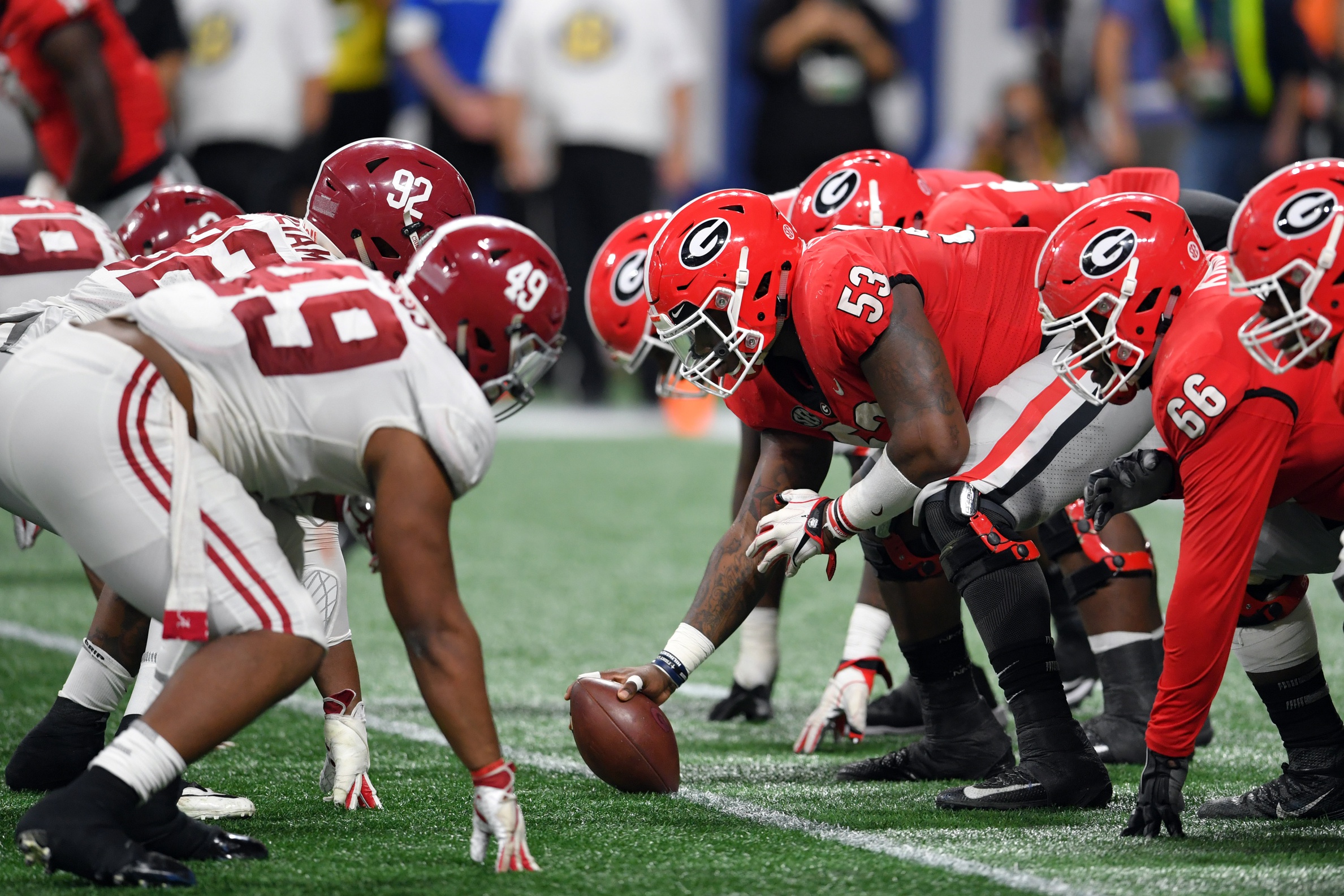 We're only five weeks into the 2021 college football season and we've still got a ways to go before the official release of the first College Football Playoff rankings. But hey, let's speculate anyway. 
The current AP Top 25 features a top four that includes No. 1 Alabama, No 2 Georgia, and a pair of Big Ten teams that play each other in Week 6 – No. 3 Iowa and No. 4 Penn State. There is still so much football to be played, but one thing is pretty clear after these first few weeks. Alabama and Georgia are the two best teams in the country … by a mile.
Top Two
Alabama took care of Ole Miss in grand fashion – 42-21 – last week making Nick Saban 23-0 against his former assistants turned head coach. Georgia pounded a previously unbeaten 8th-ranked Arkansas 37-0. 
'Bama and Georgia do not play each in the regular season. Barring upsets, they will meet in the SEC championship game. With perfect seasons heading into said title game, the loser is likely to get the nod from the CFP Selection Committee. The loser is not likely to earn the No. 2 seed, though crazier things have happened. 
Captain Kirk & The Pac-12
Remember Star Trek and Capt. Kirk? Loved it when he would sign off. Kirk … out. Or how about Seacrest and American Idol? That's the Pac-12 in 2021. 
With Stanford's upset of No. 3 Oregon last week, the Pac-12 "peaced out" of the College Football Playoff. Not a single unbeaten remains. The top teams in each division? How about 4-1 Oregon State in the North and 4-1 Arizona State in the South?
Sooner Schooner
No. 6 Oklahoma will likely be the only team in the Big 12 to have a shot at making this year's CFP. The Sooners are 5-0, but have won all of their games against FBS teams by a single score. They face Texas in the Red River Showdown this week and have the season-ending Border War with rival Oklahoma State. 
The Cowboys are also 5-0, but in true Mike Gundy fashion will likely fall somewhere along the way. Oklahoma State will have this week off to prepare for Texas on Oct. 16. Then, they will go on the road again to Iowa State. If the Big 12 has a hope, it is for Oklahoma to win a seventh straight conference title. 
Next Best
The Big Ten has a long way to go. The first of several big games involves the third- and fourth-ranked teams in the nation right now – Iowa and Penn State. The two teams will play at Nile Kinnick Stadium in Iowa on Saturday afternoon. 
The Hawkeyes won last year 41-21 in State College, but Penn State had won the previous six meetings between the two teams. That includes the last visit to Iowa City in 2019. In a game that should be very similar to Saturday's matchup, the Nittany Lions won 17-12.
Besides Iowa and Penn State, two more conference teams – Michigan and Ohio State – are in the top 10. Michigan State is 11th. The Wolverines are 5-0 and are beating opponents the old school Michigan way – Pounding them into oblivion with a strong running game and playing great defense. 
Michigan is seventh in the nation in rushing (255 ypg) and they allow just 12.5 points a game. They still have big games against in-state rival Michigan State (also 5-0) and the end of year battle with Ohio State. MSU, Ohio State, and Penn State all play each other as well.
A win this week over Penn State gives Iowa the best path toward a CFP berth. The Hawkeyes play in the weaker division and have a higher likelihood of finishing unbeaten. They would have to win the Big Ten title game as well. That won't be easy, but if they come out unscathed the Hawkeyes could be a CFP participant. 
Group of 5
If ever there were a year where a Group of 5 team could make the CFP, 2021 is it. As it stands right now, either Iowa or Penn State is coming away with a loss next week. That would move No. 5 Cincinnati into the top 5. That's assuming the Bearcats beat Temple, but head coach Luke Fickell's team just beat a ninth-ranked Notre Dame. 
Cincy will have another test this season when they face SMU in late November. The Mustangs are 5-0 and ranked No. 24 currently. Still, you have to love Fickell's team, which plays strong defense – 14.5 points allowed per game – and has an offense led by a star in QB Desmond Ridder.
The First Ranking
It will be important for teams to get themselves into the top four in the initial CFP rankings. There have been 28 teams to rank in the top four of the first CFP poll. Of those 28, 17 ended up playing in the semifinals. 
Last year was the first in which all four teams in the first CFP rankings made the final CFP rankings. Care to take a guess as to the first No. 1 team in the very first CFP poll? 
That would have been Mississippi State. They were one of three teams in that initial top four that did not make the playoff. Only No. 2 Florida State did that year.