Best and Worst of the 2021 College Football Unbeatens
October 7, 2021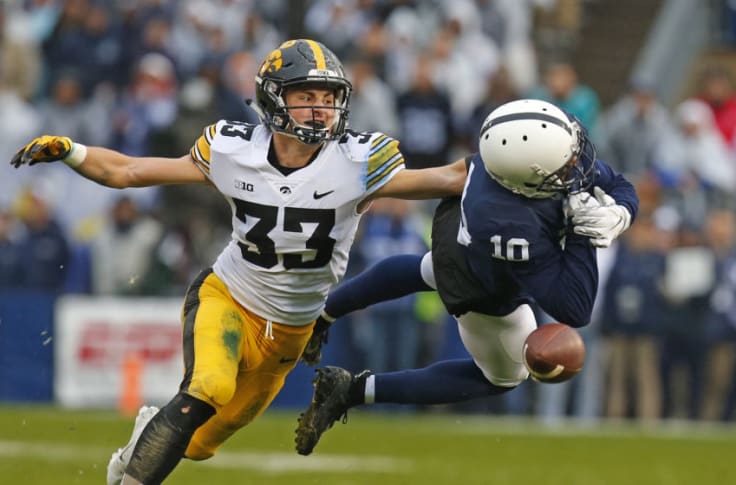 There are 17 unbeaten teams remaining out there in FBS college football. There are two that stand out among all of them as the best two teams in the country. There are others that simply will not be unbeaten for much longer. Actually, one of the unbeatens will fall this week as third-ranked Iowa (5-0) hosts fourth-ranked Penn State (5-0). The current point spread at top ranked sportsbooks is Iowa -1
So, who are the best of the unbeatens? Which teams are the worst? 
The Two Best
Alabama and Georgia. After five games, there is no question that these are the two best teams in the country. Georgia has a defense that may be the best of the past decade. The Bulldogs rank No. 1 in each of the following defensive categories: scoring defense (4.6 ppg), total defense (180.6 ypg), and pass defense (110 ypg). The Georgia run defense ranks sixth in the nation at 70.6 yards per game.
Alabama, the defending national champion, survived a scare from Florida and then pounded another ranked SEC opponent last week in Ole Miss. The Tide ranks 25th in scoring defense and the offense is drilling opponents scoring 45 points a game (third in the nation).
Next Up
Luke Fickell is going to be one highly sought after coach at the end of this season. He might not go anywhere either as Cincinnati is looking to move into the Big 12 eventually. Anyway, Fickell's Bearcats are absolutely outstanding. 
Last week, they proved to everyone that the Bearcats are capable of playing with the best in Power 5. Cincy beat a then ninth-ranked Notre Dame team and they didn't just beat them. Fickell's team sent a message. This is a Bearcat team that ranks 12th in the nation in scoring defense. They have a quarterback in Desmond Ridder who can do it all and that's why Cincy will likely be the Group of 5 representative in the New Year's Six. That is unless they make the College Football Playoff and that's a possibility.
College football's favorite underdogs, Coastal Carolina, are back at it in 2021. The Chanticleers and their mullets are 5-0 and ranked 15th. Sure, they play in the Sun Belt and the remaining schedule isn't that of the SEC, but head coach Jamey Chadwell has something here.
Coastal leads the nation in scoring averaging 47.2 points per game. Quarterback Grayson McCall (1,113 passing yards) is a legitimate Heisman candidate, but that's not all. The Chanticleers defense ranks sixth in the country giving up just 14 points a game. This is a team that can go unbeaten and potentially win a bowl game against a Power 5 opponent.
Tweeners
As mentioned, No. 3 Iowa plays No. 4 Penn State this week. Both teams have very good defenses. In fact, the Nittany Lions rank No. 2 in the nation in scoring defense (10.8 ppg). Iowa is third (11.6).
What both teams lack is explosive offense. Neither team runs the ball all that well. Both quarterbacks – Spencer Petras of Iowa and Penn State's Sean Clifford – are good, but not elite, quarterbacks. When it's all said and done, both of the teams will have at least one loss.
Kentucky is surprisingly good. The Wildcats are eighth in the nation in scoring defense (15.2 ppg) and have a capable quarterback in Penn State transfer Will Levis. The problem for Kentucky is they will face No. 2 Georgia in two weeks. 
Wake Forest has a very good football team but they still have to face North Carolina, NC State, and Clemson. Plus, there are questions about how good the ACC really is in 2021. San Diego State plays great defense and runs the ball as well as any team in the country…but they play in the Mountain West.
The Worst
With all due respect to Oklahoma State, UTSA, SMU, and Wyoming; sorry but you won't be unbeaten for long. Yes, it takes a great deal of skill and effort to win four or five games in a row. The thing is, when you don't play anyone and then have trouble beating those nobodies…you just don't belong.
Case in point…Wyoming. After a three-point victory over the juggernaut known as FCS Montana State, the Cowboys beat Northern Illinois by a touchdown, drilled Ball State, and then almost lost to a Connecticut team that could very well be the worst in all of FBS.
Props to UTSA, which hasn't even been an FBS program all that long, but beating a subpar Big Ten team (Illinois) and then rolling through FCS and Group of 5 competition just doesn't cut it if you want to be one of the best unbeatens in the nation.
The same holds for SMU, though the Mustangs did beat rival TCU 42-34 earlier in the season. SMU still has a date with Cincinnati on the road near the end of the season. Win that and maybe then the Ponies are in the discussion.
Mike Gundy has the Oklahoma State Cowboys unbeaten at 5-0. He's done that before and in true Gundy fashion the Cowboys almost always blow it. They have a date with Texas in two weeks and the annual Bedlam Rivalry against in-state rival Oklahoma. Gundy hasn't beaten the Sooners since 2014 and the Cowboys have only won twice against their rival since 2003.