Deshaun Watson Trade Talk Heating Back Up
October 21, 2021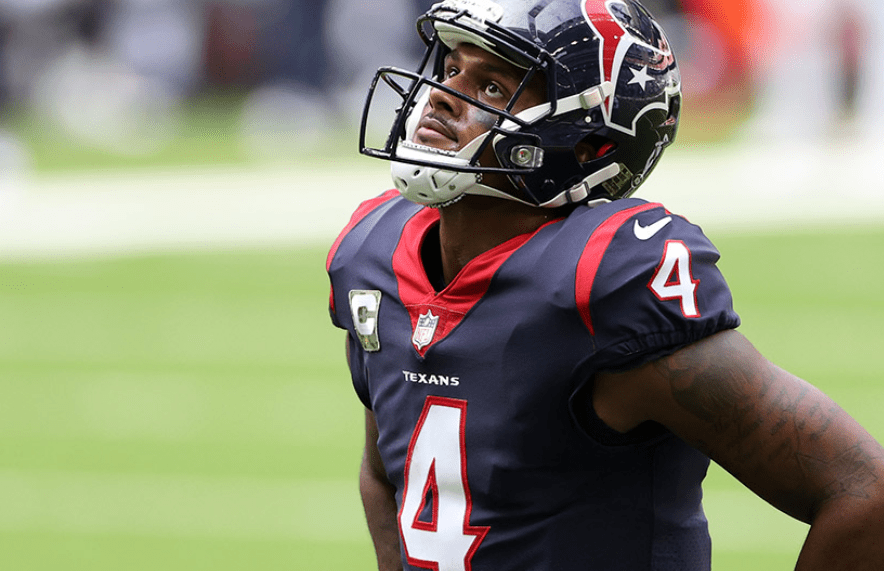 He is one of the best young quarterbacks in football, a bonafide superstar. He's also under contract through 2025 at a relatively reasonable $32 million per season. But the league's worst team refused to play him, and up until this point they haven't granted his desire to be traded.
But the trade deadline is coming. It is November 2, the Tuesday following Week 8. And even though the cloud of multiple lawsuits alleging sexual assault are hanging over Deshaun Watson's head, the market for a possible trade is improving.
First, Watson wanted a trade, but the Texans were reluctant. Then the allegations broke, and the size and scope of them scared many suitors away. It also lowered what teams were willing to pay. Houston decided to ride the storm, hold on to their asset, and see what the future brought.
It has brought us to today, where a Houston Chronicle report states that at this moment the Texans are working on a deal with the Miami Dolphins. And it makes sense. The Texans have been trading partners with the Dolphins before, most famously giving half the farm away for offensive tackle Laremy Tunsil. The Dolphins have been a major disappointment this season, and it's largely because of quarterback play. They also have an owner who likes to make splash moves, and this would certainly qualify.
Reportedly the asking price from the Texans had been three first-round picks and two second-rounders. It's unclear if the Dolphins are meeting that steep price, but they did secure the 49ers' first-round picks in 2022 and 2023 when San Francisco traded up to select Trey Lance this past draft.
So the draft capital is there.
Watson's Playing Status
Since he hasn't been playing, and only making a show of practicing, many people assume that Watson isn't eligible to play at the moment. That is not the case.
Police in Houston continue their investigation into whether any of the lawsuits include criminal activity. The NFL is conducting its own investigation too, but at this time they have declined to suspend Watson, and it doesn't seem like they have plans to. So as of right now, Watson can play, and in Miami, he definitely would play.
If criminal charges are filed or some other turn in the investigation takes place, his playing status could change — which is one of the reasons he hasn't already been traded. But his talent as a quarterback makes it worth the risk for some teams.
In the case of the Dolphins, there's little place to go other than up. NFL division odds show Miami in a distant third to win their division at +4000 odds — far behind the Buffalo Bills (-2800) and the New England Patriots (+900).
Third Team Involvement
One other potential issue in finalizing a trade with Miami is the existence of a third team and the trade of current Dolphins quarterback Tua Tagovailoa. His trade value out of college was extremely high, and he too would have garnered multiple draft picks. But his NFL tape isn't as great, and the fact that Miami is ready to move on reduces the value they would get.
Washington has been the team reported being most interested in Tua. Taylor Heinicke is a fun story in D.C., but the Washington Football Team views him as a backup, and not a future franchise quarterback.
The Denver Broncos are also said to be in the mix. They recently went from 3-0 to 3-3, and the bloom is off the rose that was the acquisition of Teddy Bridgewater — another guy you like to root for, but not necessarily someone you want as your unquestioned QB1. Accordingly, the Broncos crashed down the NFL odds board to win their division. They now sit in last place, far behind at a +1400 price.
The reason this aspect of the trade is important for Miami and a potential sticking point to actually getting Watson is that the trade of Tua, while not nearly as valuable as Watson, would still bring in some draft capital that could in turn be used to trade for Watson.
Why don't these other teams just trade for Watson and skip Tua altogether? Good question.
Watson has a no-trade clause in his contract, and so he gets the right to refuse any potential deal. He has said publicly that Miami is high on his list, but a deal to Washington would be less likely to meet his approval.
It's also possible, and quite likely, that some teams simply don't want to take on the risk of Watson, or risk alienating portions of their fanbase by trading for him. Dolphins owner Stephen Ross doesn't have the same concern.