Key Features To Search For In The Best Online Sportsbooks
January 10, 2022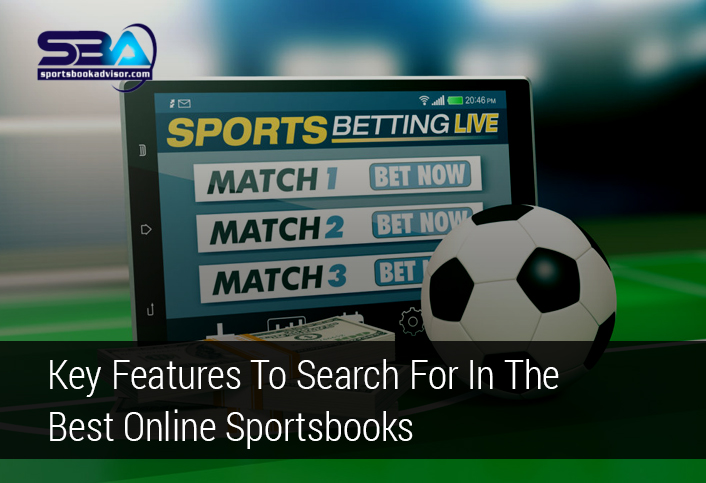 Even though the selection of online betting sites depends entirely on your personal preferences, this is not the only thing that you should look into when searching for the best sportsbook. So, if you want to have a well-rounded and great experience in betting, there are some important features that you have to search for. Here come the details:
1. Free bets, promotions, and bonuses: Sports betting market is quite crowded. Therefore, every sportsbook works quite hard to grab the attention of players. One of the most effective methods of doing it is by offering the players free bets, promotions, and enticing bonuses. Although the players find the idea of winning with the help of these rewards appealing, they should proceed with caution. So, always search for and compare different offers so that when you get ready for placing bets online, you can make a knowledgeable decision so that you don't regret it afterward. It is also important that you keep looking out for some loyalty programs, mainly if you are an expert sports bettor. These things can go a very long way in accumulating value to the overall sports betting experience.
2. Options for withdrawal and depositing: Nothing can compare the thrill of betting on your favorite sports team or game with real money. But your experience can easily ruin by the shortcoming in the cashier system on the site. Therefore, you must choose the top-rated sportsbooks, which are serious about handling deposits and withdrawals. You can decide this by checking the number of baking or payment options, which have been incorporated into that sportsbook. Having more options, in this case, will help you to select the most preferred ones.
3. The options for sports betting: One of the most vital reasons why people now switch to online Sportsbooks while ditching the retail bookmakers is the variations of games, which exist online. The physical sportsbooks only offer the major sports that often vary based on the locations of sportsbooks. And less popular or international sporting activities are often shelved. But this is not the case with the best online sportsbooks. These sportsbooks cover as many sports as they can. This thing ensures that you don't miss out on the scope for enjoying the best sports betting actions even if your most favorite sports are in the off-season.
4. Competitive lines and odds: Often the professional sports bettors and casual gamblers work intending to win money from their bets. If you are one of them, then you must know that getting the most competitive lines and odds are very important to get the best bang or value for your buck. Even the minute differences may have some big impacts on your possibilities of winning or the total amount you will end up winning. Many people often underplay a specific aspect and even though finding the best value is a comparatively hard skill to specialize in, even a little knowledge can make a huge difference. And the easiest method of going about it is to shop around for the best online betting sites to play. So, once you narrow down on the best sportsbooks, you can choose the best one among them when the odds change. Apart from that, you can also compare the sportsbooks and select the one, which tickles your fancy. All you have to remember is that in sports betting, every penny adds up whether is won or lost up.
5. User-friendly interface for betting: User experience is one of the most vital aspects of sports betting online, and the leading sportsbooks leave no stone unturned to ensure they have great reputations in this field. It is because nobody likes to get stuck when it comes to navigating through the betting site or placing bets. This is why selecting the right betting website becomes very important. Another factor to consider in this regard is device compatibility. Checking the compatibility of devices is important as there are loads of web-enabled devices are available now. At the same time, it is important to remember that the best sports betting websites invest in responsive designs, which work on any modern tablet, Smartphone, desktop, or laptop. So, make sure that you check the layouts of the site as well as the selected color schemes or themes before diving into the sites.
6. Other features to check-in: Although sports betting is an exciting and fun-filled activity, sometimes, you may prefer to try out something else. So, if you don't want to play online sports betting games anymore, but still want to enjoy gambling, then you can try some other types of gambling as well. So, other important features that you must keep an eye out for are the accuracy or reliability of the client support services, user reviews, overall reputation, integrated security features, transparency, regulatory and licensing information, and responsible gambling control.