NFL Divisional Round Playoffs Injury Update
January 20, 2022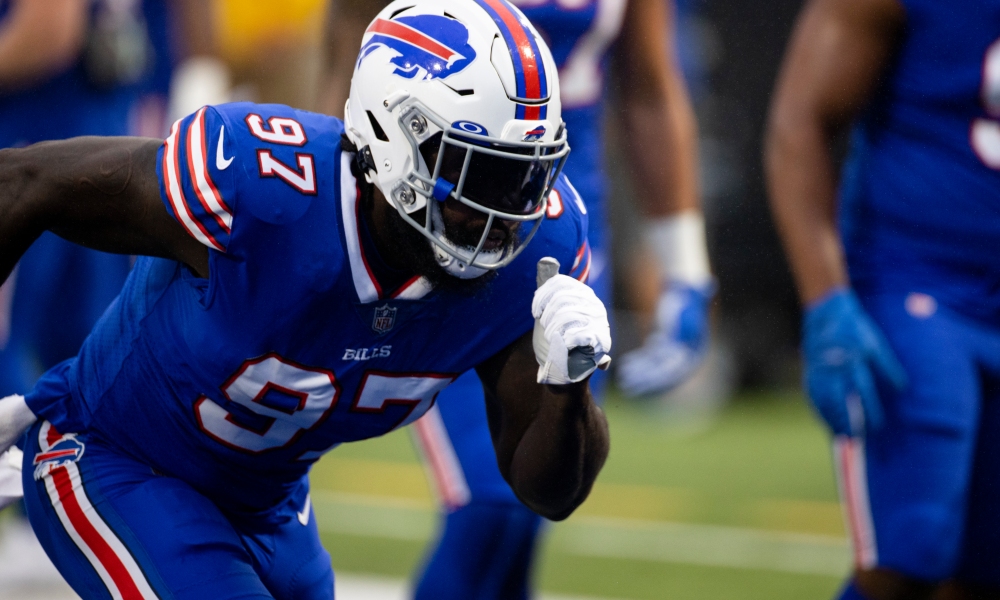 The good news is that Cardinals' safety Budda Baker is expected to make a full recovery after the scary injury he suffered in Monday night's loss to the Rams. He spent the night in a Los Angeles-area hospital, but was released Tuesday.
While the Cards' season is over, the eight remaining teams all have injuries of their own.
Cincinnati Bengals at Tennessee Titans
In Cincinnati's win over the Raiders, defensive end Trey Hendrickson was knocked out of the game with a concussion. He's been a limited participant at practice, and according to Bengals' coach Zac Taylor, things are moving in the right direction.
Taylor said Hendrickson is "progressing through the concussion protocol in a positive manner," and that puts him on pace to clear the protocol by the time Cincy hits the road Saturday.
Derrick Henry is now facing contact in Titans' practice, and according to Tennessee coach Mike Vrabel, "We're going to have to do these things that come close to replicating what's going to be asked of him in a football game. So, we'll have a week of work, we'll see how he feels and make a decision."
In the eight games with Henry this season, the Titans averaged 147.6 rushing yards per game. Without Henry for the final nine games, Tennessee averaged 135.9 yards on the ground.
The Bengals are catching 3½ points on NFL odds boards heading to Tennessee on Saturday.
San Francisco 49ers at Green Bay Packers
The 49ers began the week without their best defensive player, Nick Bosa. He suffered a concussion late in the second quarter against the Cowboys, and has yet to be cleared for practice. There's a chance he's allowed to play Saturday, and for the 49ers to have a legitimate shot of winning at Green Bay, they're going to need him.
Jimmy Garoppolo has had a torn ligament in his throwing thumb for a couple of weeks, and now he has a slight sprain of his throwing shoulder. 
"Got thrown down, went to put my hand out, and sort of had it in my head that if my thumb hit, I didn't know what was going to happen," Garoppolo said. "Tried to catch it with my elbow a little bit and just hammed the shoulder."
Garoppolo admits that the injuries do affect his throwing, and that while both injuries cause him pain, he's going to play Saturday.
"The injury is what it is," he said. "We're all dealing with stuff now."
For the Packers, it's good news on the injury front. Pass rusher Za'Darius Smith, out since Week 1 (back surgery), is back at practice. So is cornerback Jaire Alexander, out since Week 3 (shoulder). Their status is to be decided closer to game time.
For now, markets have been backing the Packers — taking them from a five-point opening favorite in NFL point spreads to their current six.
Los Angeles Rams at Tampa Bay Buccaneers
The Rams came out of Monday's rout of Arizona in good shape. Left tackle Andrew Whitworth had his ankle and knee rolled, but the team hopes the 40-year-old former All-Pro plays Sunday.
The team has the same expectation for cornerback David Long, who had a pick-six in the first half Monday before missing the second half (knee). The injury is minor and he should play.
Sunday, the Bucs lost All-Pro right tackle Tristan Wirfs and center Ryan Jensen to ankle injuries. Coach Bruce Arians says neither of them are practicing until at least Friday, when they'll know more about availability for the game.
The Buccaneers are laying a field goal at home, according to the BetUS Sportsbook — though bettors are paying increased juice to take the points with the Rams.
Buffalo Bills at Kansas City Chiefs
The Bills' easy win over the Patriots resulted in just one injury. That was to defensive end Mario Addison (shoulder). He began the week in a sling and is considered day-to-day.
For the Chiefs, Chris Jones was hit in the eye during their Sunday win over the Steelers, but the injury isn't considered serious. Cornerback Rashad Fenton was a late scratch after his back locked up in pregame warm-ups, but the team is optimistic he plays Sunday evening.
The Chiefs were without running back Clyde Edwards-Helaire last Sunday, while Darrel Williams was limited in the game because of his injured toe. However, both are expected to practice.
Bettors came in support of the Bills in early NFL betting this week, taking them from a field goal underdog down to as low as a single point. Money has since come for the Chiefs, pushing the point spread back to two.