2022 YouWager Sportsbook Review & Why You Should be Playing There
January 22, 2022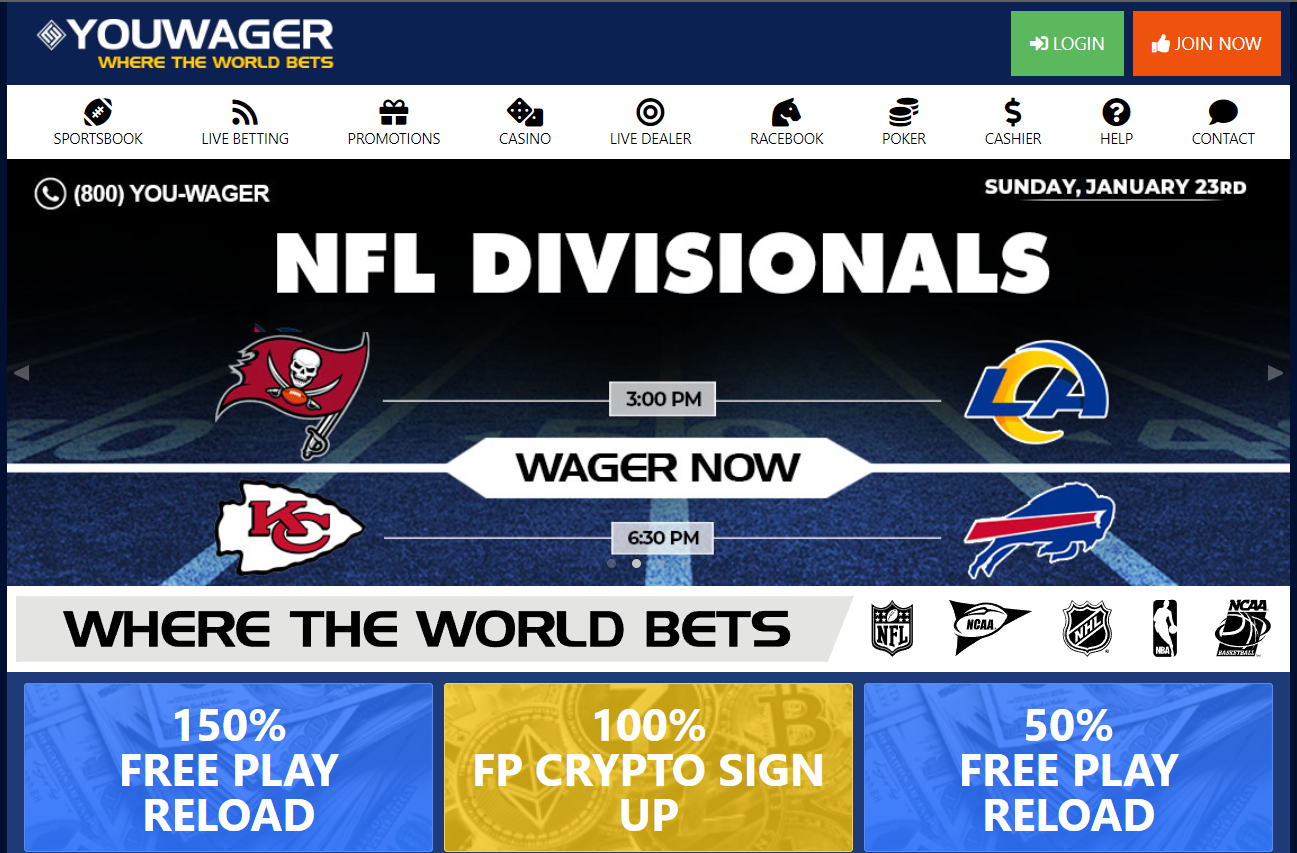 YouWager has been on our ratings list for many years and has always been highly rated. Recently, the sportsbook performed a website redesign with mobile ease-of-use as an area of concentration. We like the redesign and wanted to share with your our full report of YouWager.lv as it exists in 2022.
If you are a US-based sports bettor that likes traditional bets on the major sports, you will find YouWager sportsbook is for you. In today's competitive market, YouWager has found a niche and if that niche includes you, it might be time to open a new betting account.
PROs
Customer Service
Bonuses
User Experience
CONs
Bonuses for US Players Only
YouWager is a 'B Rated' Sportsbook. For 'A Rated' Sportsbooks Only, Please see this page of Recommended Sportsbooks
Sign Up & Deposit
Signing up for a YouWager betting account is a breeze. Choose a username and a password to create your account. In a matter or a few minutes (or less), your account is active.
You can fund your account number of different ways. If you do not use cryptocurrency yet, using a credit or debit card is the easiest. The minimum deposit is $50 (max of $500) and the transaction is immediate. If you do use Bitcoin, you can deposit as low as $20 up to a max of $2000.
You can also send a money transfer (Western Union money order, for example), but the process takes a bit longer as it does at any sportsbook. The minimum deposit using this method is $500. 
With a credit (or debit) card, you have the ability to deposit a bit less and have your account fully funded and ready to go almost immediately.
Bonuses & Promotions
Bettors can take advantage of a number of outstanding bonuses ranging from 10 percent to 150 percent.  Bonuses come in the form of free plays and the rollover requirements are not outrageous. 
For example, a 20 percent free play bonus is available on any deposit from $100 to a maximum of $2,000. The bonus comes with a 4.5X rollover and expires in 30 days. 
In addition to bonuses, YouWager offers players a number of contests. During football season, there were contests for Monday and Thursday night games. There is also a nice referral program too. 
User Experience
If you're like most bettors these days, you are doing all of our transactions via smartphone. The newly redesigned YouWager mobile website is attractive and easy to use. There is no app to download. You simply visit youwager.lv and you're ready to go.
Once you log in to your account, you have several options including checking available bets. You can also choose from parlays, teasers, props bets, and more. You will find that YouWager focuses on the major sports – football, basketball, hockey, baseball – as well as boxing, MMA, tennis, and the major soccer leagues from around the world. 
Tap the sport you are looking for and then choose from the available options. While there may not be as many options as at some other sportsbooks, there are still plenty for even the most experienced bettors.
Betting Limits
If you're a smaller bettor – $1 to $5 bets – you will like YouWager. Betting minimums are either $1 or $2 depending upon the sport. A bet on the upcoming NFL Divisional Playoffs had a minimum of $1, for example. 
Maximum bets are typically $5,000, but there are some bets – NFL sides is one – where you can wager up to $10,000. College football, college basketball, and NBA betting maximums are set at $5,000 and for the NHL and MLB that number drops to $3,000.
Customer Service
Within minutes of signup, a betting account is confirmed via email. The customer service department also reaches out to new bettors by phone to review their new account. 
Any issues can be taken care of by the professionally trained staff of customer service agents. They can be reached any time, any day of the week by a number of different methods – online chat, email, and phone. 
Bottom Line
With competitive lines and standard juice on most bets, YouWager is competitive with other sportsbooks in the industry. You will find, at times, reduced juice bets on various promotions offered from time to time.
If you are a traditional moneyline, spread, and totals bettor with the occasional props bet in major sports, YouWager is for you. Youwager is currently Rated as "B Rating"
For 'A Rated' Sportsbooks Only, Please see this page of Recommended Sportsbooks