Who Will Be the No. 2 Pick in the 2022 NFL Draft?
April 19, 2022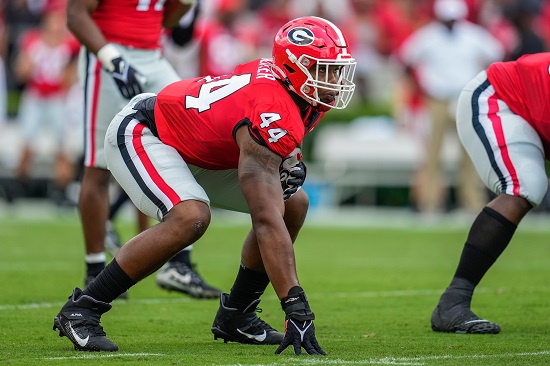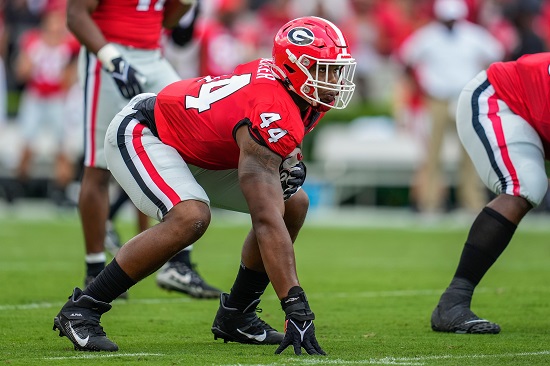 The big question heading into any NFL draft is always who will go at No. 1. The 2022 edition of the draft is no different and it appears to be a race among edge rushers – Michigan's Aidan Hutchinson, Georgia's Travon Walker, and Oregon DE Kayvon Thibodeaux. There is the potential for an offensive lineman to sneak in there, but the teams at the top of the draft order – Jacksonville and Detroit – are both in the market for some pass rush help.
Once the Jaguars make their selection, the new question becomes who goes next? Players continue their workouts and meetings with teams as franchises make their final preparations for the draft. The 2022 NFL draft will begin at 8:00 p.m. on Thursday, April 28, live from Caesars Forum in Paradise, Nevada, a Las Vegas suburb. 
Leading Edge
As mentioned, Jacksonville is in the market for an elite pass rusher. The Jags got their quarterback last year when they took former Clemson QB Trevor Lawrence with the No. 1 pick. New head coach Doug Marrone can now focus on the defense and the Jags like both Walker and Hutchinson.
Over the last few weeks, Walker appears to have closed the gap on Hutchinson. The 6-5, 275-pound Walker is a physical specimen. He ran 4.51 in the 40-yard dash and recorded a vertical jump of 35.5 at the NFL combine. He was one of the big reasons why Georgia had the nation's No. 1 defense last year and he helped the Bulldogs win a national championship.
Oddsmakers are leaning that way too as Hutchinson is the favorite to go No. 2 at +175. Walker is third on the board to go No. 2 at +275. Regardless, whoever goes No. 1 will affect the decision at No.2. Detroit owns that second pick and they got their quarterback last season – Jared Goff – in a trade with the Rams. The Lions would love to upgrade the defense and that starts with an elite pass rusher.
If Walker goes first, a dream would come true for Hutchinson. He played collegiately at Michigan after a high school career at Dearborn Divine Child. Dearborn is a Detroit suburb. Playing for the Lions would be just fine with Hutchinson and his family.
The wild card in the whole deal is Thibodeaux. At the start of the 2021 college football season, it was thought that Thibodeaux would be the top pick in this year's draft. He has the size (6-4, 255) and the speed (4.58) scouts like in an edge rusher. Thibodeaux's problem was an early injury last season. Still, he is an athletic talent that could jump into the No. 2 spot. He is given +250 odds at online sportsbooks to go second overall.
A Surprise QB
This year's quarterback class pales in comparison to last year's, but there is one that is rising on everyone's draft board – Malik Willis. The former Liberty star is given +600 odds to go No. 2. His performance in the QB drills at the NFL combine really opened some eyes. He continues to do that with his offseason workouts and his pro day performance. 
Willis has a powerful arm and he has the ability to use his feet to make plays. Last season, he rushed for over 878 yards and scored 13 touchdowns on the ground. There is no doubt Willis is talented, but with Detroit holding the second pick it seems unlikely they would go for a quarterback. Willis is listed at +600 on the board and probably the only way he would go at No. 2 is if a team traded up into that spot to get him.
Speaking of Trades
Trades are likely to happen on draft day and that could affect which player goes No. 2. Carolina is reportedly looking for a quarterback and they may take a run at Cleveland's Baker Mayfield. The Browns signed Deshaun Watson in the offseason. It's possible a team moves up to take Willis at No. 2. There are many that believe there could be four quarterbacks selected in Round 1. That is because of the value presented in a rookie quarterback contract that has that fifth-year option.
Draft-day trades could also lead to another position going in the second overall slot. Cornerback Ahmad "Sauce" Gardner (+1600) and safety Kyle Hamilton (+2200) are among the candidates to go at No. 2 overall. Again with Detroit holding the second pick, the Lions need an edge rusher more than they need a cornerback or a safety.
For Gardner or Hamilton to slide into No. 2, it would take a trade. The New York Jets are a team that would love to get Gardner. The Jets draft at No. 4 and unless there is some serious disinformation being put out, New York can likely pick Gardner with that fourth pick and avoid a trade. 
At No. 3, Houston is most likely in favor of building their offensive line. They are favored to take either Ikem Ekwonu (+1800) or Evan Neal (+2200). If they don't opt for the offensive line, the Texans could take an edge rusher as one of the top three will still be available. 
It's highly likely that one of the top three edge rushers goes No. 2 in this draft unless a draft-day trade occurs.