The Best 2022 NFL Draft Sleepers
April 25, 2022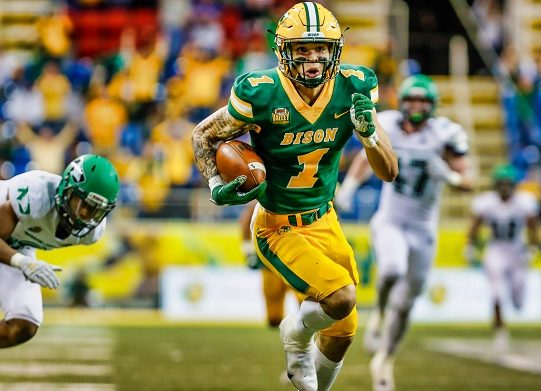 The Best 2022 NFL Draft Sleepers
In every NFL draft, there is that handful of picks that don't turn anyone's head at the time they're made. Then, you fast forward a few years and, all of a sudden, you have the best wide receiver in the NFL. 
That would be the story of one Cooper Kupp, who was a third-round draft choice of the Los Angeles Rams in 2017. Last year, Kupp was the NFL receptions and receiving yards leader, a first team All-Pro, the NFL Offensive Player of the Year, and the MVP of the Super Bowl which his team won.
Who will it be in 2022? Here's a look at the best 2022 NFL draft sleepers.
Lots of OL Talent
There are some seriously talented offensive linemen in this year's draft. The most highly talented will likely go somewhere in the first round. Trevor Penning is a 6-7, 325-pound offensive tackle out of Northern Iowa. At the Senior Bowl, he ran the 40-yard dash in 4.89 seconds. He's big, strong, moves well, and will probably hear his name called near the end of Round 1.
Cole Strange actually started for five seasons – thanks to COVID – at FCS Chattanooga. He is 6-5, 307 pounds, and is one of the smartest offensive linemen in the draft. He performed well at the NFL combine and will likely play guard at the next level.
Braxton Jones was an All-American at Southern Utah. At 6-5 and 310 pounds, Jones also has nearly 36-inch arms which give him a huge advantage at left tackle. He doesn't have the notoriety of the big name linemen in this draft having played for the FCS Thunderbirds. Jones is a likely Day 3 pick, but he could blossom into a great one.
The North Dakota State Connection
The best program in the FCS is North Dakota State. The Bison are the reigning FCS champions and they have won nine of the last 11 FCS titles. With Carson Wentz and Trey Lance going in the first round of their drafts, the Bison are now a definite stop on NFL scouts' travels.
WR Christian Watson has the measurables that NFL teams desire. He's 6-4, weighs 208 pounds and at the NFL combine he ran a 4.36 40-yard dash. Last year, Watson caught 43 passes and averaged over 20 yards per catch in the Bison's run-heavy offense.
Offensive lineman Cordell Volson was one of the reasons why the NDSU offense was so good. He's a three-year starter who can play either tackle or guard. He has the size – 6-6 and 315 pounds – to do either. Volson will become the fourth NDSU lineman selected in the NFL draft since 2014. 
Day 2 LB
If Troy Andersen played at an FBS school, he would be a first-round pick in the 2022 NFL draft. He had 150 tackles, 14 tackles for loss, three sacks, and two interceptions last season. Last season was also just his second full season at linebacker. He went to Montana State as a running back but switched positions in 2019. 
Andersen's measurables are off the charts. He stands 6-3 and weighs in at 243 pounds. He has been clocked as low as 4.42 in the 40-yard dash. He lacks some experience, but some team will find themselves a gem on Day 2 or 3 of this year's draft.