Top Available NFL Free Agents
April 27, 2022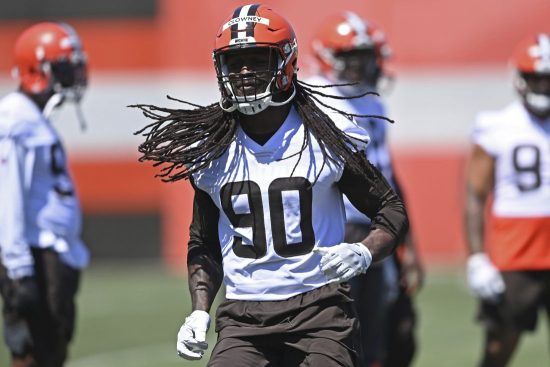 It's the week of the draft in the NFL, so we'll forgive general managers if none sign any free agents. They can't be thinking of everything. However, if you're a fan of a team that doesn't have a lot of draft capital and you're looking at additions to the roster, free agency isn't over.
There are quality names and Pro Bowl appearances still there, and the number is quite high.
Defensive End
In a passing league, you need good pass rushers. One of the highest-rated available free agents is Jadeveon Clowney. A bust for Tennessee in 2020, including failing to get a sack, Clowney was a highlight for the Browns in 2021. There were nine sacks and 11 tackles for loss overall. It was his best season in his past four. If he can play close to how he did last season, then he can be an impact player this season.
Trey Flowers has had a hard time staying healthy in recent seasons, playing just seven games in 2020 because of a broken forearm, then missing another nine games in 2021 (injured knee).
He ended his time in Detroit with 10½ sacks in three seasons, seven of those came in 2019 when he was healthy. He's struggled to find a new team.
Good when healthy, Flowers hasn't been. Although still only 28, someone will sign him eventually.
The last of the top available defensive ends/edge rushers is Melvin Ingram, recently of the Chiefs. A three-time Pro Bowler as a Charger, he was with the Steelers last season, then orchestrated a midseason trade. They weren't gaudy numbers in Kansas City (one sack and 15 tackles in nine games), but he definitely made the Chiefs defense better.
Wide Receiver
There's no doubt Odell Beckham Jr. is one of the more dynamic players in the league with the football in his hands. There's no question he played a major role in the Rams winning the Super Bowl, with five touchdowns in eight regular-season games and nine catches (113 yards) in the NFC title game.
He had two catches (52 yards, one touchdown) in the Super Bowl before blowing out his knee. Hence, his availability. He's also turning 30 next season, having torn the same ACL twice in less than two years.
Julio Jones is 33, with trouble staying on the field the last two seasons. He's a future Hall of Famer, capable of making big plays when healthy. In the Titans' playoff loss to Cincinnati, Jones had six receptions (62 yards). Prior to 2020, his health had never been an issue.
Safety
With the recent signing of Stephon Gilmore by Indianapolis, there aren't any impact cornerbacks left on the market, but there are a pair of very good safeties out there.
Note that Indy is at 14-1, or +1400, to take home the AFC crown, according to NFL odds.
Tyrann Mathieu is one of the top defensive players available, leading the Chiefs defense to a Super Bowl in 2019 and named an All-Pro for two teams.
He is about to turn 30, and his play in 2021 was the worst of his tenure in Kansas City. However, he's a leader on and off the field, and also can play a handful of positions.
A 2016 All-Pro and three-time Pro Bowler, Landon Collins isn't as impactful as Mathieu, but he's an excellent safety who will make some team's secondary better. He's not the guy who will make 100 tackles and five interceptions, as he did early in his career, but he's too good to remain out there.
The Best of the Rest
Tight end Rob Gronkowski is still unsigned, and hasn't retired. Perhaps a return to the Bucs and Tom Brady, but several other teams are also in the mix.
With Gronk or even without Gronk, the Bucs are listed as +800, just behind Buffalo, to win the next title, listed in Super Bowl odds.
The best offensive lineman available is center J.C. Tretter, who started 16 games in each of five seasons in Cleveland. Left tackle Eric Fisher is also unsigned.
The best running back available is Melvin Gordon, coming off back-to-back 1,000-total-yard seasons in Denver.