Which NFL Head Coach Will Be the First to Be Fired in 2022?
June 17, 2022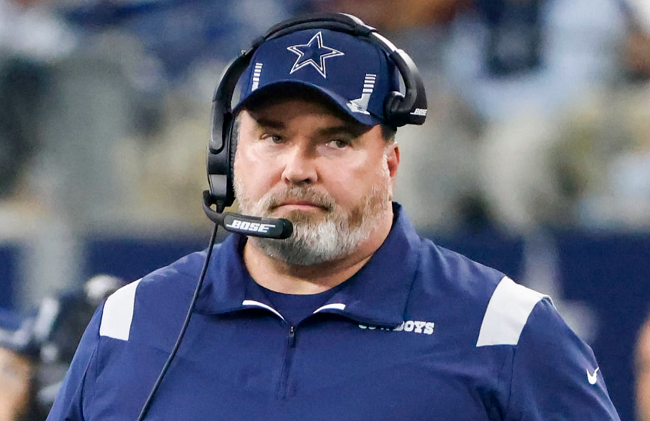 Looking for job stability? Don't be an NFL head coach. The 2022 season will see nine new head coaches on the sidelines. Typically, coaches don't get fired in the first season though Urban Meyer did last season after a disastrous start in Jacksonville. Former Super Bowl winner Doug Pederson takes over the Jaguars in 2022. The Bears, Dolphins, Giants, Raiders, Texans, Saints, and Vikings are the other franchises with new head coaches. 
If there is one thing that is certain along with death and taxes, it is that an NFL head coach will be fired in 2022. Which one will go first? Here's a look at the most likely candidates.
Mike McCarthy – Dallas Cowboys
McCarthy was hired by Jerry Jones based on what he did in Green Bay. The veteran head coach went 125-77-2 with the Packers and won Super Bowl XLV. In his first season in Dallas, McCarthy struggled through a 6-10 campaign as QB Dak Prescott went down with a season-ending injury.
Last year, McCarthy led the Cowboys to a 12-5 finish and the NFC East crown. Dallas lost to San Francisco in the NFC wild card game. Jones wants another Super Bowl, but the Cowboys lost some key pieces of their puzzle – WR Amari Cooper, for example. If Dallas doesn't dominate the NFC East and go deep in the playoffs, McCarthy is likely out.
Matt Rhule – Carolina Panthers
If Christian McCaffrey could stay healthy, Rhule might not be part of this discussion. It might also help if the Panthers had a better quarterback, but Rhule will stick with Sam Darnold for now. Third-round draft pick Matt Corral may surprise some people, but for now the Panthers just need to win some games.
Rhule's two teams so far have not won more than five games – 5-11 in 2020 and 5-12 last season. 
Last year, Carolina finished the season with seven straight losses. After a 2019 season in which McCaffrey became just the third player to have over 1,000 yards rushing and receiving in the same season, the Panthers star RB has played in just 10 games the past two seasons.
McCaffrey's absence has killed the Carolina offense. Last season, the Panthers averaged 17.9 points per game which ranked 29th in the NFL. In 2020, the Panthers were a little better at 21.9 points a game (24th). The bottom line though is that the Panthers offense is going to need to improve if Rhule is going to keep his job. Any long losing streak again may cost Rhule.
Frank Reich – Indianapolis Colts
The Colts have quietly had some success during Reich's reign as the franchise's head coach. His 37-28 overall record is solid, but Reich's teams have made the playoffs twice and have never won a division title. Last year, he made a play for his former QB in Philadelphia, Carson Wentz. The result was a 9-8 campaign that left Indy out of the postseason.
Wentz has been shipped to Washington and the Colts traded for former Atlanta QB Matt Ryan. Reich signed a contract extension that runs through 2026, but he is going to need to produce in 2022. That means double-digit wins and a playoff berth. If not, Reich might find Black Monday (the Monday after the NFL regular season finale) even blacker.
Pete Carroll – Seattle Seahawks
Carroll? Really? In today's 'win now or else NFL' Carroll might be in his final season. There is no question that Carroll has had a great run and is one of the all-time great NFL head coaches. His record in Seattle – 119-73-1 – and his overall record of 152-104-1 speak for themselves.
The problem is that the Seahawks went 7-10 and failed to make the postseason for just the second time in 10 years. Then, Seattle went ahead and traded Super Bowl winning quarterback Russell Wilson to Denver. Seattle was a middle of the road offense averaging 23.2 points a game with Wilson. With Drew Lock or Geno Smith running the show, can they really be any better?
In his NFL coaching career, Carroll has never had back-to-back seasons in which his teams missed the postseason. It's hard to see Seattle having much success with a quarterback not named Wilson. It would be hard to see Carroll go, but a second consecutive losing season might make it his last.