Le'Veon Bell vs. Adrian Peterson Boxing Odds
June 29, 2022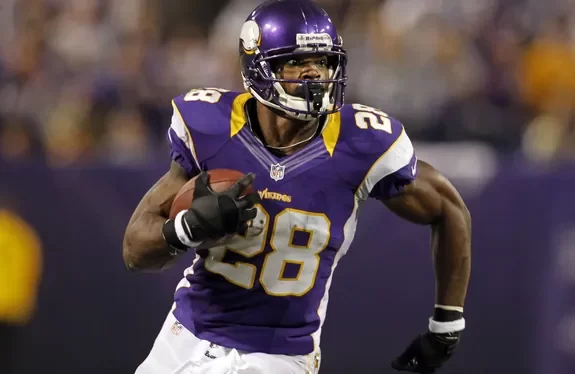 Remember how great Adrian Peterson was on the field? What a fantastic running back he was. Remember that season he went over 2000 yards rushing? Wow! Now remember how disappointed you were when it was revealed he beat his kid with a tree branch? You may have thought "someone needs to punch that guy in the face!". Well, now you will get to see just that very thing.
Remember Le'Veon Bell's relatively short-lived but explosive NFL career? Remember how he patiently waited for his blocks to set before he turned on the speed? Great times. Now, do you remember when he sat out a full season in the prime of his career to hold out for a little more money but it backfired costing him millions and possibly his career? You may have thought "someone needs to punch that guy in the face!". Well, get ready, your wish is the sporting world's command.
Running backs Le'Veon Bell and Adrian Peterson will be fighting one another in an exhibition bout put on by YouTube star Austin McBroom, whoever the F— that is.
The fight is scheduled to take place Jul 30, 2022 at 8:00pm EST. You can actually bet on this fight if you like. Continue reading to find out where.
Peterson is 37 years old, 6'1″ tall and weighs roughly 220 lbs. Bell is about the same size at 6'1″ and 225 lbs.
Exhibition boxing has made a comeback in recent years as Youtubers have stepped in the ring with real boxers and minor-celebrities have fought one another.
Logan Paul taking on Floyd Mayweather comes to mind. A fight which happened over a year ago and one in which Paul says he still hasn't been paid for. And there were some Vanilla Ice fights out there I believe. I also think there was one in which Screech from Saved by the Bell was featured (RIP Screech). And who can forget the Danny Bonaduce fights? Just about everyone probably.
Le'Veon Bell vs. Adrian Peterson Fight Odds
by BetOnline.ag (You can actually bet on this fight here)
Adrian Peterson -175
Le'Veon Bell +135
Analysis
We are not totally sure why Peterson is favored. He is pushing 40 and Bell is only 30. Perhaps its because Peterson is the only one with legally documented violence in his past. OK bad joke. Maybe the oddsmakers know something about these two that we don't. Perhaps they think Bell is a pothead. Who knows.
There are no odds posted on a Draw yet but that is probably the smarter bet to make on this fight. Or if those odds don't become available take the underdog money pick. Speaking of money, this fight may actually be worth paying the money to see as long as it isn't some ridiculous amount. After all, a recession is looming and our money is worth 10-15% less than a year or so ago.