Kevin Durant Odds – Where Will He Play Next Year?
July 13, 2022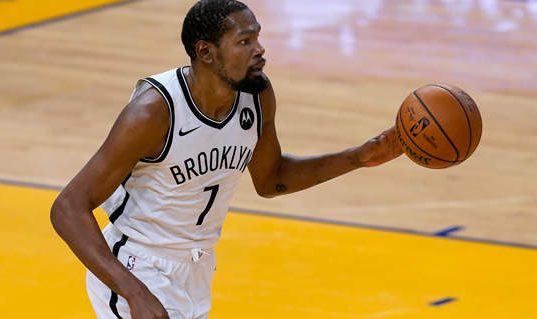 Roughly 11 months ago, former NBA MVP Kevin Durant signed a four-year, $198 million contract with the Brooklyn Nets. After getting swept in the first-round of this year's NBA playoffs, Durant has asked the Nets to trade him away. There are some issues over where Kyrie Irving will play next year and Durant has expressed a desire to continue playing with his teammate.
That appears unlikely to happen, but Durant will not be in Brooklyn in 2022-23. Where will he play next season?
Sunny in Phoenix
The favorite on the betting board to land Durant is Phoenix, which had the best regular season record in the NBA last season (64-18). The Suns appear ready to part ways with Deandre Ayton and can put together an attractive package to Brooklyn in exchange for Durant.
Phoenix can add another key player such as Mikal Bridges or Cam Johnson and they can offer up some first-round draft picks as well. The problem is that Brooklyn may want the Suns Devin Booker and that isn't likely to happen. Phoenix is dreaming of a rotation that includes Booker, Durant, and PG Chris Paul. Still, at +190, the Suns are the favored next home of Durant.
Sunnier in Miami?
Miami is another hot landing spot for Durant, but logistically it's hard to see how it would all play out. Brooklyn would want a guy like Bam Adebayo plus draft picks in return for Durant. The problem is an NBA rule that prevents teams from having two Designated Rookie players acquired via trade. The Nets picked up Ben Simmons from Philadelphia last season.
If Brooklyn can unload Simmons, then an Adebayo-Durant deal could get done. Otherwise, the Heat would have to give up a ton in order to acquire the two-time NBA Finals MVP. A deal with Tyler Herro, Duncan Robinson, Kyle Lowry, Max Strus, and some draft picks might do it. Does Miami want to give up all of that and does Brooklyn really want that package of players? 
While it doesn't seem realistic, the Heat are still listed at +450 on the betting board right behind Phoenix at top rated sportsbooks.
Durant, Eh?
Yes, Durant likes Toronto and the Raptors would love a player like Durant to bring another title north of the border. The Raptors have some pretty enticing players too like NBA Rookie of the Year Scottie Barnes. Any deal would probably have to include at least one of Barnes, Pascal Siakam, Fred VanVleet, or OG Anunoby. 
While this one also seems like a stretch, when the odds on Durant's next team opened the Raptors were listed at +1600. Now, they are even with Miami at +450.
Stay Home
It doesn't seem likely that Durant would want to stay in Brooklyn. Irving might be headed to L.A. to become a Laker, but if the Nets are able to land someone like Ayton in free agency… There could be worse things than being the go-to guy in Brooklyn for a season. 
The Nets would love it, especially if they can work out a trade for Irving. Brooklyn is likely to get two first-round draft picks out of the deal. The problem for Durant is that he won't be any closer to winning another NBA title unless the Nets can acquire at least one more big name. The Nets are up there on the betting board at +550 at the best bitcoin sportsbooks.
Irving & Durant?
Somehow, the Lakers (+900) are the only other NBA team listed at better than +1000 odds to be Durant's next team. If the Lakers do indeed trade for Irving, how would they pull off bringing in Durant? That would put Irving, Durant, LeBron James, and Anthony Davis on the same roster.
Do the Lakers have enough draft picks to trade? Crazier things have happened, but where Durant ends up next season is still a pretty big question mark at this point.