Which New NFL Head Coach Will Have the Best Debut in 2022?
August 12, 2022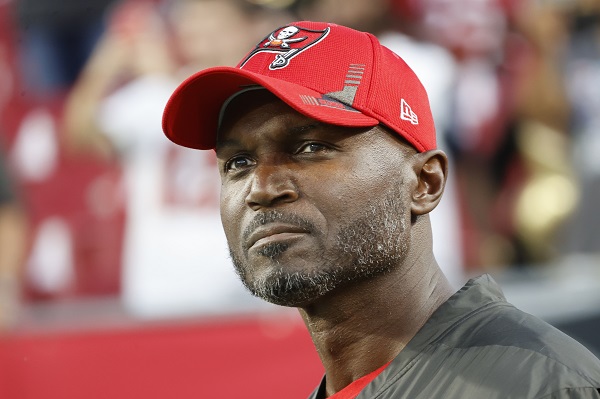 There are ten new head football coaches in the NFL that will make their debut in 2022. That number is one that tied an NFL record. NFL franchises are not known for their patience in today's "win-now-or-else" culture. Ten new coaches will have to work hard – and fast – to ensure success. 
Some may have to work harder than others as we will see, but of these ten new NFL head coaches which one will have the best debut in 2022?
TODD BOWLES – TAMPA BAY
Sometimes, you just get lucky. Bowles was not so lucky in 2015 when he took over the New York Jets. He went 24-40 before being shown the door in New York. Bowles has always been one of the NFL's most respected defensive coordinators. Now, he steps into a pretty cushy situation.
It's always a plus when you take over a team that has Tom Brady at quarterback. The Bucs have a standout wide receiver crew and Bowles can get the defense playing at an elite level. This is a team that can go deep in the playoffs and even compete for a Super Bowl. Tampa is +700 at BetOdds.ag
DENNIS ALLEN – NEW ORLEANS
Like Bowles, Allen steps into a pretty solid situation in New Orleans. He's also an NFL veteran defensive coordinator and he has plenty of talent on both sides of the ball. Jameis Winston will be back at quarterback and if he plays like he did before his injury last year the offense should be pretty good.
Winston will have WR Michael Thomas back and the Saints added Jarvis Landry in the offseason and rookie Chris Olave via the draft. New Orleans has had five straight winning seasons. Allen steps into a culture that knows how to win. The Saints are currently +4000 to win the Super Bowl at BetUS. 
---
NATHANIEL HACKETT – DENVER
Hackett has been around the game his entire life. His father, Paul, was a former college head coach at USC and Pittsburgh. He also worked in the NFL as an offensive coordinator. The younger Hackett has worked some of his magic in the NFL as an offensive coordinator as well and now he gets to lead his own team.
Denver went out and got QB Russell Wilson in the offseason. With an elite level defense, that makes the Broncos an instant contender. Hackett could pull off a worst-to-first run in 2022.
The Broncos are currently listed at +2200 odds to win the Super Bowl at SportsBetting Sportsbook.
---
MIKE McDANIEL – MIAMI
McDaniel looks more like your kids' sixth-grade teacher than an NFL head coach, but his creativity might do wonders for the Dolphins offense. Miami went out in the offseason and added some serious speed. The Dolphins went out and got three-time All-Pro Tyreek Hill at wide receiver as well as Cedrick Wilson. 
Miami also added dynamic running backs Raheem Mostert and Chase Edmonds. QB Tua Tagovailoa is the key to the offense, but he will have plenty of pieces around him and a coach that knows how to utilize what he does best. The Miami defense is also good enough to get the Dolphins to the postseason. At EveryGame.eu Miami is +2800 to win the Super Bowl. 
---
JOSH McDANIELS – LAS VEGAS
With Lovie Smith, Doug Pederson, and Matt Eberflus all having roster issues in Houston, Jacksonville, and Chicago, respectively, it's McDaniels who makes the top five here. Remember, McDaniels had a stint as Denver's head coach several years ago. That didn't go so well.
McDaniels is an outstanding offensive mind. He'll have Derek Carr at quarterback with his new teammate (and former college teammate) Davante Adams at wide receiver. The biggest hurdle for McDaniels will be playing in a loaded AFC West. Hackett and Denver will be much improved from 2021 and the Chargers and Chiefs are both legitimate Super Bowl contenders.
The Raiders are +3300 odds to win the Super Bowl at BetOnline.ag