YouWager Special Bonus and Promo Code
August 30, 2022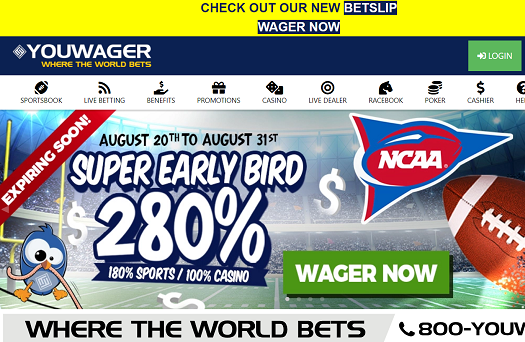 Youwager has been a staple of online betting for quite some time now. A member of the First Fidelity group of sportsbooks, YW came rolling onto our radar almost a decade ago. Ever since that time we have received virtually no complaints from users of that sportsbook.
We wanted to share with our readers a very special and limited bonus offer from Youwager. This "Early Bird Special" entitles the recipient to a 180% sportsbook bonus as well as a 100% casino bonus, totaling 280% in bonus money.
Ready to Make a Move? Here is what to do:
Signup at Youwager.lv <– Use this link for it to work
When depositing, use promo code EB280
If the bonus is not automatically credited after a day then contact their customer service.
Bonus expires at midnight EST on AUG 31st, 2022
Note: This bonus may have up to a 20X+ Rollover
For smaller Rollover try this bonus:
100% CRYPTO SIGN UP & DEPOSIT BONUS
signup at Youwager.lv
deposit using crypto
select the 100% crypto bonus
12X rollover
You can perform your due-diligence on YouWager using our website. Click here to see the sportsbook main page for Youwager. Here you can find older articles and feedback from clients.