BOLO for Scam Emails Pretending to be Sportsbooks
September 6, 2022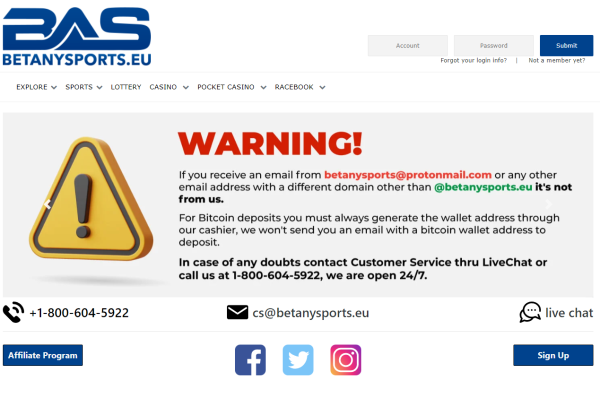 The internet has always had scam artists pretending to be something they are not, sometimes in the pursuit of scamming people out of money. In fact, crypto-related scams increased 79% from 2020 to 2021. Up until a few years ago, people could rest assured that if they got scammed while using their credit card, there was always the chance that they could get their money back by filing a claim. Now, in the world of BTC, scammers are getting away with more money.
BTC is a semi-private network that allows you to send and receive money from anywhere in the world for a fraction of what other traditionally money-sending services charge. Whether you are sending fifty bucks or 50,000 the fee can be as little as .50 cents, or even less. This is because the amount of money doesn't matter. Its simply transferring bits of a coin to another person's wallet. This is an area which traditional money transferring systems left themselves vulnerable to "the new kid on the block". But I digress.
People are now getting ripped off in Bitcoin and there is little recourse. Once it's gone, it's gone. But you can be extra vigilant before sending the payment using this method. Here are some tips to keep from getting ripped off when funding a sportsbook account.
Recently there have been a rash of emails and texts hitting peoples' inboxes claiming that the sender is from XYZ Sportsbook and that they have an "amazing bonus opportunity". The victim of said scam is talked into sending BTC to an address the person provides in that message. This is a grave error. Here are some tips to avoid getting ripped off.
Only Deposit from Inside Your Account
Do not take the word of a texter or emailer that they are legit. Log into your account at the sportsbook and make sure that the bonus is really being offered. You can deposit using their processor inside the website and your transaction will be secure.
Contact Customer Service at the Website
Tell the texter or emailer that you will contact the sportsbook a little later to make the deposit. Jump on live chat or give your sportsbook a jingle to make sure the offer is for real. Then see yip #1.
Never Send Too Much at Once
If you plan on bankrolling your account for a large amount of money, say $5K, maybe it is a good idea to break it up into 5 deposits of $1000. Or even two deposits of $2500. You can ask your sportsbook if they will approve the bonus even if you send the payment in installments. Make sure they are same day.
One sportsbook has even put a warning on their homepage about a wave of scam email being sent out in their name. BetAnySports.eu has posted the warning on the homepage (see featured image). Make sure to be aware of who you send your money to. There is nothing the sportsbook or your BTC wallet company can do once that money is sent.