Most Heavily Bet Teams to Win Super Bowl 57
September 7, 2022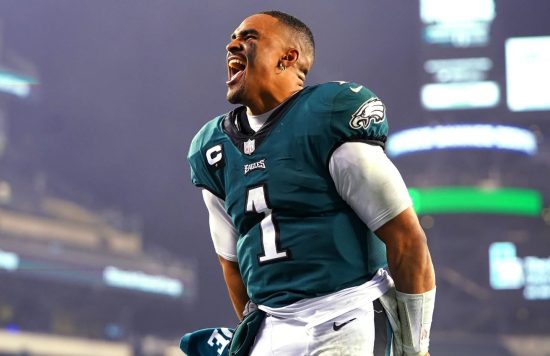 The NFL season is kicking off tomorrow night with a gem. The Bills are in L.A. to do battle with the defending Super Bowl champion Rams (Bills -2.5). TV networks and sportsbooks alike are expecting an incredible turnout. America loves football.
With the season officially kicking off tomorrow, its time to look at the top three Super Bowl exposures at SportsBetting.ag
Believe it or not the Philadelphia Eagles (+2000) are the biggest liability at the sportsbook. The Eagles are a favorite among the betting public after making some high profile moves this offseason. Remember, this number doesn't necessarily reflect which team the public thinks will definitely win the Super Bowl. It reflects which team they think pays best while still maintaining a good chance to win. The Bills lead all teams as odds-on-favorites to win with a moneyline of +650 and have received the most bets (tickets). But with the lower moneyline, the Bills are not as big of a threat to the sportsbook bottom line as Philly is.
The public is also hammering the Eagles to win the NFC East title at +150. The public has faded the Cowboys to win that division, although they have been betting that Dallas will win OVER their posted 8.5 game total.
Charge Ahead
Behind the Bills the L.A. Chargers have received the second most bets (tickets) to win the Super Bowl at +1100. They are also being heavily bet to win the AFC at +650.  The Chargers made their team better in the offseason by adding OLB Khalil Mack and CB J.C. Jackson. Do you think they have what it takes to represent the AFC in Super Bowl 57?
San Fran Sizzle
Bettors feel pretty confident in the San Francisco 49ers with their young and inexperienced QB Trey Lance taking over QB duties. Last year he threw for 602 yards, 5 TD's and only 2 INT's. The front office in San Fran thinks he is god enough to take over for Jimmy Garoppolo who will now be the #2 QB after signing on for one more year with the Niners. Can anyone saw awwwkwwwarrdd?
The 49ers at +1600 are officially the #2 biggest liability for sportsbooks. If they win it all the books will definitely feel it. The Niners are +750 to win the NFC.
Value Picks
There are a couple of teams out there that are offering a big enough payout to risk a small wager on. The Packers at +1200 may be worth a shot. They lost some talent in the offseason but we all know Rodgers can sling the rock.
The Cardinals at +4000 seems to be of value as well. The kid at QB is pretty outstanding and they have been building.