Oregon Football – That Bad or a Fluke?
September 10, 2022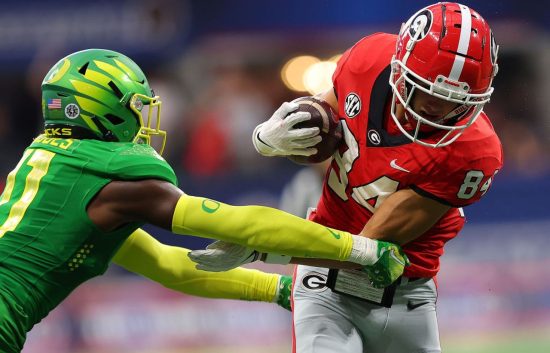 It was going to happen. There was simply no way that Oregon was going to march into Mercedes-Benz Stadium in Atlanta and beat the defending national champion Georgia Bulldogs. But 49-3? The Ducks haven't suffered a beatdown like that in a long time. With a new head coach and several new faces on offense and defense, are the Ducks in trouble?
The Sky is Falling
For the first time since 2017, the Ducks failed to score a touchdown. There were some flashes, but QB Bo Nix threw two interceptions and when Oregon threatened to score late in the game the Bulldogs defense stopped the Ducks on downs. 
Lanning, the former Georgia defensive coordinator, put a defense on the field that gave up 49 points and 571 yards of total offense. The Bulldogs were forced into 10 third down situations. They converted nine of them. Georgia would score on each of its first seven possessions and averaged 9.4 yards per play. That's dominance and cause for concern.
The Good
Georgia had the best defense in the country last season. It may very well have the best this season too after replacing five first-round NFL draft picks. Despite a defense full of four- and five-star recruits, Oregon managed to rush for 140 yards. The Ducks averaged 4.5 yards per carry. If Oregon can run against Georgia, they should be able to run through Pac-12 defenses. That includes Utah, which denied Oregon a conference title last year beating the Ducks twice in 2021.
The Ducks have yet to find an RB1. Sean Dollars averaged 8.3 yards on four carries and Byron Cardwell averaged 7.0 yards on his four carries. That's probably a good thing as having multiple weapons and depth at the position can carry Oregon through the long season.
Bo Picks?
Nix, who transferred to Oregon from Auburn, was known throughout the SEC as "Bo Picks." Yes, he has the tendency to make some throws that will make any coach scratch his head. He also has the ability to make plays that will make coaches' jaws drop.
The Oregon quarterback went 21-of-37 for 173 yards against Georgia and, for the most part, was in control of the offense. He tossed up a jump ball that got picked and waited a split second too long on another for his second pick. Overall, he was equally as bad as the rest of his teammates.
What Lies Ahead?
Oregon and Utah are expected to battle for the Pac-12 title again this season. The Utes lost their season opener to Florida. They will bounce back. So will the Ducks.
Oregon hosts FCS Eastern Washington in Week 2. The Eagles are a pretty good FCS program, but the matchup gives the Ducks a chance to get back on track. Then, they will get another test at home against BYU. 
You can bet that Lanning will turn the defense around. That's what he does. The Ducks running game will continue to improve and Nix will be Nix. He will show flashes of brilliance at times and others he will make Ducks' fans cringe. Ultimately, a stretch of Washington State, Stanford, Arizona, UCLA, California, and Colorado will have the Ducks right back in the thick of the Pac-12 race and possibly even back in the AP Top 10. Relax. The sky isn't falling on Oregon football.