NFL Week 1 Injury Report
September 15, 2022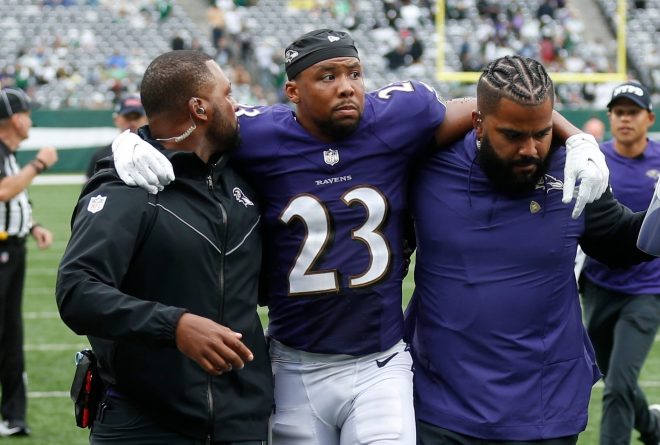 There are two traits shared by every Super Bowl-winning team over time. They're both very good and very lucky. There's no greater proven killer to a season than a major injury wiping out a star, and no team is immune.
TJ Watt – Pittsburgh Steelers
The reigning Defensive Player of the Year-and one of the preseason betting favorites to win it again-did tear his pectoral muscle in the opener against Cincinnati. Watt was great in the Steelers win over the Bengals, and without his play, it's likely Pittsburgh does not win. They're without his play for a number of weeks.
According to reports, the worst fears of the Steelers have been avoided. Watt won't need season-ending surgery, and he could return by late October. If the Steelers can just keep it together until then, their season might be saved.
Jamal Adams – Seattle Seahawks
Another season that the Seahawks will be without a healthy Jamal Adams over a significant amount of time. Seattle was a winner Monday night against Denver, but lost Adams to a torn quadriceps tendon. In the words of coach Pete Carroll, it's a "serious injury."
Timetable pn a return isn't available, but there is a good chance that Adams is done for the season. He missed the final five games last season (torn labrum), and he was out four games in 2020 (injured groin).
Ja'Wuan James and Kyle Fuller – Baltimore Ravens
Forgive the Ravens if they're experiencing flashbacks to 2021, after losing two important players for this season. Ja'Wuan James tore his Achilles tendon (the second time in 16 months), and yet another season is lost for the 30-year-old left tackle.
Cornerback Kyle Fuller (torn ACL) is also done this season. Remember, he signed with the Ravens this offseason after playing in Denver.
The Ravens were the "injury-est"  team in the NFL in 2021, having lost to an adjusted 191 games last season. They're this season's betting favorite to win the AFC North.
Baltimore, after a handy season-opening road win over the New York Jets, finds itself a 3½-point choice this Sunday hosting the Miami Dolphins, according to NFL odds.
Dak Prescott – Dallas Cowboys
Very little went right for the Cowboys in their Sunday night loss to the Buccaneers, much wrong, too. The broken thumb of quarterback Dak Prescott in the fourth quarter required surgery to fix, thus sidelining him roughly two months. It will also effectively keep the Cowboys out of the race in the NFC East. Dallas now rolls with understudy Cooper Rush at quarterback.
In five games played last season, Rush was 30-of-47 for 422 yards (three touchdowns).
The Cowboys now stand at +2200 to win the NFC. That's per NFL conference odds.
Elijah Mitchell – San Francisco 49ers
Everything about the 49ers' opening game at the Bears was not crisp, from the Soldier "field" in monsoon conditions, to the play of new quarterback Trey Lance, to losing to the Bears. San Francisco, one of the trendy picks to win the NFC, did not oblige.
Things don't get easier going forward with the club, being without their leading running back the next eight weeks (sprained MCL). He won't need surgery, but misses half of his '22 season. 
Chris Godwin – Tampa Bay Buccaneers
Returning off the ACL injury that cost him the final three games last season (plus the playoffs), wideout Chris Godwin is going to miss a few more weeks after injuring his hamstring in Tampa Bay's win over the Cowboys.
Good news is that his knee is fine. This injury is not related to his repaired ACL, and everything inside the knee is still where it belongs. The bad news is his comeback off the injury was interrupted. Godwin is expected to miss multiple weeks because of it. 
Do not be surprised if the Bucs give him even more time to recover.