49ers Odds Longer Despite Jimmy G Big Win
September 19, 2022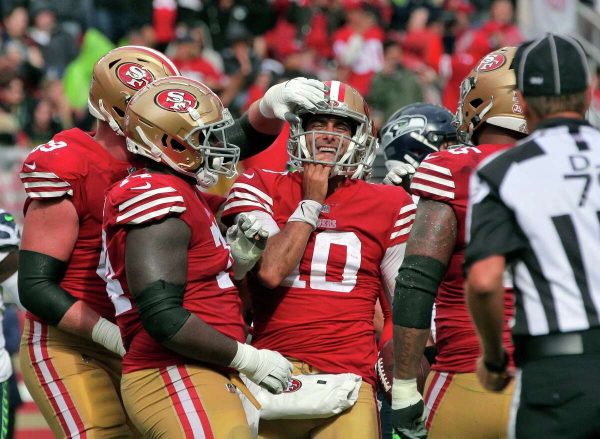 Granted it was against the Seattle Seahawks, a team not expected to do much this year, but Jimmy G. taking over the reigns at QB for the Niners has inspired newfound confidence in sports bettors. There has been an uptick in action on that team at the sportsbook.
Unfortunately, Trey Lance (the QB the 49ers front office shoehorned into the starting role) was injured yesterday and looks to be out the entire season. That same front office re-signed Jimmy Garoppolo to a one year deal in what can only be described as an afterthought. Jimmy took a massive pay cut to stay with the team saying that he "didn't want to ruffle any feathers".
Jimmy being a nice guy looks like it will pay off for both he and the 49ers. Jimmy's smaller $6.5M base salary is much lower than the previous $25.62 base salary he had last year. But this year's salary is loaded with incentives which could net Jimmy an extra $4M in the regular season alone. An example of these bonuses is the fact that Jimmy made an extra $350,000 yesterday for playing at least 25% of the snaps ($250K) and achieving the win ($100K).
If Garoppolo leads his team to a post-season conference win that is another $1.5M and for playing at least 25% of the snaps in the Super Bowl that is another cool million. But I have a feeling its not about the money for Jimmy. The guy is already super rich and he took a massive pay cut just to be nice.
San Francisco 49ers Super Bowl 57 Odds
At the start of the season, when it looked like Trey Lance would be the starter, oddsmakers had the 49ers rated pretty high on the board. In fact, right after the Draft back in April the Niners were +1400 to win it all. People had an awful lot of confidence in QB Lance, a guy who in all honesty is a wet-behind-the-ears 22 year old kid. This fact was on full display last week when there were allegations that Lance was at a strip club making it rain $100 bills after a loss to the Chicago Bears. Even still, the odds did not waver much.
This week, with Jimmy G. at the helm and the 49ers back in the win column, you can bet them to win it all at +1600 at both SportsBetting.ag as well as BetUS.com
The Niners are +140 to win their division (slightly behind the Rams who are +115) and they are +800 (5th place) to win the NFC and represent the conference in the Super Bowl.