The Latest NFL Injury News
October 5, 2022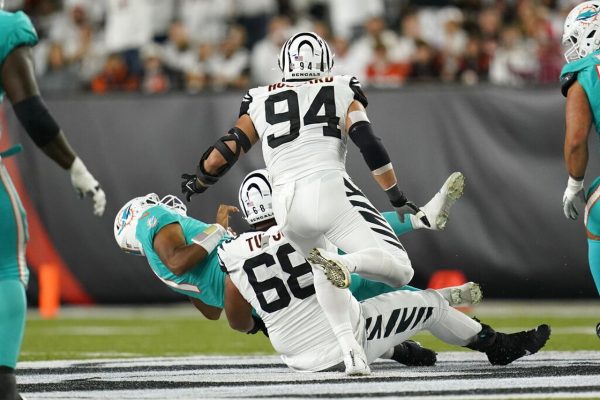 It is always a gut punch when a player suffers a season-ending knee injury. Denver's loss of running back Javonte Williams is even worse, however.
The loss is a torpedo to the broadside, with Williams perhaps their best offensive player not named Russell Wilson. Williams was becoming a Marshawn Lynch-like partner to Wilson. Now without that, this offense becomes quite one-dimensional.
Williams was in his second season, and just now tapping into his potential. He has a torn ACL, but Monday's MRI also revealed a torn LCL and PLC, making his road back-and a return to the NFL-harder and more complicated indeed.
There were three ligaments involved, so no guarantees if/when Williams rejoins the Broncos. . Recovery may take longer than a year, and because this type is a worst-case scenario involving torn ligaments, the type of runner he will be if/when fully healthy is also hard to predict.
At just 22, the second-round pick in 2021 faces an uncertain future.
Tagovailoa Out at Least Week
There's still a number of things regarding the Tua Tagovailoa situation that need to be addressed, confirmed and finalized, thus the investigation is continuing. The fallout that has already claimed the job of one neurotrauma consultant is not over.
As for Tua himself, he won't play this week against the New York Jets. Teddy Bridgewater gets the start in his place. Beyond this week, there is a great unknown. Some doctors are saying that if he, in fact, did suffer two concussions within a four-day span, he shouldn't play until at least November. Head trauma in those instances requires weeks of evaluation before any clearance.
It's not confirmed Tua suffered the first concussion, however, although the firing of the consultant who examined him that afternoon brings the original diagnosis into question.
There's no question about what happened in Cincinnati this past Thursday, with the sight of Tua on the ground with his fingers locked very scary. Whatever the actual result of his evaluation, at this moment, football isn't a priority.
Cordarrelle Patterson on IR
The injury that has landed Atlanta Falcons' primary offensive threat Cordarrelle Patterson on injured reserve was actually an issue prior to Week 4, when he rushed for just 38 yards on nine carries, his season-low total. So, after the 23-20 win over the Cleveland Browns, moving the Falcons to 2-2, Patterson had left-knee surgery. He will be sidelined at least four weeks.
Atlanta has a deep running-back room, and last Sunday, it was 84 rush yards by rookie Tyler Allgeier, 56 by another 'frosh,' Caleb Huntley. Those two (especially Allgeier) figure to get an increased load in Patterson's absence.
Atlanta is off to Tampa Bay Sunday, an early NFC South battle with the 2-2 Buccaneers. It's the home side as sizable favorites in the game, according to NFL odds. 
Giants Need Healthy Quarterback
The New York Giants are traveling to London, and a game with the Green Bay Packers this Sunday. As of this writing, it's not clear which of their quarterbacks is going with them.
Daniel Jones injured his ankle last Sunday, and coach Brian Daboll says he's feeling better, but "We'll see how it goes." That's not terribly promising.
It would be manageable if understudy Tyrod Taylor wasn't injured, but he's currently in concussion protocol. It's not known when he's to be cleared, a problem since this isn't a typical Big Blue road trip. That may leave practice-squad quarterback Davis Webb as the starter, and the second-stringer would be someone not currently on the roster.
Meanwhile, the Packers are 4-1, or +400, to win the NFC, as per NFL conference odds. They're second choice, behind the undefeated Philadelphia Eagles.
Rookie Wideouts Missing Week(s)
Two of the top wide receivers taken in this past draft are missing at least this Sunday's games.
Jahan Dotson has four touchdown catches on the season, but sustained a hamstring injury in the Washington Commanders' loss to the Dallas Cowboys. He's missing one-to-two weeks.
The Tennessee Titans will be without their first-round rookie wideout Treylon Burks due to turf toe. He won't require surgery, but will be out at least Oct. 23rd, against the Indianapolis Colts.