Christian McCaffrey New Team Odds
October 17, 2022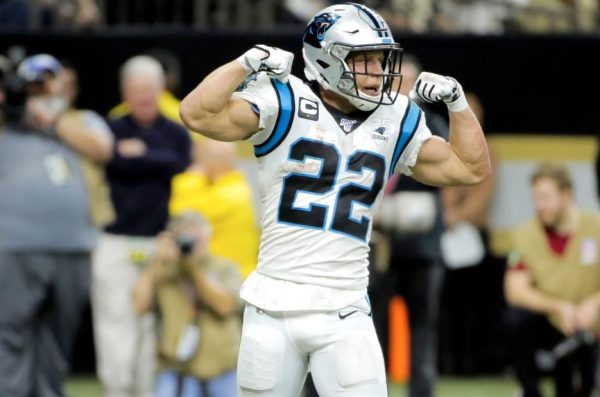 Christian McCaffrey was, for a brief time, the most productive RB in the NFL. He was the #1 rated player in NFL fantasy football drafts several years ago. Not only could he tote the rock from the backfield, but he could catch a ton of passes  too.
In 2019 he had a rare season indeed. Christian McCaffrey rushed for 1,387 yards with 15 TD's and caught 116 passes for 1,005 yards and 4 more scores. There has never been a season that productive from a rushing + receiving aspect.
Unfortunately for McCaffrey, the injury bug bit him and he has never come near duplicating that success again. In the 2 and 1/3 seasons since 2019 he has rushed for just over 1,000 combined and received less than 1,000 yards combined.
Still, the RB does have some trade value. He is on pace this season to eclipse 1,000 yards rushing and 90 catches in 2022. He is at the beginning of a 4 year $64M contract. His team, the Carolina Panthers, are pretty bad and will be looking to perform a full rebuild. This means unloading this hefty contract. But, the question remains, will any team out there want to pick up this expensive deal knowing that McCaffrey is so injury prone?
Below are the betting odds for which team he will land on next.
Christian McCaffrey Next Team Odds
odds provided by SportsBetting.ag
Buffalo Bills                             4-1
Miami Dolphins                      5-1
Los Angeles Rams                   6-1
New England Patriots             8-1
San Francisco 49ers                9-1
Denver Broncos                      10-1
Philadelphia Eagles                 12-1
Tampa Bay Buccaneers           14-1
Atlanta Falcons                       16-1
Jacksonville Jaguars                18-1
New York Jets                         20-1
Baltimore Ravens                    22-1
Chicago Bears                         25-1
Pittsburgh Steelers                 28-1
Arizona Cardinals                    33-1
Dallas Cowboys                       35-1
Kansas City Chiefs                   40-1
Green Bay Packers                  45-1
Washington Commanders      50-1
Seattle Seahawks                    55-1
Las Vegas Raiders                   66-1
New York Giants                     66-1
Detroit Lions                           80-1
Houston Texans                      80-1
Los Angeles Chargers              80-1
New Orleans Saints                 80-1
Cincinnati Bengals                  100-1
Cleveland Browns                   100-1
Indianapolis Colts                   100-1
Minnesota Vikings                  100-1
Tennessee Titans                    100-1