Will Kyle Kuzma, A Former Los Angeles Star, Become an All-Star?
October 21, 2022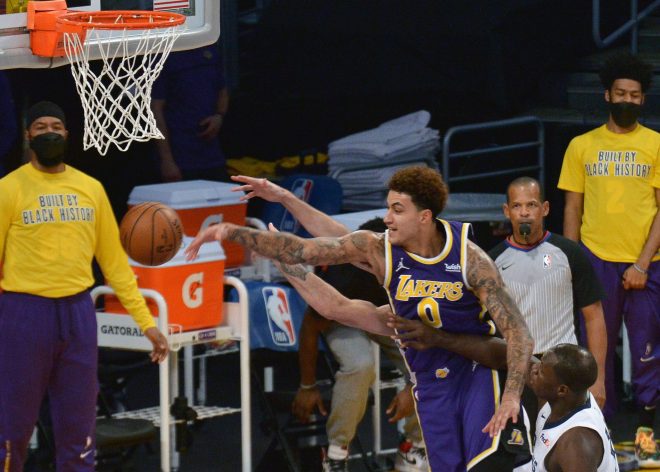 The 2022-23 NBA season tips off in less than two weeks, and Kyla Kuzma and the Washington Wizards are preparing to launch a serious playoff challenge. 
If you are looking for NBA lines, Bovada Sportsbook has Washington at +350 to make it to the postseason, but with a bit of luck, the Wizards could make some noise in the Eastern Conference. Washington sits at +2800 to win the Southeast Division, so the odds on the Wizards are quite tempting this season.  
The Wizards need the second scoring option 
Washington went 35-47 this past regular season, finishing fourth in the Southeast Division and 12th in the Eastern Conference, eight games behind the final play-in spot. Bradley Beal suffered a season-ending wrist injury in February, Rui Hachimura had serious injury problems, too, while Spencer Dinwiddie was traded to Dallas in exchange for Kristaps Porzingis, who played 17 games in the Wizards' uniform, averaging 15.2 points per game. 
Kyle Kuzma was a rare bright spot in the 2022-23 Washington Wizards roster. A former Los Angeles star started 66 games and logged 33.4 minutes per game while tallying 17.1 points, 8.5 rebounds, and 3.5 assists a night. Kuzma was making 45.2% of his field goals and 34.1% of his 3-pointers, and the 27th pick from the 2017 NBA Draft emerged as a primary scoring option in Bradley Beal's absence. 
Beal, a three-time All-Star, will be ready to go in the 2022-23 opener. He remains a key player for Washington's offense, while the Wizards hope Kristaps Porzingis will be their second scoring option ad a go-to guy in the paint. 
However, Porzingis is injury prone and could easily spend the vast majority of the season on the shelf. Over the last three years, KP6 has appeared in just 151 games due to several injuries, so Kyle Kuzma will certainly get a chance to showcase his skills. 
Back in 2020, Kyle Kuzma became an NBA champ in his third season with the Los Angeles Lakers. After surviving the Anthony Davis trade, Kuzma averaged 12.8 points and 4.5 rebounds in 25.0 minutes per game in the 2019-20 regular season. 
He hasn't started in a single playoff game in 2020, finishing the Lakers' postseason run with 10.0 points and 3.1 boards a night. Still, Kuz was a vital part of Purple and Gold's second unit. Through six games in the 2020 NBA Finals, he averaged 21.6 minutes while scoring 8.5 points per contest. 
The Lakers failed to retain the crown next year, exiting in the first round of the 2021 NBA Playoffs. It was a disappointing season for everybody including Kyle Kuzma, who started 32 games and registered 12.9 points and 6.1 rebounds across 68 appearances. 
At the end of their 2020-21 campaign, the Lakers decided to send Kuzma, Kentavious Caldwell-Pope, Montrezl Harrell, and the 2021 first-round pick to Washington in exchange for Russell Westbrook. Los Angeles was the biggest disappointment of the 2021-22 NBA season, while Kuzma got a nice opportunity to resurrect his career in D.C. 
The Wizards possess the talent and need Kuzma's experience 
In his last three years in Los Angeles, Kyle Kuzma had a chance to play alongside one of the greatest basketball players ever, LeBron James. Although he's just 27, Kuzma has already achieved a lot in his career, so his experience will be a huge boost for the 2022-23 Wizards. In his second season at Washington's helm, Wes Unseld will try to build strong chemistry, and Kuzma's presence will be a big part of his plans. 
So, will Kyle Kuzma continue to thrive in Unseld's system and maybe reach new heights in Washington's jersey? Can he become an All-Star in 2023? I don't think so, but Kuzma should enjoy another good season in D.C. and help the team to upset the odds by reaching the playoffs. 
Three seasons ago, Bradley Beal missed the All-Star Game despite scoring 30.5 points per contest for the lowly Washington Wizards who finished with just 25 wins. It's hard to expect Kuzma to put All-Star numbers with Beal and Porzingis in the mix, but Kyle certainly has a chance to improve his game.
Kuzma is a solid defender and helps the Wizards to switch almost everything on the defensive end. He likes to share the ball, and with a certain improvement in his scoring, Kuzma could challenge for a MIP Award. At the moment, you can take Kyle at +12500 to become the most improved player in the NBA in 2023. 
With this in mind, Kyle Kuzma proves proves that the lower drafts can ascend to the ladder and succeed in the league. The player remains positive about his ability to become an all-star with confidence, which might help him perform exceptionally well in the future.