Tom Brady Saves Season, while Aaron Rodgers Sinks Further
November 9, 2022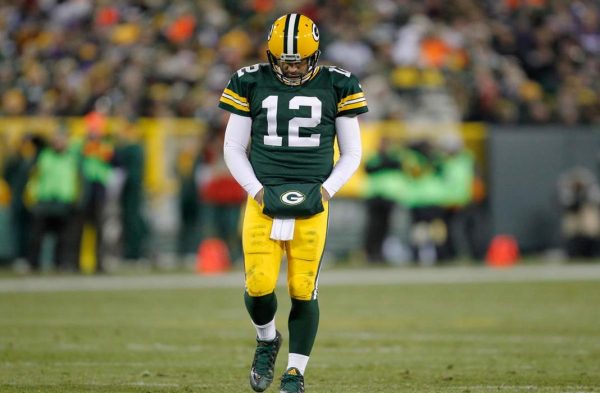 The two future Hall of Fame quarterbacks took two very different turns Sunday afternoon. Tom Brady and the Tampa Bay Buccaneers moved back into a tie for first in the putrid NFC South with a comeback win over the Rams, avenging last season's playoff loss. Aaron Rodgers and the Green Bay were in Detroit, ultimately losing in historically bad fashion. Their irrelevant season continues
First, Brady. It wasn't pretty, but a win's a win. As a unit, Tampa doesn't deserve much credit. In fact, it was quite bad. Brady wasn't anything to write home about, either, but when the outcome eventually mattered, he was the best player on the field. The final score was 16-13. 
Showing his age? Sure, but with only 44 seconds left and 60 yards to find, it was vintage Tom Brady. Twenty-eight yards to Cade Otton, spike, four yards to Leonard Fournette (out of bounds), 14 yards to Scottie Miller (out of bounds), defensive pass interference, then finally a one-yard touchdown to Otton. (Let's not overlook the sophomoric execution/play-calling by LA). 
In Motown, the Packers were supposed to get their offense sorted against the dead-last defense of the Lions. Instead, Aaron Rodgers threw a pair of end-zone interceptions, his first career game with multiple red-zone picks, and a first multiple-interception game against a division opponent since 2013.
The two end-zone interceptions came on his game's first two drives. Green Bay gained 88 yards and 57 yards on those two drives, but zero points. "I had some s*** throws," Rodgers said.
Green Bay is now tied with the Chicago Bears at 3-6, having fallen further behind the 7-1 Minnesota Vikings. Always a given to win the NFC North as long as they had Rodgers, Green Bay is now 16-1, or +1600, to the miniscule-priced Vikings, That's per NFL division odds. 
J-E-T-S, Jets, Jets, Jets
While the Packers and Rodgers race to a possible departure this offseason, the New York Jets, and Jet fans, have learned to feel good about their quarterback. Zach Wilson just has to be functional, because the team around him is quite good. Beating the Buffalo Bills. That good.
So, after the Jets lost (13th consecutive time) to the New England Patriots-mainly because Wilson wasn't functional-he did outplay his MVP-favorite counterpart in the Bills' Josh Allen. New York, as a double-digit home underdog, kicked a late field goal to stun Buffalo, 20-17.
The Jets defense is the best the Bills have seen this season, and it showed. Allen's pair of bad interceptions, and just 205 passing yards, could not offset his two rushing touchdowns. Buffalo was held to just three points in the second half.
Buffalo is remaining in first place at 6-2, and still the current No. 1 seed in the AFC. Right behind it in the AFC East are the Jets and Dolphins, both of whom have wins against the Bills.
Solving Chase-less Offense
So, last week with no Ja'Marr Chase, the Cincinnati Bengals were demolished by their Ohio/AFC Central rivals, the Cleveland Browns. Offense failed to score any points until the fourth quarter, and after the game was out of reach.
This past week was quite different. Running back Joe Mixon and his five total touchdowns, four on the ground. With no Ja'Marr, hand it to Joe.
What's missing in the Bengals offense this season, prior to last Sunday, was Mixon. With a season-high of 82 yards in Week 1, he had three total touchdowns, averaging less than four yards per carry in six of the games. Against woeful Carolina, 153 rushing yards (seven yards per carry). There were also 58 receiving yards, all part of a new Bengals' single-game touchdown record.
Again, it came against the pitiful Panthers, but this was the sort of dominating performance that can be carried over to any opponent, and will serve the Bengals well the rest of the season. Cincy has a bye week, then the Steelers and Titans before visiting the Chiefs Sunday, Dec. 4th.
Cincinnati, last season's champions of the AFC, are paying 14-1, or +1400, to repeat, according to NFL conference odds.