NFL Quarterbacks Changing, Not Changing and Some Who Really Need to Be
November 30, 2022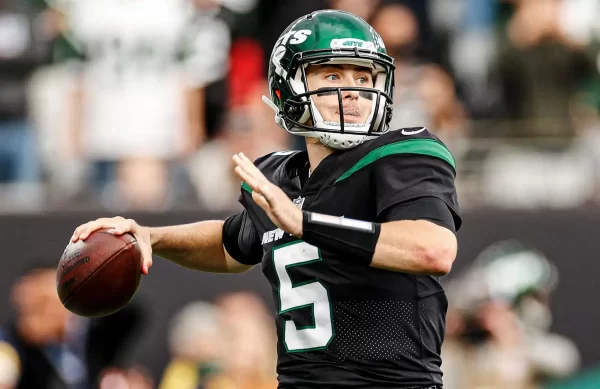 Twelve weeks down, six weeks to go. As the NFL moves into December, it may feel like it's too late to make a change as such an integral position as quarterback. Just like online wagering, it's never too late.
Mike White – Jets
Zach Wilson has been hurt by two things, as in his own stagnant growth and the Jets getting better faster than anyone expected.
If the Jets were a three-win team, it's likely Wilson would still have his job. The No. 2 overall pick in 2021, he'd be given the time to grow and develop. However, with the 7-4 Jets in the thick of the playoff race and a defense that's excellent, Wilson's leash became much shorter. Coach Robert Saleh made a move to Mike White. There were handsome dividends in a solid, rainy win over the Chicago Bears (playing without their starting quarterback)
White is the starter, unless something unforeseen happens. He had a handful of starts last season, then after a four-interception game against Buffalo, we never heard about him again. Now, even if he has a fiasco game, New York figures to stick with him. Wilson was given 20 starts. White has made just four. He is the quarterback through the rest of this season, regardless of the situation.
Jordan Love – Packers
The Packers are paying a lot of money to Aaron Rodgers, the two-time defending MVP and the reason preseason pundits gave Green Bay any shot. A broken thumb, injured ribs and injured oblique. Now, even if he's cleared by doctors, he shouldn't play
At 4-8, Green Bay's season is over. Turn the page to 2023, thus sit Rodgers so he returns healthy. Now, former first-round draft pick Jordan Love needs to prove his mettle.
Though terrible in very limited play last season, this Sunday night in Philadelphia, he was a poised quarterback with skills to compete in the NFL. It was night and day. According to Love, it was all about getting more reps in practice. Give him even more, Green Bay. Maybe you find a gem, then worry about what's next, as in Rodgers, Love or Door No. 3.
You don't need an injured Rodgers gutting it out the remainder of a lost season. Love not gaining experience helps no one.
Davis Mills – Texans
He isn't the franchise quarterback around whom the Texans are going to build their future, but Davis Mills is the best option available. There's zero chance that Kyle Allen is that man, a fifth-year player with limited positives. At least Mills had his moments as a rookie.
Mills is destined to become one of those longtime clipboard understudies who's reliable in a pinch, helping the team any way he can. Allen on his third team thus far, with no stability there.
If the 1-9-1 Texans are indeed fortunate to find a young franchise quarterback this offseason, Mills is the bridge to that quarterback.
So, stop fooling around, Houston. Play Mills. He's the best at this position at this moment. 
Meanwhile, perhaps try a +100000 (10,000-1) investment on the Texans to win the title, as per Super Bowl odds. That's the same fairy-tale territory where the Broncos and Bears roam.
Desmond Ridder – Falcons
Because the NFC South is such an embarrassing entity, then we'll see more of Marcus Mariota (sadly) this season. Atlanta's is 5-7, and not  good, but not good is plenty good to win a division in which all four teams are below .500, Atlanta is a +600 second choice (behind the odds-on Buccaneers) to survive the South, according to NFL division odds.
He's terrified to let Mariota throw the ball, but coach Arthur Smith does believe the veteran gives him the best chance to win. How, exactly, does Smith know? Desmond Ridder was excellent in college, the team's third-round pick this past season who hasn't thrown a pass.
Tennessee's poor experience with Malik Willis probably hasn't done Ridder any favors, but other 2022 draftees Bailey Zappe and Skylar Thompson were decent in their debuts. In a run-heavy offense such as Atlanta's, Ridder may be good.
Since mediocre is what we're getting out of Mariota, perhaps it'll be fun to find out about Ridder.