Farewell to the Pirate – Mike Leach's College Football Legacy
December 14, 2022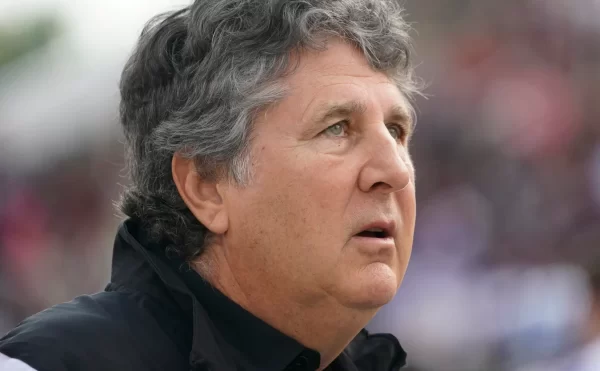 A love of Geronimo, pirates, magic tricks, and insurgent warfare. Those qualities don't usually make up a football coach. But, Mississippi State's Mike Leach was no ordinary football coach. Just ask anyone.
On Monday night, the football world lost one of its greats. Leach, 61, had been lifeflighted to UMMC in Jackson on Sunday after suffering what was termed a "personal health issue." He died of complications from a heart condition and news of his passing spread quickly through the football world.
Leach was such an enigmatic character. He never played college football though he did attend BYU during its heyday with the likes of Jim McMahon, Steve Young, and more. Leach graduated from BYU and Pepperdine University Law School. His career path took a different turn when he figured out he was always a coach. Along the way, he left us with some great stories. 
"Honey, I Got a Job"
In 1987, one Mike Leach graduated from law school and was ready to attack the job market. He thought he might become a product and liability lawyer, but he had a change of heart. He wanted to be a football coach.
After sitting in on sessions with BYU legendary head coach LaVell Edwards, Leach loved the planning and strategy that went into the game. He got his first job as an offensive line coach at Cal Poly. When his wife asked how much it paid, he told her $3,000. She thought that wasn't a bad monthly salary…only to learn that was for the entire year!
The Godfather
Leach went from Cal Poly to College of the Desert and then to coach in Finland in 1989. After returning to the states in '89, Leach hooked up with the Godfather – Hal Mumme. Mumme, of course, is considered the founder of the Air Raid offense which has taken over the college and NFL game. 
Mumme said Leach could have walked away, practiced law, and made $200,000 a year. Instead, he joined Mumme in rural Iowa for 12 grand. Over the course of three years, the pair would devise the offense that has revolutionized modern football.
Script-Gate
Mumme took the head coaching job at Kentucky in 1997. Leach went with him as his offensive coordinator. The two terrorized the SEC. Bob Stoops had been Florida's defensive coordinator before he took over at Oklahoma in 1999. 
The Sooners had been a run-based offense for years. Barry Switzer won a couple national titles running the wishbone triple option. Stoops needed something that the Big 12 hadn't seen. He had hated playing against Leach and Kentucky. Stoops hired Leach away from the Wildcats.
In the annual Red River Rivalry game against Texas, Leach came up with an interesting plan. He made a fake script of plays that Oklahoma was going to run. He had one of his players pretend to drop the script in an area where it would be sure to be seen. A Texas graduate assistant came across it and the script eventually made its way to Texas defensive coordinator Carl Reese.
While the Longhorns followed the fake script, Leach and Sooners exploded to an early 17-0 lead. OU would lose that game 38-28 and they would finish 7-5, but the offense was outstanding. The following year, the Sooners went 13-0 and won a national championship. Leach was the new head coach at Texas Tech (and soon after every team in the Big 12 was running some version of the Air Raid).
Lubbock Legacy
Kliff Kingsbury, BJ Symons, Sonny Cumbie, Cody Hodges, and Graham Harrell. They all played quarterback for Leach at Texas Tech. Kingsbury, Symons, Cumbie, and Harrell all led the nation in passing yards at least once. Interestingly, Kingsbury (Arizona-NFL), Cumbie (Louisiana Tech), and Harrell (North Texas); are all head coaches now. All, of course, run the Air Raid.
Leach never won a Big 12 title, but he never had a losing season either. His 2008 team went 11-2 and all ten of his Red Raiders teams went to bowl games. 
Insurgent Warfare & Football Strategies
Leach returned to the gridiron after a brief hiatus and matriculated at Washington State. The Cougars are by no means a football power, but Leach would turn them into a solid Pac-12 program. His 2018 team is the only one in the history of the school to win 11 games.
It was at Washington State that Leach, along with a colleague, taught a class called "Insurgent Warfare & Football Strategies." Leach prepped for the course by visiting Cambodia and Vietnam. He figured he'd get a handful of kids that would want to take it. 
He was wrong. There were thousands. All applicants had to write an essay in order to be considered to take the course.
Candy Corn, Marriage Advice & More
Leach was the focus of a 60 Minutes segment in 2008. It was there that the world got a glimpse into the craziness of college football's most innovative mind. Leach has given some of the greatest interviews in the history of the game.
After a Halloween game at Mississippi State, Leach talked about how he disliked candy corn but loved Sprees in the box. He offered up marriage advice as well…a lot of people are going to lose their minds! 
He went off on everything from student loans and the weather to fat little girlfriends and Bigfoot. He was an innovator and his Air Raid offense is on display every week of a football season at every level. He was an interesting character. Mike Leach was a football coach and the football world will miss him.
Here is the 60 Minutes Interview