Los Angeles Rams at Green Bay Packers Betting Picks
December 15, 2022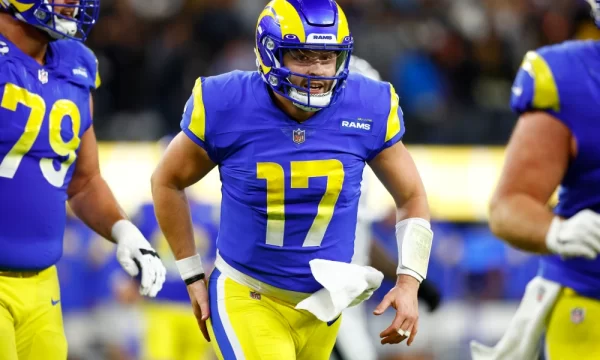 The Los Angeles Rams visit Lambeau Field Monday night, opposing the Green Bay Packers in a game of minimal significance. The 4-9 Rams and 5-8 Packers are battling to see who's had a more pathetic season. Green Bay is a 7½-point favorite (total at 39½), according to NFL odds. 
Rams' Awful Encore
The Los Angeles Rams enter this game off an improbable 17-16 home win against the Las Vegas Raiders a week ago last Thursday. They'd lost six games in a row before newly-signed quarterback Baker Mayfield led a two-touchdown, fourth-quarter comeback. 
Whether a change of venue, or just a one-off, that wasn't the same Mayfield with the middling (at best) resume in Cleveland or Carolina. So, after a 22-of-35 effort (230 yards, one touchdown) in his Ram debut, it's Mayfield's ball once again.
An injury-riddled offense (see quarterback Matthew Stafford and wide receiver Cooper Kupp, among others) ranks 27th (tied) in the league, averaging 16.8 points per game. Mayfield isn't the long-term answer in Inglewood, but back-to-back wins wouldn't hurt the latest team with a care of Super Bowl hangover.
Regardless, nothing good has come out of this season of a team which may go down as a one-hit wonder among champions. At least it's ending soon.  
Packers' Forgettable Foray 
The Green Bay Packers may be enduring a rough season. At least they maintain their ownership of the Chicago Bears. Green Bay's 28-19 win at Soldier Field two weeks ago completed a fourth consecutive season sweep, but was just the team's second win in the last nine games. It was also the Packers' 787th all-time win, leapfrogging the Monsters (?) of the Midway with more wins than any other franchise. This concludes today's history lesson
Green Bay entered 2022 having won 13 games each of the past three seasons. Now, the projected total is 7½, as per NFL wins.  
While the Packers are not officially eliminated yet, there are many things that have to happen, even if Green Bay runs the table. 
If there's good news at all, the bye helped quarterback Aaron Rodgers with his malady recovery. 
(Rodgers' fearing his own death is ot part of this missive). Green Bay is in a weird position, trying to incorporate youth while still (theoretically) in the postseason chase. It hasn't worked. Expect quite a few changes, including a possible rerouting of Rodgers.  
Rodgers has gelled with rookie wide receiver Christian Watson of late, Watson has 25 receptions (401 yards, seven touchdowns), adding five rushing scores as well. Watson ended with a pair of touchdowns (one receive, one rush) last out. Allen Lazard has a 45-catch, 620-yard (five touchdown) season. With Kupp out, the Packers have a significant advantage in the wide-receiver position.
Pack Not Back, But…
Obviously, the Packers should be favored, and should win this game. Offensively inconsistent, but not a fair fight compared to the patchwork (and underperforming) Rams. Green Bay's middle-of-the-road defense, having surrendered just under 348 yards/game, figures to contain LA, with Mayfield's comeback story getting detoured here. Take the Packers minus the touchdown-plus spread in this one.
Total of 39½ points is one of the lowest in Week 15, largely due to the visitors' anemic offense. Perhaps this bucks the trend, but we do expect an over.