Will Jim Harbaugh Stay at Michigan?
December 29, 2022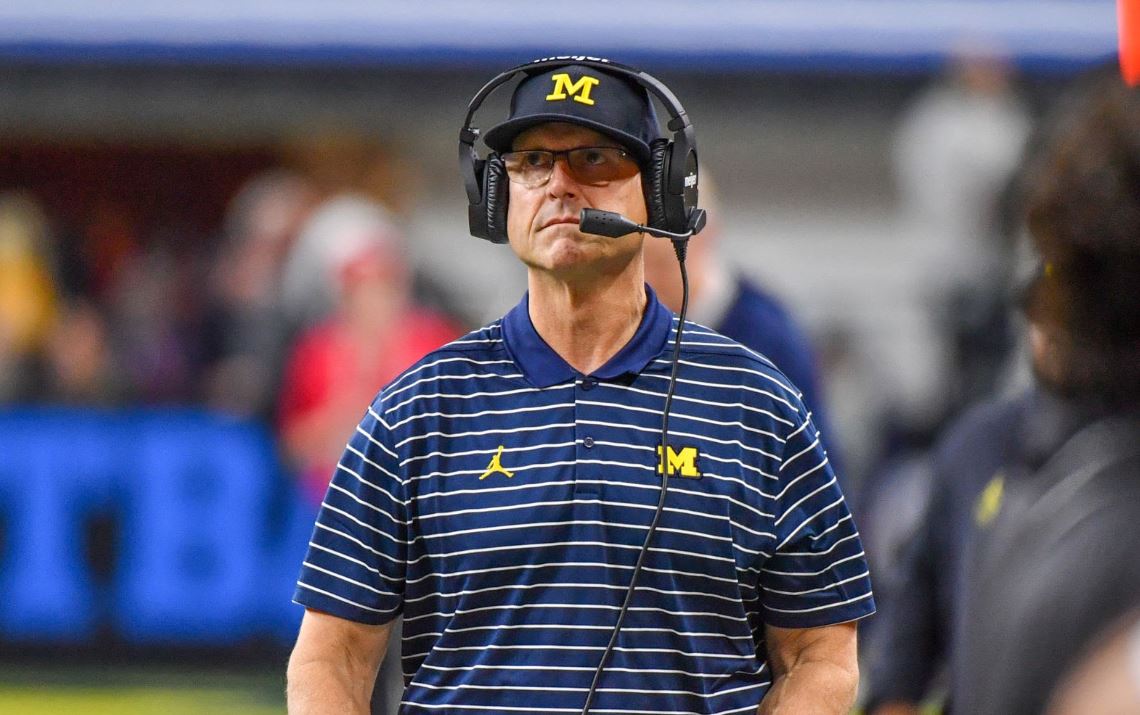 It is now becoming an annual event. Every year, a number of NFL head coaches are let go, and Jim Harbaugh, the head coach at Michigan, immediately finds himself in the running for any number of NFL openings.
It has already begun this year. After a 1-4 start to the season, Carolina fired Matt Rhule. Four weeks later, the Indianapolis Colts fired Frank Reich and then the Denver Broncos canned Nathaniel Hackett just this week. A few more – like Arizona's Kliff Kingsbury – could find themselves gone on Black Monday, the first Monday after the conclusion of the NFL regular season. 
It has already been mentioned that Harbaugh is a candidate to become the Colts' new head coach. He has deep roots in the Midwest and played for Indianapolis during his NFL career. Does that mean that Harbaugh will return to the NFL? The answer appears to be a resounding maybe.
NFL Success
Without a doubt, Harbaugh is capable of leading an NFL team. He's done it in the past. Harbaugh finished 44-19-1 in his four seasons with the San Francisco 49ers and made three trips to the NFC playoffs. His teams lost two NFC title games but won it in 2012. The 49ers lost to Harbaugh's brother John and the Baltimore Ravens in Super Bowl XLVII.
Current Contract
Although Harbaugh's current Michigan contract pays him $7 million per season, his buyout clause makes it very easy for him to leave and return to the NFL. Harbaugh would only owe $3 million to Michigan if he left after his Wolverines play in the College Football Playoff. Over the course of Harbaugh's contract, that buyout decreases yearly. One thing is certain. Harbaugh won't be prevented from rejoining the NFL by a contract buyout.
Becoming a Coach
In the first round of the 1987 NFL Draft, the Chicago Bears selected Harbaugh. He played seven years in Chicago prior to spending four years in Indianapolis where he made 46 starts. He retired from the NFL in 2001, but he started coaching while he was still a player. At Western Kentucky, he worked for his father Jack as an unpaid assistant.
In 2004, he was hired as the head coach of San Diego, spent some time at Stanford, and then joined the Niners in the NFL. No one was more qualified to lead Michigan in 2015 than the prodigal son. Harbaugh played quarterback for the Wolverines from 1982 to 1986; his father had previously coached there. He left Michigan as the school's all-time leading passer and held the NCAA Division I-A passing efficiency record for 12 years.
Mr. Michigan
The Wolverines have always talked about a "Michigan Man" running the program. There is no one more "Michigan" than Harbaugh. He spent time as a kid in Ann Arbor and had success as the school's starting quarterback. In his eight years running the program, he has achieved even more success. With the exception of the abbreviated COVID season, Harbaugh has produced seven winning seasons.
Michigan has won two Big Ten titles in the past two seasons, earning them two opportunities to compete in the College Football Playoff. His 13-0 team this year has been his best and has a shot at winning a national championship.
When the NFL season came to an end last year, Harbaugh's name was mentioned in connection with several open positions. He even interviewed in Minnesota for the Vikings head job. After the NFL hiring season was over, Harbaugh decided to sign a five-year, $36.7 million contract extension in February. That agreement is what currently has the $3 million buyout.
The door is always open for Harbaugh to leave if he wants to. He did say that he "will be back enthusiastically coaching at Michigan in 2023" at the beginning of December. Harbaugh added, however, that no man can predict the future. It still sounds like a resounding maybe as to whether or not Harbaugh returns next season.