New Tom Brady Retirement Odds
December 30, 2022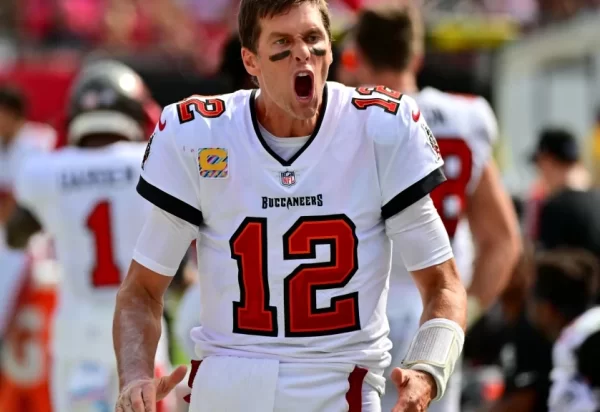 Lately, Tom Brady's personal life has been in the news more than his professional life has. That is because he had a very public divorce from "super model" Gisele Bündchen. The way the story is dictated in the media is that when Tom Brady decided to come back to football only one month after retiring earlier this year, that this was the final nail in the coffin of their marriage. Of course, there is no way to know what is really happening behind the scenes.
On thing is certain however, Tom Brady may be regretting his decision to return, as his team (the Tampa Bay Buccaneers) are just 7-8 with two games left to go.  Sports news has been filled with clips of Brady yelling at players and officials. Honestly, he does look like a tortured soul out there. The guy who was Mr. optimistic for decades has now turned heel, so to speak.
There are betting odds as to what Brady will do at the end of this season. Ironically, the very same factor that has made people think he should retire (the breakup of his family), may be the very same reason he decides to come back for another year. He has nothing to lose.
I saw a stat the other day which said Brady has been in the NFL exactly half of his entire life. Here is how the factoid reads: "Brady officially reached the milestone Thursday, his 8,292nd day spent in the NFL since being drafted on April 16, 2000. He lived the same amount of days between being born (Aug. 3, 1977) and drafted by the Patriots in the sixth round on that fateful day."
The reason I bring that up is because it may give us a glimpse into his psyche. If you have been doing something at a high level for this long, it may feel impossible to give it up. It may be like a piece of who he is went missing. I am sure he came back this season because the feeling and adulation associated with winning a Super Bowl is so great, that he is chasing the dragon, so to speak.
There is no debating that the human body can only do it for so long. Even with physical therapy and injections, the body can only handle that type of abuse for so long. And Brady has had his share of injuries. Not only that, but Brady doesn't seem to have the same ability to throw long like he once did. If you look at his stats, he has a ton of passes for relatively not that many yards. An overwhelming majority of his passes are to the flat or within ten yards, moreso than other QB's. And when he does throw long it usually doesn't go well.
All of these factors have us thinking that he will hang it up after this year. Currently SportsBetting.ag has that exact possibility as the odds-on-favorite to happen. You can bet what he decides to do at that sportsbook right now.
What Will Brady Do at the End of 2022-23 Season?
What will happen First?
Brady Retires -130
Brady Signs w/Patriots +175
Belichick Retires +350
What will happen first?
Matt Ryan Retires -125
Tom Brady Retires +200
Aaron Rodgers Retires +350
Matt Stafford Retires +1000
Which QB will be on a new team in Week 1 of 2023 regular season?
Gardner Minshew -200
Matt Ryan -200
Jimmy Garoppolo -175
Baker Mayfield -140
Tom Brady +100
Carson Wentz +125
Derek Carr +125
Taylor Heinecke +150
Aaron Rodgers +300
Lamar Jackson +600
Daniel Jones +700