Dallas Cowboys at Tampa Bay Buccaneers Betting Preview and Free Pick
January 13, 2023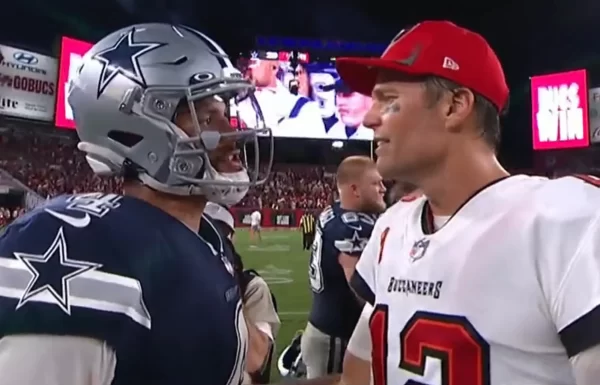 The Dallas Cowboys (12-5) seek revenge on the NFC South champion Tampa Bay Buccaneers (8-9) when the teams complete the opening wild-card round Monday night in Florida. The visiting Cowboys are 2½-point favorites (total at 45½), according to NFL odds.
The teams opened the season in Arlington Sept. 11th, a listless Cowboy effort in losing, 19-3. In that game, quarterback Dak Prescott fractured his thumb and missed a month. Even after such an inauspicious start, Dallas still had a solid season, easily getting into the postseason.
However, since the Bucs won their moribund division, they're the home side here.
Cowboys' Finale Concerning?
Prescott missed five games after suffering that aforementioned fractured thumb, He was 14-of -29 with an interception, so a poor performance,  
Cooper Rush stepped in to lead the Cowboys to five consecutive wins before Prescott returned. He finished the season as the starter, with a full complement of weapons in backs Ezekiel Elliott and Tony Pollard, electric receiver CeeDee Lamb, and a tight end mix led by Dalton Schultz.
Dallas finished fourth in scoring (27½ points per game), 11th in total offense (354.9 yards/game). It was ninth in rushing (135.2 yards/game), 14th in passing at 219.8 yards/game). 
The last impression wasn't good, Dallas mailed one in the regular season's final game, getting blitzed, 26-6, at NFC East rival Washington in a game where the Commanders used a quarterback (Sam Howell) in his NFL debut. Prescott went 14-of-37 (128 yards, one touchdown, one interception). His 23-to-15 touchdown-interception ratio this season didn't astound.        
Defensively, the Cowboys were fifth, having limited the opposition to 20.1 points per game. They were 12th in total defense (330.2 yards/game, eighth in pass defense (200.9 yards/game) and 
However, their 33 takeaways led the league. Among the playmakers is Micah Parsons, who may be seen anywhere before and after the ball is snapped.
The Cowboys were 9-7-1 against the spread (ATS), 8-8-1 on over/under. They went 4-4 on the road. Dallas finished 6-5-1 ATS when favored, 1-2 when road-favored by 6½ or fewer points.
Brady and the Playoffs
Quarterback Tom Brady has 55 game-winning drives to his credit, so if this game is close, then the Buccaneer fans have some hope. He is 35-12 in the playoffs.
Brady is also 7-0 in his career against the Cowboys, so there's that. 
It's been an eventful season around the 45-year-old quarterback, arguably the greatest of all time at the position. He was divorced soon after he (temporarily) retired. He missed parts of camp, but finished (4,694 yards, 25 touchdowns, nine interceptions) with numbers that were solid, if not spectacular 
Tampa Bay ranked 25th in scoring (18.4 points per game) despite second in passing 269.8 yards/game). So, there's the rub. Unless the rules are changed, the team with more points is the winner. 
This team is nothing if not one-dimensional, rushing last in the league at 76.9 yards per game.
Tampa surrendered a respectable 21.1 points per game, or 13th in the NFL. That's no misprint. The Bucs won their division despite a -45 (358-313) point differential this season. 
A hideous 4-12-1 against the spread, Tampa was 6-11 over/under, and just .500 4-4 (strictly win/loss) at home. They were 0-3 as underdogs this season, all by 6½ or fewer points
Brady and Some Turnovers 
If you have faith in either side to go the distance, Dallas is 14-1 (+1400) to win the title, while Tampa Bay is 20-1 (+2000), as per Super Bowl odds.
This will come down to who generates the turnovers defensively, and while the Cowboys have excelled in that category, luck may run out at some point.
There's been much made about the Cowboys not playing as well on grass, but the game is a rematch, and the beauty of a rematch is there are new looks shown by both sides. Of course, ball security is the key against defenses that are both solid. Prescott has more weapons than Brady, but it's Brady with the resume in the postseason. Somehow, this feels like another game- winning drive in the latter's hands, extending a possible retirement at least another week. Take the Bucs plus the points.