What You Should Know Before Betting the AFC & NFC Championship Games
January 25, 2023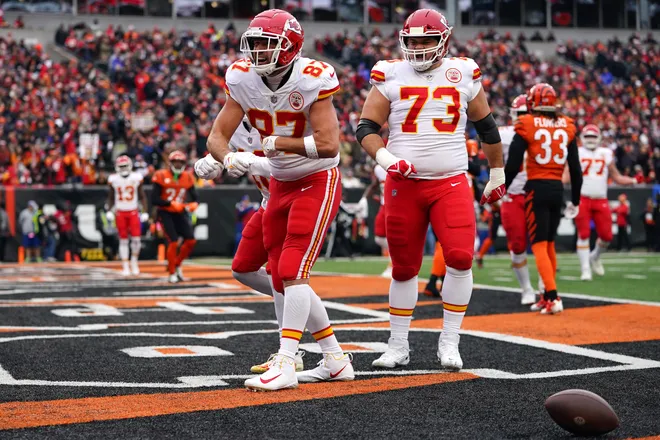 The conference championship games are on tap this weekend with a trip to Super Bowl LVII on the line. Philadelphia hosts San Francisco in the NFC title game while the AFC game features a rematch from last season – Cincinnati at Kansas City.
The big news heading into the weekend is the status of Chiefs QB Patrick Mahomes' ankle. He suffered a high ankle sprain in Kansas City's 27-20 win over Jacksonville last week. Mahomes will almost certainly play, but his mobility will be hampered. The ankle is having an impact on betting markets this weekend and it's just one of many things you should know before betting the AFC and NFC championship games.
Betting Totals
For the first time in the Wild Card era (since 1990), all four Divisional Round playoff games went Under the total. That came after five of the six Wild Card round games went Over the total. Heading into this weekend's championship games, last week is having an influence on the game totals.
The Bengals-Chiefs total, which closed at 54.5 last year, is already down to 47 or 47.5 depending upon your choice of sportsbook. Some of that is probably due to Mahomes' injured ankle. Last year, both the AFC and NFC championship games went Under the total.
Super Bowl Futures
Another first occurred in the Super Bowl futures market. It's the first time in history that the final four remaining teams are all given odds to win between +200 and +350. This is the most evenly matched that conference finalists have ever been heading into championship weekend. 
The closest comparison is 2015 when Carolina and New England were both listed at +200, Arizona was at +300, and the Denver Broncos were given +400 odds. Broncos' bettors were happy as Denver beat Carolina 24-10 in Super Bowl 50. 
Mahomes at Home 
Much will be said about Mahomes' ankle injury suffered last week in the win over the Jags. That said, Mahomes doesn't lose a lot at home in Arrowhead Stadium. He particularly does well late in seasons. In his career, Mahomes is now 33-3 SU in home games from November on. However, two of those losses are to Burrow.
Mahomes is also 8-2 SU and 6-4 ATS in home playoff games in his career. He has thrown for 28 touchdowns against only three interceptions. One playoff loss was to Burrow. The other was to Tom Brady and the Patriots.
Also of interest is Mahomes in revenge games in the same season. The Chiefs quarterback lost to Brady and New England twice in 2018. The second loss was in the AFC title game. Mahomes then won five straight against teams that the Chiefs lost to earlier in the same season. He is now 5-2 in seven such games after having lost to Burrow twice last season.
Joe Cool
Speaking of Burrow, he has led Cincinnati to 14-4 SU record, but even more impressive is the Bengals 13-5 ATS record. Their cover percentage of 72.2 percent ranks second to the Giants (14-5, 73.7%). Remember, Cincy was leading Buffalo 7-3 in the first quarter before the Damar Hamlin incident ended up cancelling that game. 
What makes Burrow even cooler is his knack for rising to the occasion against quality teams. In his NFL career thus far, Burrow is 19-8 ATS against teams with a .500 record or better. That makes him the most profitable quarterback in the league in this spot. 
Props to Travis Kelce
Over the last three postseasons, Chiefs TE Travis Kelce has played in six games. Last week against Jacksonville, Kelce caught 14 passes for 98 yards and two touchdowns. His performance eclipsed his receiving yards prop (79.5 at most sportsbooks). That means over the last three seasons Kelce has gone Over his postseason receiving yards prop in six straight games. 
NFC Fireworks?
Heading into this weekend's NFC title game, you might remember that last year's game went Under the total. The Rams beat the 49ers 20-17. What's interesting though is that since 2002, the NFC championship game has produced a ton of scoring. 
Before last season, the previous seven NFC championship games averaged 55.3 points. Only one of those games had a total (45 in 2017) below 49. Since 2002, the Over is 14-5-2. Sunday's total opened at 45.5. With Philadelphia and San Francisco ranked third and fifth, respectively, in scoring in the NFL, the total has moved up to 46.5.
Conclusion
It helps to know trends and stats heading into these big games but it is also helpful to realize that even though they feature many of the same players, the games stand on their own and most anything can happen. Stay on top of the weather forecasts and injury reports. Those are always key when betting on football games, especially when it comes to over-unders. You can bet your picks at any one of these top sportsbooks and know that you are in good hands.