Phoenix Suns Unveil Kevin Durant To An Excited Crowd Of 3000 Suns Fans
February 18, 2023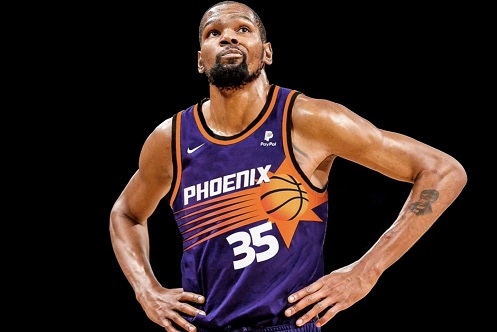 Throughout the previous several years, Kevin Durant has kept an eye on the Phoenix Suns from a distance, appreciating the Suns' developing core of Devin Booker, Chris Paul, and Deandre Ayton. Now that he is a part of it, he is quite excited about it. 
On Thursday, the 13-time All-Star was presented on the court at Bridgestone Arena in front of around 3,000 fans who came out in the middle of the day simply to hear the veteran forward respond to a few questions. After General Manager James Jones pulled off the big transfer with the Brooklyn Nets shortly before the trade deadline last week, many people were already flashing his No. 35 jersey, which has been a popular seller at the downtown fan shop ever since. 
On Thursday, almost every time Kevin Durant attempted to speak, he was stopped by shouts from fans elated by the largest celebrity visit in Phoenix since the Suns traded for Charles Barkley in 1992. At a news conference that took place on Thursday afternoon in Arizona, the Phoenix Suns introduced Kevin Durant to the media. The two-time Finals Most Valuable Player took in the adulation, but afterwards said that he was unworthy of it. 
Even at the age of 34, Durant is still performing at a high level, as seen by the fact that he is averaging over 30 points per game this season. Before he settled his differences with Brooklyn, he requested a trade during the summer, and the Suns expressed interest in the possibility. They were ultimately successful in acquiring him with less than twenty-four hours to spare before the trade deadline. Kevin Durant has said that the team has all of the necessary components to win in Phoenix and that he is used to performing well under pressure. 
Mikal Bridges, Cam Johnson, Jae Crowder, first-round selections in 2023, 2025, 2027, and 2029, as well as additional draft compensation, were traded to the Nets by the Suns in exchange for the superstar player. Bridges, Johnson, and Crowder were all crucial contributors to the team's march to the Finals two years ago, when it was ultimately eliminated by the Milwaukee Bucks in a best-of-seven series. 
When Durant recovers from a damaged knee ligament, he will join a Phoenix team that suddenly has a chance to be one of the best in the Western Conference. Durant is now in the recovery phase of his injury. He expressed the hope that he will be able to play again shortly after the All-Star break. The Suns fans are definitely excited at the prospect of having the superstar in their team, which is looking to end their championship drought soon. 
The Suns have the second shortest odds in the entire league now at +425 at BetUS.com