Five Overrated NCAAB Teams Headed into March Madness
February 21, 2023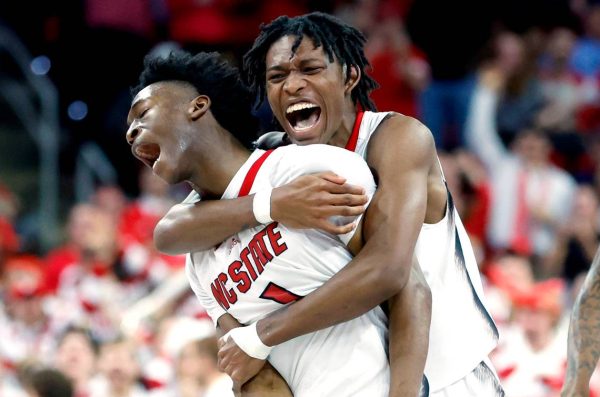 In college basketball, experts are constantly debating bracketology seeding or how a team with a poor record ever made it into the AP Top 25. The issue is that many teams benefit from great successes even when the path taken to those victories doesn't guarantee future success. 
For example, a team might be fortunate in several regular-season games (see Indiana). A team may have a solid record overall but a terrible road record or they might be very good on offense but awful at the other end. Missouri, for example, is a top-15 scoring team but ranks 301st on defense in terms of points allowed.
Each and every year, there are teams in the NCAA tournament that get there on the basis of reputation. There will be a few teams that make it and even receive a high seed – think No. 5 or better. Here's a look at five teams that will likely be seeded high come tournament time but might be gone before the opening weekend.
NC STATE WOLFPACK
The ACC is not what it used to be. No. 6 Virginia and No. 13 Miami are the best teams in the league. North Carolina is just 8-8 in conference play and 16-11 overall. A few more late season wins and the Tar Heels, last season's NCAA runner-up, will be one of those teams that makes the tourney on name recognition.
Its in-state rival, NC State, is ranked No. 22 in the AP poll. In KenPom and NET ratings, the Wolfpack is 41st and 36th, respectively. The team's record in Quad 1 games? 3-4. While NC State has a few bright spots, they really don't have many marquee wins. They beat Miami at home and have a win over Dayton. They will likely finish the season 4-1 and probably win a couple ACC tourney games. Come March Madness though, look out. They won't stack up well with teams like Florida Atlantic, their projected opponent in the current bracketology.
GONZAGA BULLDOGS
Gonzaga lost to Loyola-Marymount at home. WCC foe Saint Mary's lost to Loyola-Marymount on the road. We mention Saint Mary's because the Gaels are 2-1 in Quad 1 games compared to Gonzaga's 3-4.  Saint Mary's is 24-5 while Gonzaga is 23-5, yet the Bulldogs have been rated higher than the Gaels all season. One of Gonzaga's losses is to the Gaels.
Gonzaga's big problem is a lack of balance, and it will affect them in the NCAA tournament. According to KenPom, the Bulldogs' adjusted offensive and defensive efficiency rankings are second and 92nd, respectively, with a 3-point percentage of 34.6% and a 2-point percentage of 51.9%. 
The Bulldogs also rank 306th on off-the-dribble 3s, 350th on catch-and-shoot 3s, and 176th in open 3 rate. That is absolute garbage for a team ranked No. 12 in the country. Gonzaga is currently listed as a No. 4 seed, but that might be overrating the Bulldogs.
PROVIDENCE FRIARS 
A year ago, the Friars were the No. 1 team in the country in KenPom's Luck Factor. They aren't this year, but they are ranked 20th in the nation and have a shot at winning a second consecutive Big East regular season title. 
While No. 20 in the AP poll, KenPom has the Friars at No. 32 and the NET rankings show Providence at No. 42. The Friars are ranked 14th in the NCAA in rebounding percentage, but they don't rank anywhere near the top of any other category.
In Quad 1 and Quad 2 games this season, Providence is just 6-6. They are also horrible at stopping ball screens. That will be a huge problem in the first two rounds of the NCAA tournament.
IOWA STATE CYCLONES 
The Cyclones are 17-9 and still ranked No. 23 even after losing three of their last four and five of their last seven games. Sure, they've been beat up in the uber-competitive Big 12, but don't fall for it. The Cyclones are 6-8 in Quad 1 games and there's a reason why.
They can't score. Iowa State ranks 210th in the nation in scoring (69.5 ppg). The Cyclones have relied on their defense all season. Iowa State ranks sixth in the nation in forcing turnovers. But, the Cyclones allow the 10th-most shots at the rim and they rank 353rd in three-point attempt percentage. 
Too much will be put on the Cyclones playing in the toughest conference in the nation. If they end up paired with an offensive juggernaut, forget it. Iowa State will check out of March Madness early.
PURDUE BOILERMAKERS
Northwestern is no basketball powerhouse, but give head coach Chris Collins credit. He figured out how to take Purdue's Zach Edey out of the game. The Wildcats handed Purdue a 64-58 loss and then Maryland came right back in the Boilermakers next game and beat them 68-54. 
Taking away the 7-foot-4-inch Edey means Purdue's young backcourt has to step up. They haven't and imagine a team more talented than Northwestern employing similar tactics. After looking unbeatable while winning nine straight conference games, Purdue lost three of its next four games proving that they are, indeed, beatable. 
Make sure to check out the best NCAA Basketball March Madness Contest Online