NBA End-Of-Season Awards – Early Predictions – Odds
February 27, 2023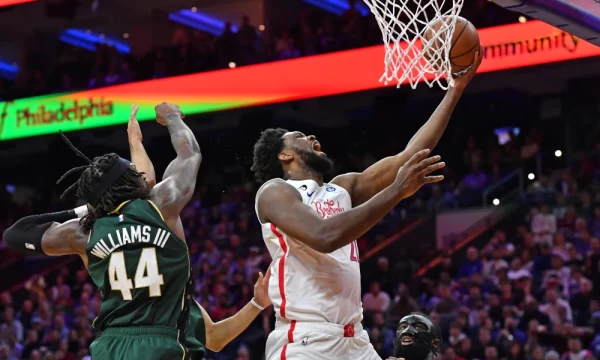 There are several storylines to watch as the NBA regular season started on Thursday. Among them are the leaders for MVP and Rookie of the Year. Here is how the awards races stand coming out of the All-Star break., according to our prediction anyway 
Most Valuable Player 
Nikola Jokić
Jokić's output and Denver's success are going to be impossible to refute when it comes time to vote for MVP. Averaging a triple double on the West's greatest team, the Serbian superstar enters the final stretch of the regular season with an MVP three-peat within vision. 
Joel Embiid
The top of the East remains close, with three games differentiating among the top three seeds. If Embiid can lead the Sixers to the top of the conference by the conclusion of the regular season, he will have filled out a terrific case for MVP. His head-to-head performance versus Jokić plays in his favor, too, with another showdown coming in March. 
Giannis Antetokounmpo
The Bucks, who were arguably the hottest team in the NBA going into the All-Star break, have a shot to win the Eastern Conference under Antetokounmpo. The Greek Freak is making a last push for MVP, despite a wrist injury that kept him out for a while. He once again proved his worth during Milwaukee's 12-game winning run. 
Jayson Tatum
With the Celtics leading the East by a half-game, Tatum has maintained his strong and consistent play this year. When the Bucks and Sixers pound on Boston's door, Tatum will be put to the test after his record-breaking All-Star Game MVP performance. 
Luka Doni 
Doni has fluctuated between being a top MVP pick this season and falling down recently due to a heel issue. Dallas is now sixth in the West, and his connection with new teammate Kyrie Irving might decide whether or not he wins MVP in the remaining games of the regular season. 
Current at odds at SportsBetting.ag
Nikola Jokic
-300
Joel Embiid
+400
Giannis Antetokounmpo
+850
Jayson Tatum
+2000
Luka Doncic
+2500
LeBron James
+6600
---
Rookie of the Year 
Paolo Banchero 
Despite others filling up the gap in the second part of the season, Banchero still has the award to lose. At 19.9 points per game, 6.6 rebounds, and 3.6 assists, Banchero is Orlando's top scorer. 
Benedict Mathurin 
Throughout his remarkable rookie season, Mathurin has placed himself in the mix for both the ROY and Sixth Man of the Year awards. If Indiana makes an effort to qualify for the play-in tournament, that may enhance his case. 
Walker Kessler 
After being elevated to a regular starter, Kessler has improved, averaging 8.2 points, 7.7 rebounds, and 2.1 blocks per game on 71.2% shooting. While Utah has slowed down from its early-season speed, Kessler has shown to be a developing centerfield piece. 
Current at odds at SportsBetting.ag
Paolo Banchero
-1200
Bennedict Mathurin
+650
Walker Kessler
+2800
Jaden Ivey
+6600
---
Defensive Player Of The Year
Jaren Jackson Jr. 
Jackson, who leads the NBA in blocks per game (3.3), is the backbone of the Grizzlies' second-best defense (110.1 rating). With the Clippers and Suns knocking on Memphis' door at No. 2 in the West, the rookie All-Star has his work cut out for him. 
Nic Claxton 
In the NBA, Claxton led the league in field goal percentage (72.2%) and was second in blocks per game (2.6). He no longer plays with Kevin Durant and Kyrie Irving, but he can still succeed with Brooklyn's new lineup. 
Bam Adebayo 
Miami's fourth-best defense is led by All-Star Adebayo, who is averaging a career-high 21.6 points per game in addition to 10.0 rebounds and 1.2 steals (111.3). Down the stretch, Adebayo and his new colleague Kevin Love will have a chance to help Miami climb up from eighth in the East. 
Current at odds at SportsBetting.ag
Jaren Jackson Jr.
-240
Brook Lopez
+375
Bam Adebayo
+900
Nic Claxton
+1100
Evan Mobley
+3300
Giannis Antetokounmpo
+3300