NFL Combine Winners & Losers
March 8, 2023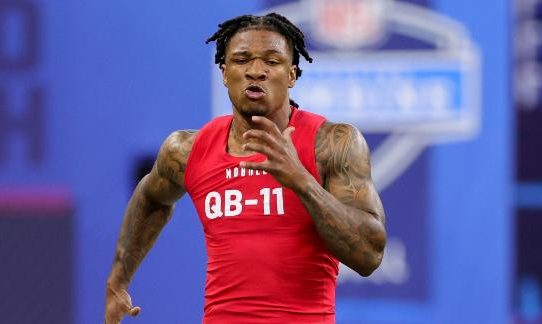 In case you weren't aware, the NFL's annual combine was held last week in Indianapolis. There were the usual freakish displays of raw physical talent as well some rather un-freakish performances. The job now for NFL GMs and their front offices is to sift through the results and find players they believe will help their rosters win a championship.
Easier said than done. Here's a look at those who helped themselves and those that didn't at the 2023 NFL Combine.
The Big Freak
There had been talk of Florida QB Anthony Richardson's ridiculous physical ability leading up to the combine. He did not disappoint.
Richardson ran the fourth-fastest 40-yard dash ever recorded by a quarterback coming in at 4.44. What makes that even more impressive is that Richardson is 6-foot-4 and weighed in at 244 pounds. HIs vertical jump was an eye-opening 40.5 inches and he hit 10-9 in the broad jump.
With his combine performance, Richardson now has the second-shortest odds (+300) to be drafted first overall. A month ago, the former Gator was listed as high as +8000 to go No. 1 at top online sportsbooks.
The Big Losers
Notre Dame TE Michael Mayer was believed by many to be the best at his position coming into the draft. His combine performance didn't do much to support that. Mayer ran a ho-hum 4.7 40 and didn't dazzle anyone with a 32.5-inch vertical jump or a 9-10 broad jump. He'll still have his pro day to wow scouts.
Alabama DT D.J. Dale was probably not a first-round pick, but sneaking into the second or third rounds is going to be even more difficult after a horrible combine performance. Dale ran the third-slowest 40 time (5.26) of all defensive linemen. He recorded a 25.5-inch vertical jump and an 8-foot-2-inch broad jump. Dale weighed in at 302 standing 6-foot-1.
The Next Aaron Donald?
To put Dale's performance in perspective, take a look at former Pitt DT Calijah Kancey. Kancey also stands 6-foot-1. He weighed in at 281 and displayed much more raw physical ability than Dale. Kancey's 40 time of 4.67 was the fastest at his position in over 20 years. His explosiveness led to him being the ACC's Defensive Player of the Year in 2022. Kancey is a definite first-round pick.
First Round RB
Running backs are a dime a dozen these days, but Texas RB Bijan Robinson solidified his spot as the No. 1 guy on the board. He ran a blazing 4.46 40-yard dash and measured in at a stocky 5-11 and 215 pounds. A 37-inch vertical jump and his fluid-like moves in the position drills were enough for scouts to realize Robinson is the best running back in this class. 
Jahmyr Gibbs (5-9, 199) ran a blistering 4.36 in the 40 and Tulane's Tyjae Spears showed some explosiveness with a 39-inch vertical jump and a 10-5 broad jump. The loser of the group was Utah RB Tavion Thomas. Listed closer to 6-3 while at Utah, Thomas measured 6-feet and weighed in at 237. His 40 time was a pedestrian 4.75 and his 30-inch vertical jump shows he may lack some burst.
The Biggest Loser
LSU has produced some big time NFL wide receivers lately – the Bengals Ja'Marr Chase comes to mind – and current Tiger Kayshon Boutte was supposed to be the next one. After his combine performance, Boutte will be lucky to go on Day 2.
Boutte measured 5-11 and 195 pounds and ran a subpar 4.5 in the 40. His 29-inch vertical jump was right at the average for all defensive linemen at the combine. His athleticism score of 60 ranks 48th of all the wide receivers eligible in the 2023 draft. There are too many other receivers with much better numbers than Boutte, which is why he could slip to a Day 3 pick.