Sweet Sixteen & Elite Eight Betting Trends
March 22, 2023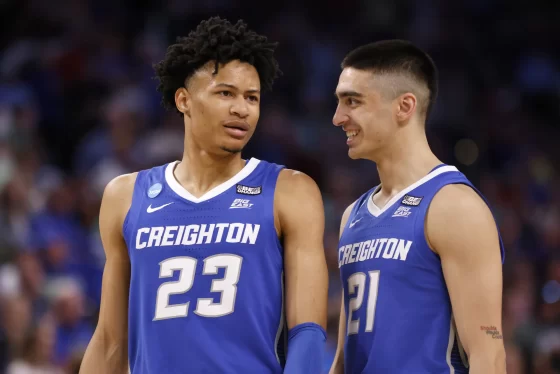 After the first weekend of the NCAA Tournament, 76 percent of March Madness is over. Forty-eight of the 63 games are in the bag and now we await the Sweet Sixteen. At this point, your bracket, like everyone else's, is probably a mess. 
However, you should remember that most scoring systems value the later rounds more. That means you still have a shot as long as you have made strong predictions for the Sweet Sixteen, Elite Eight, and beyond. If not, your bracket is toast. 
Recent trends can help in picking Sweet Sixteen and Elite Eight matchups because they are the best predictors of future results. What follows is a look at trends from the later rounds of the NCAA tournaments. These trends noted here include only those that began with the expansion of the tournament to 64 teams in 1985. Remember that trends are exactly that…trends. Just because they exist does not mean they will continue. 
With that said…
A No. 1 Seed Loses
Two of them are already out, with Purdue bowing out in dramatic fashion by becoming the second team to lose to a No. 16 seed. Only once in the previous 36 years have all four No. 1 seeds made it to the Final Four. That happened in 2008.  
There have been only four tournaments where three No. 1 seeds made it to the Final Four. What that means is there have been no more than two No. 1 seeds in 30 of 36 Final Fours. Houston and Alabama remain this year. History shows that it is likely one of them gets beat this coming weekend.
Speaking of No. 1 Seeds
If you examine No. 1 seeds since 2014, you'll find that they have won 20 of their previous 25 Sweet Sixteen games. All of them don't win in the Sweet Sixteen, but when they do, they win a lot. The last five straight tournaments have been won by a No. 1 seed. 
The only No. 1 seeds to lose in the final since 2014 were North Carolina – which lost to No. 2 Villanova in 2016 – and Wisconsin which lost to another No. 1, Duke, in 2015. 
In the Elite Eight, top seeds have a hard time advancing. They still have a winning record, but since 2012, 14 No. 1 seeds have advanced to the Final Four. Over that time period, No. 1s have an overall record of 14-10 in the Elite Eight.
No. 1, 2, 3 to the Final Four
It's no secret that more No. 1, 2, and 3 seeds make the Final Four than any other seed. Since seeding began in 1979, there have only been two Final Fours – 2006 and 2011 – without a No. 1 seed. 
It's common for a No. 1 to face a No. 2 in a regional final (Elite Eight). Not surprisingly, in 48 such games, both No. 1s and No. 2s have 24 wins. 
No. 2 seeds have done better than No. 3 seeds, especially in Sweet Sixteen games. One would think this matchup would be evenly matched as well. It is not. In 47 such games, No. 2 seeds have a 30-17 record against No. 3s.
Double Digit Seeds
In first-round No. 5-No. 12 games, the 12th seed wins roughly 35 percent of the time. This year, no No. 12 won a first-round game for the first time in four years. That means no No. 12 seed in the Sweet Sixteen either. That's probably a good thing.
In 22 overall Sweet Sixteen games, 12th-seeded teams are 2-20. If they play a No. 1 seed, they are 0-20. Interestingly, the two wins by a No. 12 both came in the 2002 tournament (Missouri and Oregon State).
The lowest seeded team in this year's Sweet Sixteen is Princeton. Last year, 15th-seeded Saint Peter's beat No. 3 Purdue. Princeton faces No. 6 seed Creighton in the Sweet Sixteen.
Be Careful with Underdogs
Use caution when betting on underdogs at this state of the game. Only three No. 6 seeds have ever made it to the Final Four. Creighton, of course, is favored to beat Princeton. The Bluejays would face the winner of No. 1 Alabama and No. 5 San Diego State. The only No. 6 seed to win a national championship was Kansas in 1988. In the last 29 tournaments, no No. 6 seed has won an Elite Eight game. 
What's interesting is that there has been at least one teams seeded No. 7 through 11 to advance to the Final Four in all but two seasons (2012, 2019) since 2011. Last year, North Carolina made it as a No. 8 seed. 
Betting Xavier
Xavier is one of the top three teams that has made the most trips to the NCAA tournament without ever making a Final Four (BYU and Missouri are the others). The Musketeers have been to the tournament 28 times. They made it to the Elite Eight in 2017 but lost to Gonzaga, which ended up losing in the championship game. 
In 2018, Xavier earned a No. 1 seed but failed to make it out of the opening weekend of play. The Musketeers lost 75-70 to No. 9 Florida State in the second round.