Embiid or Jokic…Who's the NBA MVP?
March 23, 2023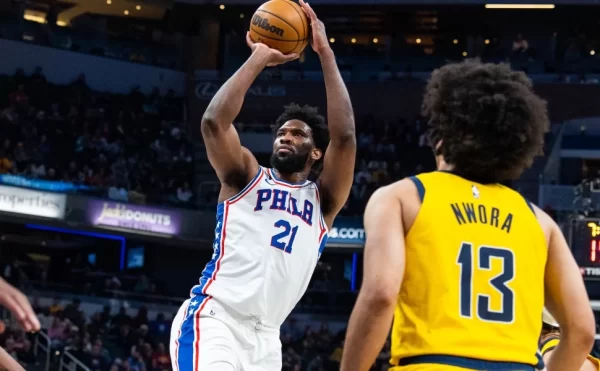 There are roughly 20 games left in the National Basketball Association's regular season. Teams are jockeying to improve seeding ahead of the playoffs, some just trying to qualify.
Individually, the race for the Most Valuable Player is closing in on a few players, led by two-time "defending champion" Nikola Jokic of the Denver Nuggets and Joel Embiid of the Philadelphia 76ers. Embiid's still eyeing his first.
Here is an evaluation of each player's case and what needs to happen if they are to win…
Joel Embiid
The center, standing 7 feet tall and weighing 280 pounds, is the main cog in Philadelphia. If the Sixers are to make a serious run at their first title since the just-celebrated 40th anniversary team of 1982-1983, it falls on Embiid. Despite his size, he has decent agility to compete with anyone in transition, and a solid outside shot. A sour reputation after missing his first two full seasons with an injured foot, and a bit of an ego, but no debating his skills.
Embiid is leading the 76ers, who (at the time of this third-week-in-March writing) are currently third in the Eastern Conference. With a record of 48-23, they are three games behind the conference-leading Milwaukee Bucks.
Lately, he has thrived while playing alongside James Harden, one of the best scorers and distributors in the league. In fact, Embiid is once again atop the league in scoring 
Through 59 games, he's at 33.2 points per game (30.6 ppg led the league in 2021-22). Embiid is also averaging 10.2 rebounds, 4.2 assists, 1.7 blocks and 1.1 steals per game. Thus, he brings a complete game to the floor,
Add in a career-best 54.7% field-goal percentage. 
Embiid is the current odds-on (-175) favorite to win this award, according to NBA MVP odds.
Nikola Jokic
If the voters care more about placement, Jokic will get some bonus points toward a third consecutive MVP award. Jokic and the Denver Nuggets were an at-this-writing 48-24, first place in the Western Conference by 3½ games (those same 3½ games behind the Bucks while chasing the best record in league).
He is quite unique, considering that he initially didn't even enjoy the game of basketball. 
Jokic has made a career of both making his teammates better and taking over a game when necessary. He is 6-11, 284 pounds and, at only 28 years of age, remains in his prime. If there's a knock, it's that the Nuggets only go so far. They've lost in the second round twice in past four playoff seasons, a loss in opening round once and an elimination in the conference finals once, 
Jokic is averaging a press-time 24.7 points, 11.9 rebounds, 9.9 assists and 1.2 steals per game. He is hitting nearly two-thirds (66.2%) of his field-goal attempts, 40 percent beyond the arc. 
He's a certified jokester, too. Earlier in the season, when a reporter mentioned his assists count (averaging nearly a triple-double), "Whoo" was the response of sarcasm.
The "Others"
While both the 76ers and Nuggets are chasing the best record in the league, leading that race are the Milwaukee Bucks (press-time 51-20) and Boston Celtics (50-23). Thus, no surprise that stars on those teams are mentioned in the MVP conversation as well.
Giannis Antetokounmpo of the Bucks is seeking his third MVP award (same as Jokic) at age 28 (same as Jokic). Antetokounmpo, standing at seven-feet (242 pounds), has missed some time with nagging injuries. He is averaging 31.3 points, 11.9 rebounds and 5.6 assists per game, along with a 54.7% field-goal percentage. 
Milwaukee is the current +325 favorite to win the title, as per NBA championship odds.
Jayson Tatum of the Celtics who, at 25, is after his first MVP award. The 6-8, 210-pound forward has elevated his game (averages of 30 points, 8.9 rebounds and 4.7 assists per game to date.